People of the Reef ·
James Unsworth: 'We're at a pivotal point for the Reef'
Working on the Great Barrier Reef may have come about as a "happy accident" for James Unsworth, but he's exactly where he needs to be.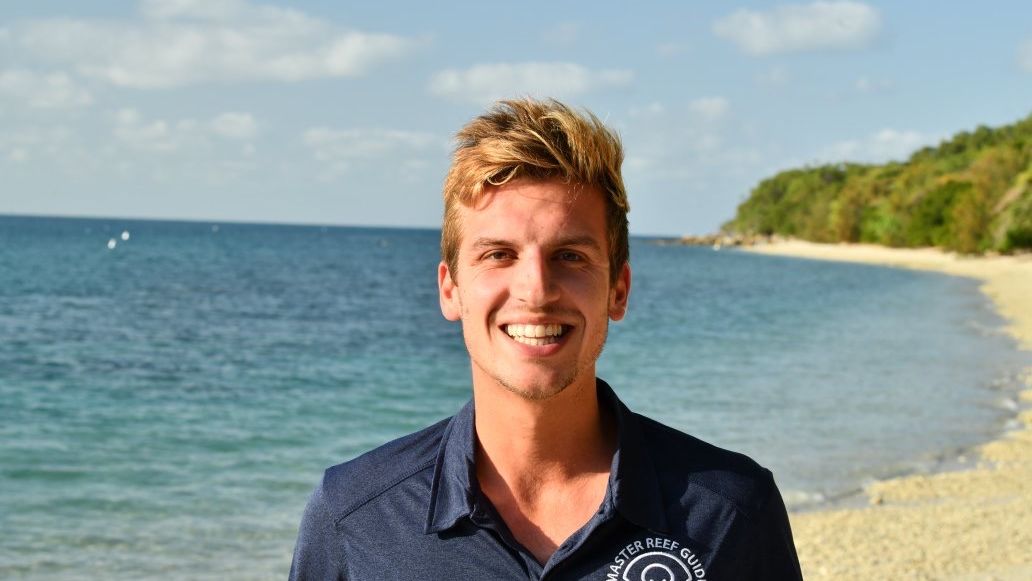 James grew up on the UK's south coast in the relatively small town of Eastbourne, just east of Brighton. He loved watching David Attenborough documentaries as a kid and was heavily involved in both paid and volunteer lifeguarding in the UK, before studying Geography and Ocean Science at university.
"After graduating, I was lucky enough to travel for several years before stumbling across the small tourist town of Airlie Beach," he says.
"I was a backpacker passing through with six months left on my working holiday visa when I checked into a backpackers' for four nights. Over four years later I'm still here, fortunate enough to have been given an opportunity to live and work on the Great Barrier Reef."
James wears many hats in his role with tourism operator Ocean Rafting Whitsundays. He's the Environmental Manager, Skipper and Master Reef Guide and he's incredibly passionate about educating visitors about what they can do to help protect our Reef.
"In my opinion, education is the key to instilling change on a global scale," he says.
"The guests we take out on the Reef come from all walks of life and it's been incredibly interesting to manage people's expectations of the Great Barrier Reef. We have some people who believe the Reef is dead, and on the flip side we have people who have only seen beautiful footage of the Reef in documentaries.
"Being in a position where I can get in the water with hundreds of people a week, show them some of the wonders of the underwater world, explain some of the stresses we are unfortunately seeing and educate them about what can be done to protect this natural wonder is incredibly motivating."
And there's one key message James wants everyone to know.
"The Great Barrier Reef is not dead! Coming from overseas I had an impression that the Reef was possibly beyond help," he says.
"The media highlighted all the negative things the Reef was experiencing. Mass bleaching events, crown-of-thorns starfish outbreaks and cyclones all made headlines in the overseas media.
'I'm not saying these aren't a massive problem - they absolutely are and the frequency and intensity of these events is alarming - but I've seen plenty of incredible locations with more than 90% healthy mature corals that are able to reproduce and help repopulate more heavily affected reefs.
"We are at a pivotal point on the GBR where we can act and help protect these thriving reefs, aid with restoration in the damaged locations and help people all over the world to understand that it isn't too late for this incredible place. I want everyone to know that no matter where they are in the world, they can do something small to help act against climate change, which is the number one driver for these negative impacts on the Reef."
James says his biggest professional achievement so far is the citizen science experience he's developed for Ocean Rafting. The tour, Reef Seeker, helps school groups and the general public participate in the Great Barrier Reef Marine Park Authority's citizen science program, Eye on the Reef.
Under the program, everyday people are encouraged to collect and report information about the Reef's health, marine animals and incidents they observe, which helps inform Reef management decisions.
The tour aligns with the school curriculum so is a valuable on-water learning experience for students, as well as other visitors.
"This push towards educational tourism is very exciting and provides meaningful memories for our guests on the Great Barrier Reef," James says.
James is also learning how to restore local reefs damaged by climate change using an innovative technique dubbed Coral IVF through the Great Barrier Reef Foundation's Reef Islands Initiative.
During the last two coral spawning events, when corals release trillions of eggs and sperm into the water in a mass breeding phenomenon, James has worked with researchers to give nature a helping hand.
The aim of this project is that tourism operators such as James and his team will be able to carry out this important restoration work without the help of researchers.
"I'm fortunate to work on the Reef and I've been lucky enough to explore some of the more remote reefs that make up the GBR, yet I've not even experienced 1% of this incredible ecosystem.
"That small percentage I have visited has all been vastly different. To me, it is so special because even if you dedicated a lifetime to exploring this place, you would still never see it all. That ever-changing interconnectivity of the Reef is incredible and it's something I hope to share with Reef visitors for years to come."