Jellyfish
Despite having no brains, no heart and no blood, jellyfish have survived for more than 500 million years – even predating dinosaurs.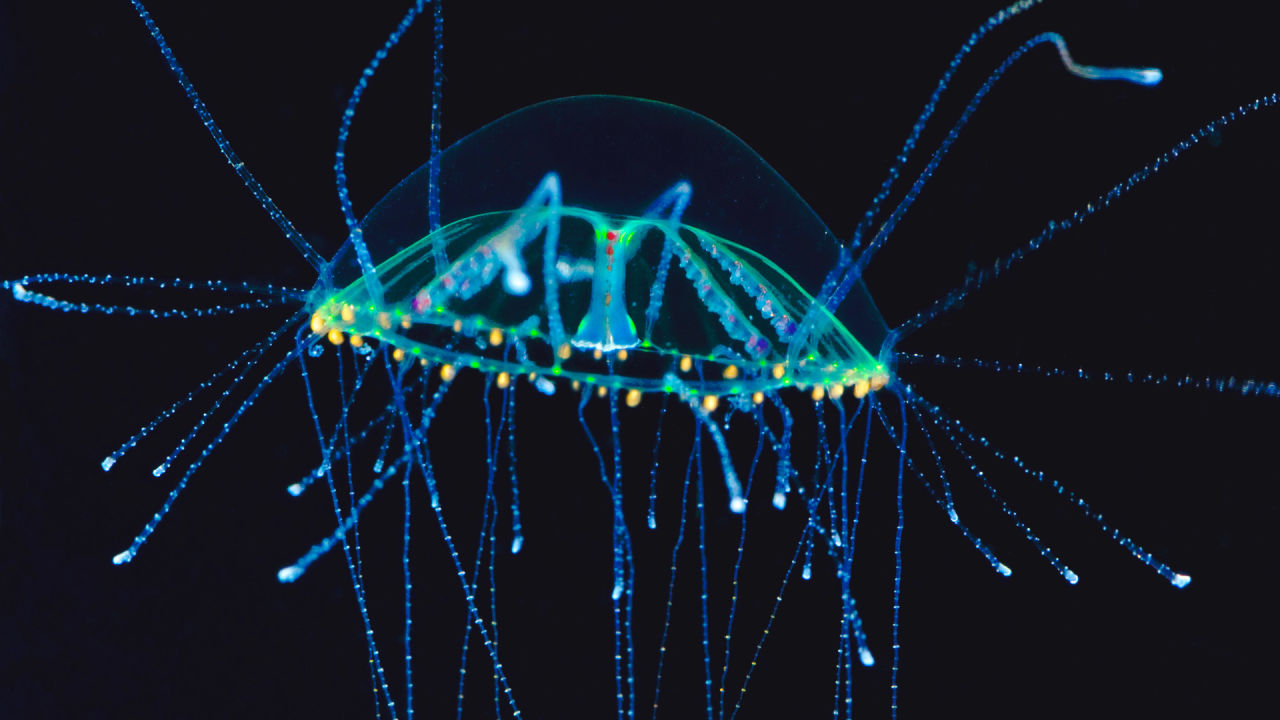 More than 100 species of jellyfish have been recorded along the Great Barrier Reef, including the notorious stinging blue bottles and box jellyfish. One of these, the infamous Irukandji jellyfish, is one of the smallest (roughly one cubic centimetre) and most venomous jellyfish in the world.
Jellyfish typically reproduce in three broad stages, varying slightly among species. Initially, a polyp asexually buds off from an adult jelly's upper end. In some species, normal fusion of egg and sperm results in an embryo that is brooded in the gut of the adult until it becomes a planula larva, but in other species, this process takes place externally. After the planula larva leaves its parent, it attaches to a rock or other solid surface, where it grows into a polyp, before breaking free and becoming a new adult Jellyfish. These adults are either male or female, with some species even changing sex as they age.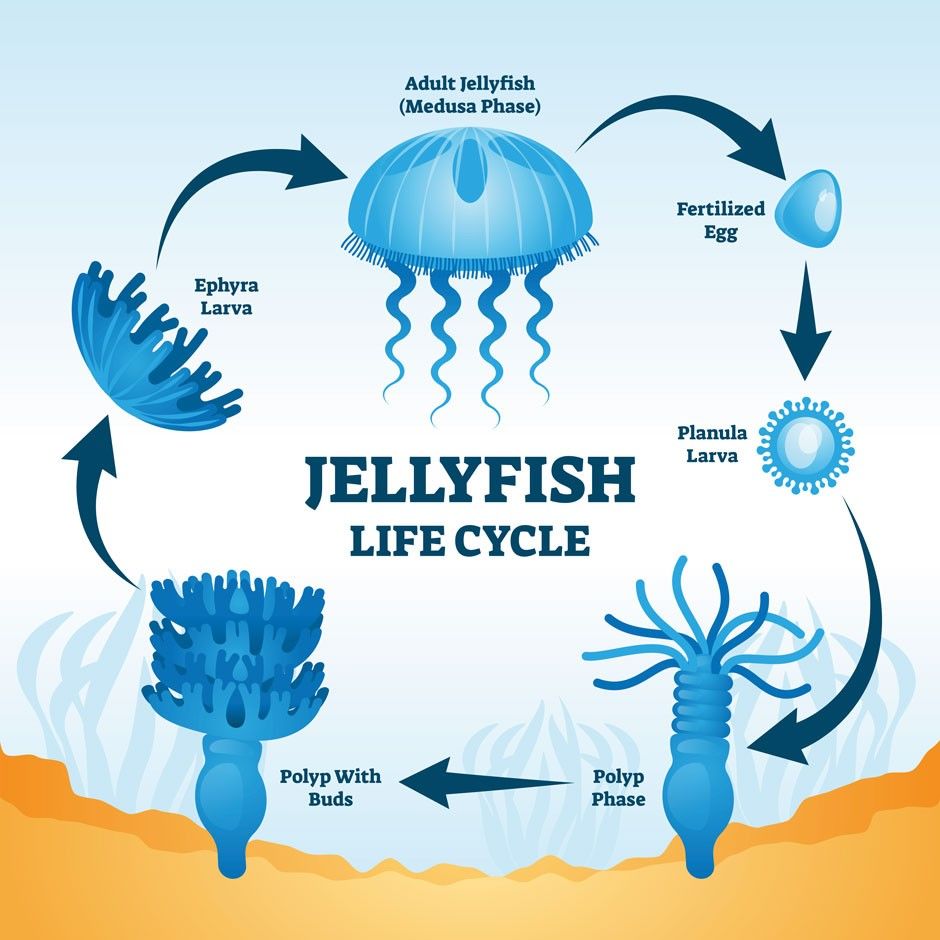 The life cycle of a scyphozoa jellyfish 📷 BBC
Jellyfish are not actually fish. They're gelatinous zooplankton (or invertebrates from the phylum Cnidaria).
Their bodies are made up of as much as 98% water – the ultimate camouflage for a marine creature.
They might not have a brain or heart, but some jellyfish can see. For instance, the box jellyfish has 24 'eyes', two of which are capable of seeing in colour. It's also believed that this animal's complicated array of visual sensors make it one of the few creatures in the world to have a full 360-degree view of its environment.
Jellyfish rely on specialised gravity-sensitive calcium crystals to orient themselves, revealing clues about how human beings could theoretically survive in space. NASA have actually sent jellyfish to space in the early 1990s to study them in a zero-gravity environment.
A group of jellyfish is not a school or a pod. It's usually called a bloom or swarm, but is sometimes also called a 'smack'.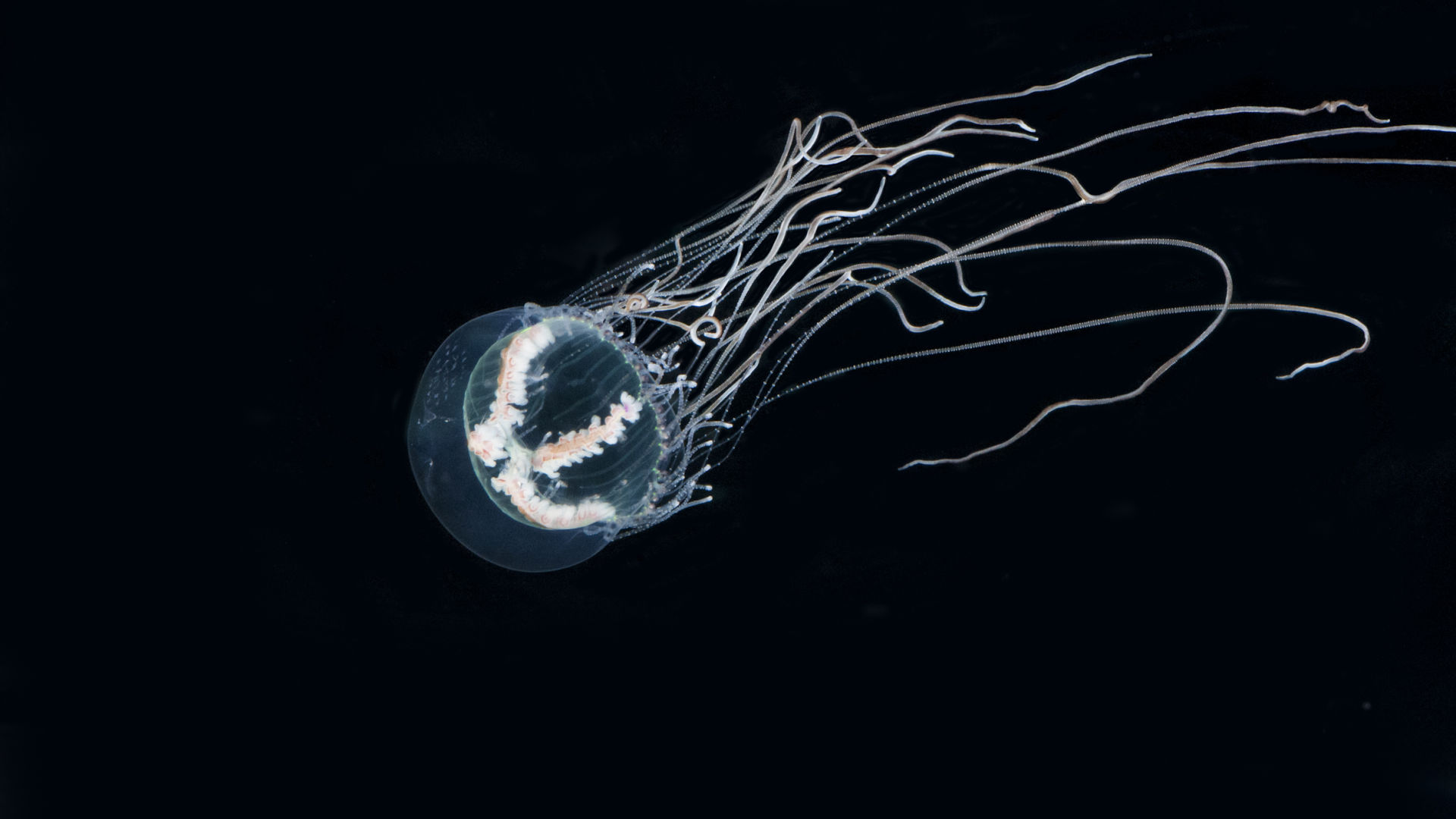 Some species of Jellyfish can cause severe pain and a full-body (systemic) reaction. Box jellyfish can cause intense pain and, in rare cases, life-threatening reactions. However, many types of jellyfish are harmless to humans, allowing scientists and divers to swim up for a closer look.
The Turritopsis dohrnii jellyfish might be able to cheat death by undergoing cellular transdifferentiation. When threatened, sick, or old, it begins a process that reverts its cells to a polyp or adolescent stage and then forms a new polyp colony, creating younger versions of itself that will become identical to its mature adult form when grown. Found in the Mediterranean Sea and in the waters of Japan, this species is more fortunate than most other species who only live for about a year or a few days.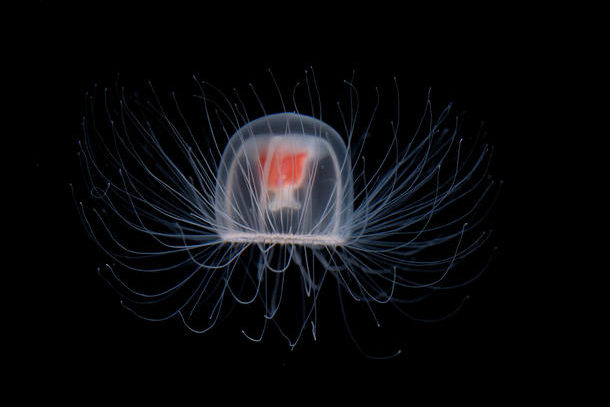 Turritopsis dohrnii, the so-called "immortal jellyfish," can hit the reset button and revert to an earlier developmental stage if it is injured or otherwise threatened.
© Takashi Murai/The New York Times Syndicate/Redux
#IUCN Red List status
Many species of Jellyfish are listed as vulnerable (population trend decreasing) on the International Union for Conservation of Nature's Red List of Threatened Species.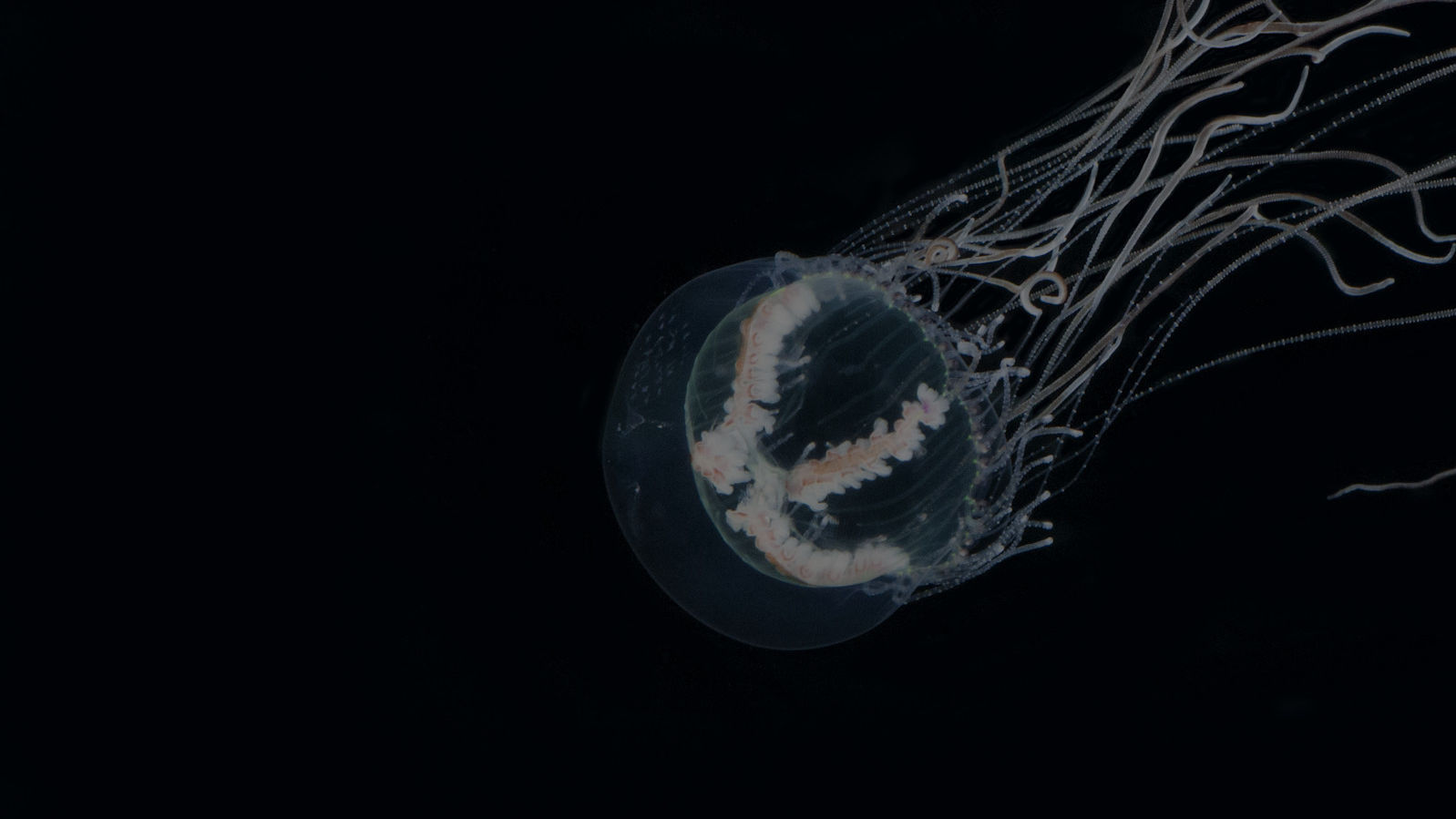 #Plant a coral today
Make a donation to protect the vulnerable Jellyfish and its ocean habitat.