News ·
Great Barrier Reef: UNESCO calls for In Danger listing
UNESCO has issued its second recommendation for the Great Barrier Reef to be placed on the In Danger list.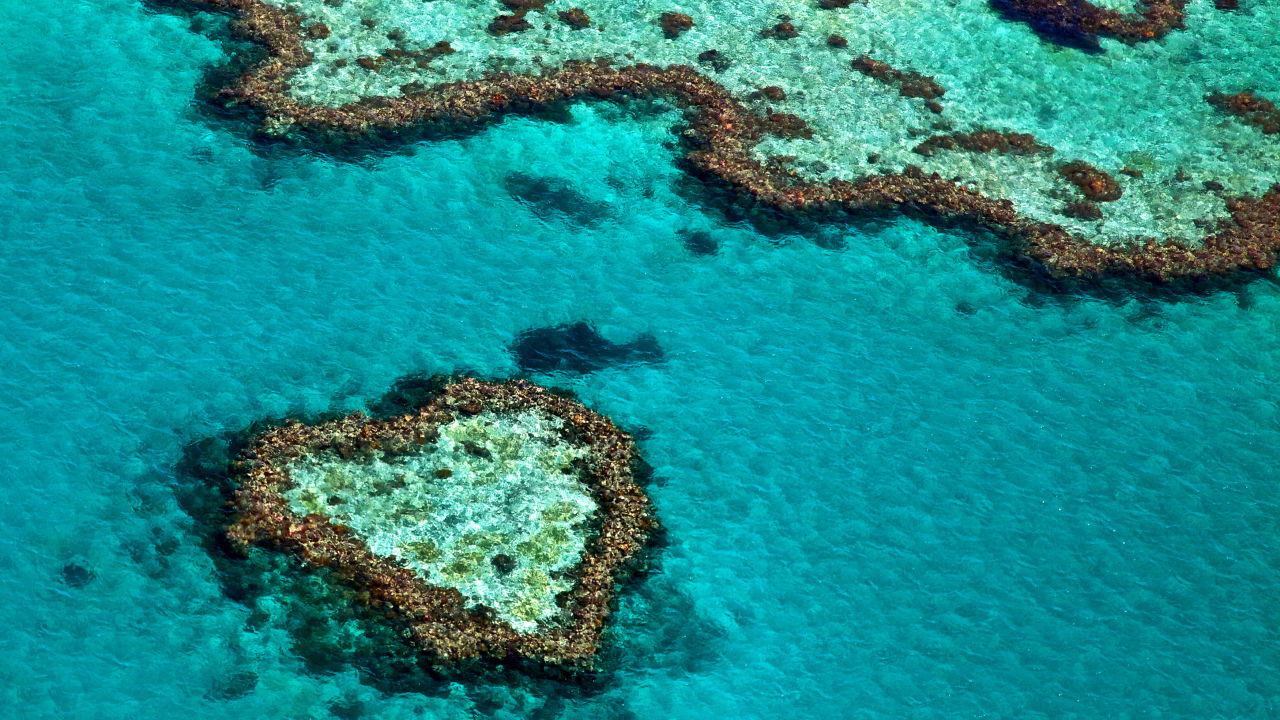 UNESCO has again recommended the Reef is added to its In Danger list, citing the impacts of climate change such as frequent coral bleaching and poor water quality as serious threats to the Reef's future.
This follows UNESCO's recommendation in June last year for the Reef to be placed on the list. The Australian Government successfully proposed an amendment to delay the decision and agreed to submit a report to the World Heritage Committee outlining its action on climate change and water quality.
Today's report said: "Despite the unparalleled science and management efforts made by [Australia] in recent years, the [outstanding universal value] of the property is significantly impacted by climate change factors."
Great Barrier Reef Foundation Managing Director Anna Marsden said: "The report confirms what science has been telling us for some time – that the Great Barrier Reef is under increasing pressure from climate change, as well as poor water quality and crown-of-thorns starfish outbreaks.
"We know our window to act is closing. It's why we show up every day, ready to do whatever it takes to protect and restore the Reef and help it adapt to rising temperatures and other threats. We're working with more than 500 partners on the ground, in the water and in the lab, finding and growing bold, innovative and practical solutions to some of the most complex ecological challenges of our time.
"UNESCO's report focuses only on the Great Barrier Reef and it is important to state that the threats our Reef faces are shared by every coral reef in the world. This is an ecosystem-wide challenge, not one only felt by Australia. If ever there was a time to come together for the world's coral reefs and oceans, it's now. We must all act – they need us now more than ever."
What are we doing to save the Reef?
For more than 20 years, we've been tackling the biggest threats facing the Reef.
Our signature effort in response to climate change on the Reef is the Reef Restoration and Adaptation Program. The largest marine research program in the world, we're working with over 300 researchers to design and prove solutions that help shield reefs from the impacts of climate change and fast track their recovery and regeneration.
We've already:
Deployed over 8 million baby corals onto priority reefs
Identified new genetic markers that indicate the corals most likely to survive heat stress and develop a new method to help the other corals be more heat tolerant
Built prototypes of equipment to help cool and shade the Reef in the summer months
Established 90 monitoring sites across the Reef so we can start to understand where to prioritise our response
Our next ambition is to:
Breed heat-tolerant corals at a scale not yet seen anywhere in the world
Establish a cryo bank of coral species from the Great Barrier Reef, in the hope we can develop a brood stock
Complete in-water testing of our piloted cooling and shading techniques that reduce heat and light stress on corals
We're also behind the largest blue carbon program on the Reef and helping tourism operators achieve their ambition to be carbon neutral.
Alongside this work, we're also tackling poor water quality by accelerating the scale and pace of investment into proven on-ground measures to reduce the pollutants that flow off the land and out to the Reef.
We're working with more than 3,000 farmers and already we've reduced nutrient and pesticide run-off across 100,000 hectares of cane land, reduced sediment across 480,000 hectares of grazing land and improved farming practices across 25% of Queensland's sugarcane area.
With our partners we're finding and funding the best solutions for coral reefs and we'll share them with reef managers around the world so that together, we can save coral reefs for our children and grandchildren.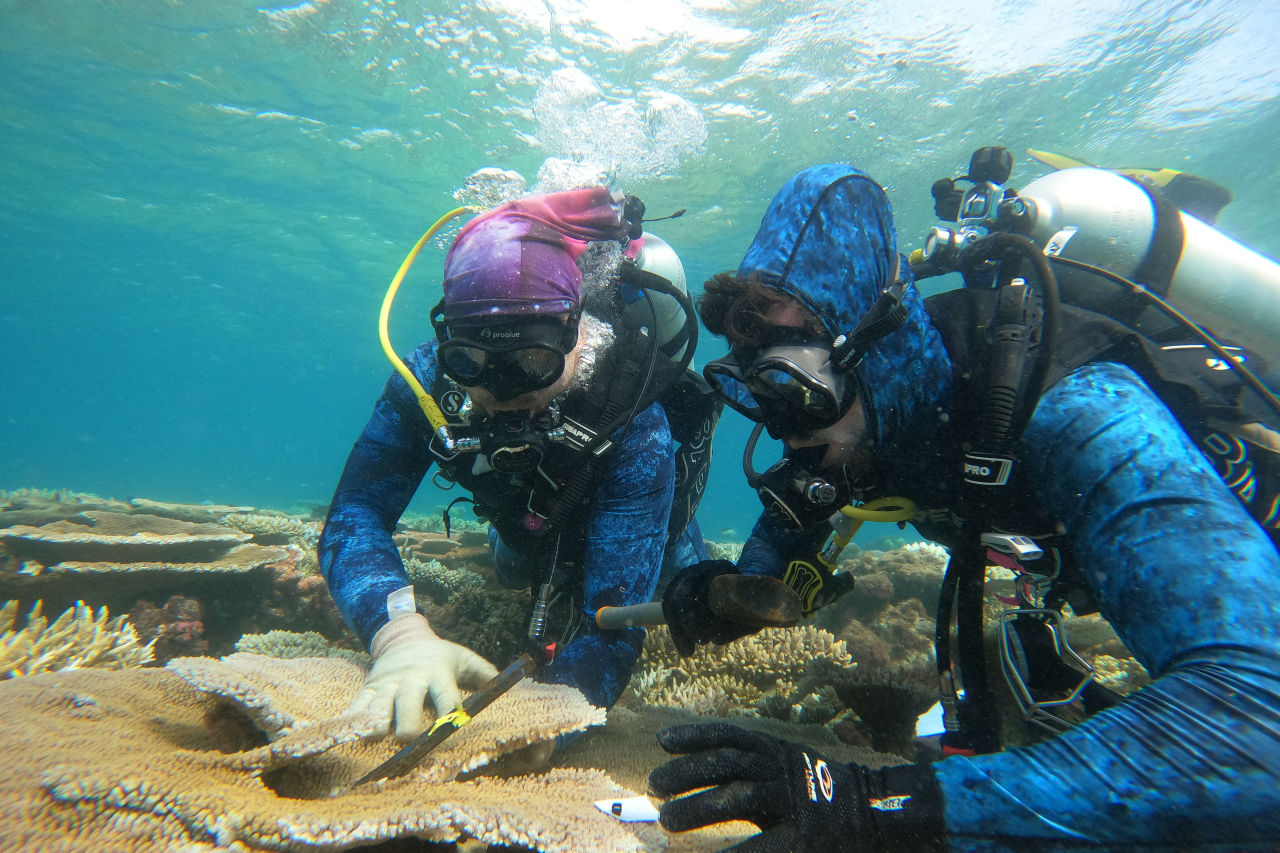 Researchers harvesting coral fragments for heat stress tests. Credit: Ian McLeod, AIMS
Why is the Great Barrier Reef under threat?
The Reef was named a natural World Heritage Area in 1981 for its 'outstanding universal value', which included its exceptional natural beauty and rare and endangered species. As the largest living structure on earth, the Reef is one of the richest and most complex natural ecosystems in the world.

But climate change, which causes temperatures to rise on our land and in our oceans, is the biggest threat to the future of the Great Barrier Reef and coral reefs around the world.

Marine heatwaves have triggered four mass coral bleaching events on the Great Barrier Reef in just six years, reducing shallow water coral reefs by as much as 50%.
Coral reefs can recover from bleaching over time, but only if temperatures drop and conditions return to normal.
Poor water quality is also a major threat to the Reef, caused largely by dissolved inorganic nitrogen, pesticides and sediment flowing off our land, into our waterways and out onto the Reef.
Extreme weather events such as cyclones, coral-eating crown-of-thorns starfish outbreaks and habitat loss also pose significant threats.
Science tells us we have less than 10 years to turn the tide on coral reef decline. To do this, we need urgent action on climate change to drastically reduce global emissions.
This is a huge task, but reducing emissions is no longer enough.
Action on climate change requires a dual effort to protect our reefs. Whilst the world works towards reducing greenhouse gas emissions, we must also build ecosystem resilience by rapidly developing and scaling up interventions to buy time for coral reefs and help them adapt to the warmer temperatures already caused by climate change.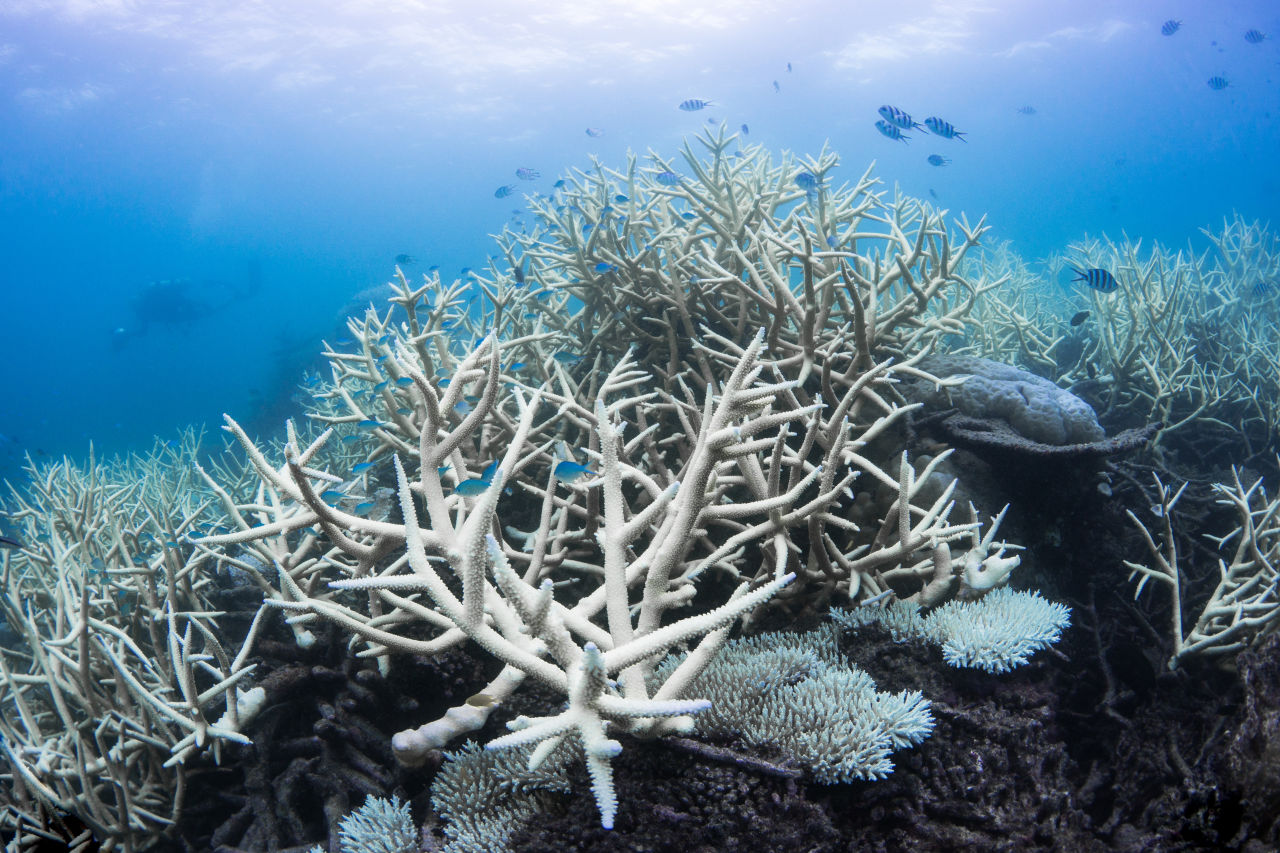 The Great Barrier Reef has suffered four mass bleaching events in six years. Credit: The Ocean Agency, Ocean Image Bank.
Healthy coral reefs could vanish in our lifetime.

Your donation means reefs and the threatened wildlife that call them home can do more than just survive, but can flourish once again.
Please donate today
$30 helps plant corals on degraded reefs.
$50 helps rebuild endangered turtle habitats.
$100 helps expand our seed-growing capabilities to protect and restore seagrass meadows.