Media Release ·
$9.8 million innovation program to protect corals from predatory starfish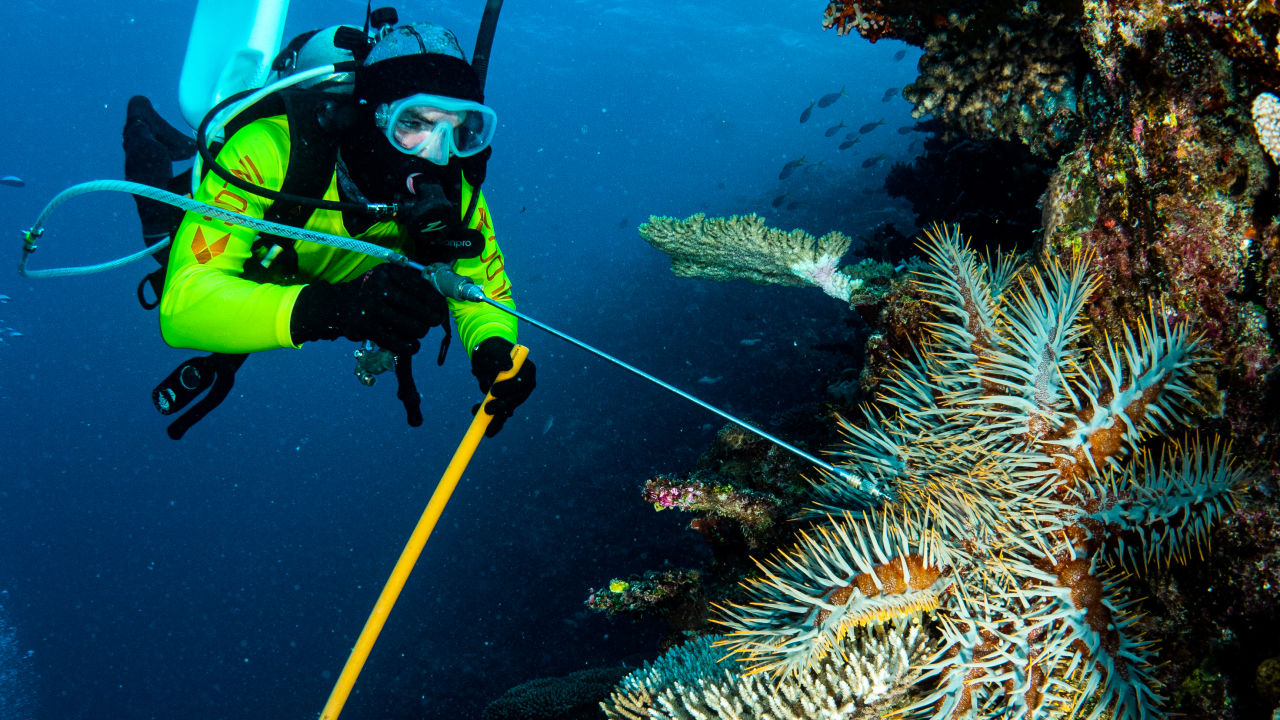 High-tech robotics, genetics and pheromones channelled to outsmart crown-of-thorns starfish
Robotics, genetics, environmental DNA, pheromones and natural predators are among the clever solutions scientists are aiming to fast-track in a $9.8 million innovation program to outsmart the coral-eating crown-of-thorns starfish (COTS) on the Great Barrier Reef.
The mission to protect the Reef's corals from predatory starfish is receiving a boost from 21 new projects as part of the Crown-of-thorns Starfish Control Innovation Program.
In this world-leading program the Great Barrier Reef Foundation is partnering with the Australian Institute of Marine Science, CSIRO, James Cook University and The University of Queensland to develop next-generation tools that will enhance our capacity to predict, detect and respond to deadly COTS outbreaks at large scale across the Great Barrier Reef.
With the current COTS outbreak still active on many areas of the Reef, Great Barrier Reef Foundation Managing Director Anna Marsden said outbreaks are a major threat to the health of our irreplaceable Great Barrier Reef and the thousands of species of marine life that call it home.
"It's critical that we do everything we can to help build the Reef's resilience and ensure our precious corals have every chance to survive," Ms Marsden said.
"Controlling COTS outbreaks is one of the most effective actions we can take to directly protect corals and build the Reef's resilience in the face of climate change.
"The $9.8 million COTS Control Innovation Program brings together over 90 of the best and brightest minds from Australia's leading science institutions to uncover the next level intelligence and tools we need to predict where and when COTS outbreaks will occur, find COTS more efficiently, and respond quickly to counter potential outbreaks before they take hold of our corals."
COTS Control Innovation Program Director Dr Mary Bonin said the program will use a combination of ocean activities, lab experiments, complex modelling and multiple science disciplines.
"We have experts in genetics, data science, engineering, ecology, decision science and social science, working in partnership with reef managers and on-water crews from the COTS Control Program to develop the innovations," Dr Bonin said.
"This is a world-leading program for the Great Barrier Reef and coral reefs globally to uncover innovative ways to predict, detect and respond to damaging crown-of-thorns starfish outbreaks.
"We're decoding the COTS genome to find the natural pheromones that COTS use to communicate. These could be used to produce baits that attract COTS en masse from their hiding spots and lure them into traps for removal.
"We're also turning the coral predator into prey. The program is revealing the role of marine creatures that eat COTS – like fish and crabs – and showing how they can be used to keep starfish numbers in check and prevent them from reaching their coral-eating peak.
"Other projects are developing cutting-edge detection technology. We are creating new robotics and artificial intelligence systems to hunt down the cryptic starfish so we can track their spread and respond more quickly. The program is also fine-tuning methods for environmental DNA detection, which will provide the earliest possible warning sign of COTS infestation on a reef by picking up traces of DNA they leave in the water."
One of the Program's earlier projects has already been put to good use in identifying early warning signs of a developing COTS outbreak in the northern Great Barrier Reef. This enabled the COTS Control Program to rapidly respond and deploy additional vessels to carry out targeted surveillance and COTS culling to suppress the outbreak and protect precious Reef corals.
The COTS Control Innovation Program is funded by the partnership between the Australian Government's Reef Trust and the Great Barrier Reef Foundation. It will work closely with Reef managers – the Great Barrier Reef Marine Park Authority – and the COTS Control Program to ensure the innovations have real-world impact.
Photo credit: Rick Abom, RRRC