Media Release ·
Celebrating success on Raine Island this World Turtle Day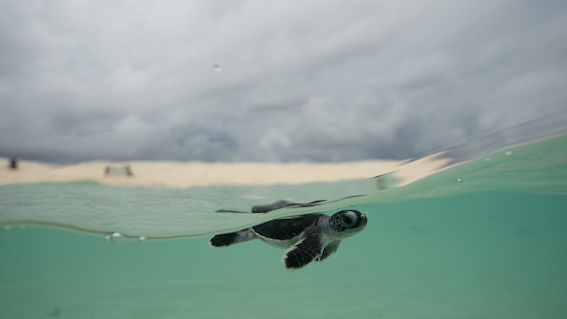 Turtle conservation work on Raine Island has helped increase the success rate of green turtle hatchlings, Minister for Environment Leeanne Enoch announced as part of World Turtle Day.
Ms Enoch said Operation Sand Dune on Queensland's remote Raine Island – which involved raising and reshaping sections of the beach – has led to a significant increase in threatened green turtle hatchling success.
"The second round of re-profiling work completed in September last year, following a successful trial in 2014, has improved hatchling success rates by almost five times in the early hatchling season and doubling hatchling numbers in the peak hatchling times," Ms Enoch said.
"Prior to the re-profiling works, clutches of eggs laid would have been inundated by water and drowned. But thanks to the work, all clutches of eggs laid were above the water level this season."
Minister Enoch said the multi-million-dollar Raine Island Recovery Project to protect and restore critical habitat at Raine Island – the world's largest green turtle rookery – was proving to be a huge success.
"The Raine Island Recovery Project is making a major contribution to the future sustainability of the world's most important green turtle rookery and should be celebrated this World Turtle Day (23 May)."
Great Barrier Reef Marine Park Authority reef conservation actions assistant director Mark Read said the negative impacts of tidal inundation "mean a business as usual approach is no longer an option".
"We have used machinery to shift more than 20,000 cubic metres of sand from elsewhere on the island to raise sections of nesting beach above tidal inundation level," Dr Read said.
"In September 2014, a 150 metre section of nesting beach was re-profiled and raised nearly one metre, while in September 2017 we re-profiled another 230 metres of beach."
Ms Enoch said the dedicated team has also reshaped a rock formation and installed turtle exclusion fencing to stop turtles becoming trapped and dying at a rocky outcrop on the island.
"This season was the first time no turtle lives were lost at the rock formation since the five-year, $7.95 million partnership between BHP, the Queensland Government, the Great Barrier Reef Marine Park Authority, Wuthathi Nation and Kemer Kemer Meriam Nation (Ugar, Mer, Erub) Traditional Owners and the Great Barrier Reef Foundation began," she said.
Monitoring staff from QPWS and Traditional Owner Rangers will return to Raine Island in winter, prior to the next green turtle nesting season, which typically runs from October to April – peaking in late November and early December.
Ms Enoch said work on Raine Island involved Queensland Parks and Wildlife Service (QPWS), Traditional Owners, researchers from James Cook University, local contractors.
1,500 metres of fencing has now been installed since the Raine Island Recovery Project started to prevent turtles from falling from cliff faces on the island and becoming overturned or getting stuck
Operation Sand Dune took 22 days and was completed on 8 September 2017
To date, more than 20,000 cubic metres of sand has been re-profiled – that's enough to fill eight Olympic-sized swimming pools (including the pilot project and Operation Sand Dune)
211 adult turtles were rescued at Raine Island last season
Satellite tracking revealed the average number of clutches laid per turtle last season was 6.7, with a range between 4 and 10 clutches
Turtles tracked last season travelled incredible distances after nesting on Raine Island – up to 1423km (that's further than the distance between Brisbane and Victoria!)
19 turtles were tracked via satellite, revealing that eight stayed within the Great Barrier Reef Marine Park area after nesting, five migrated into the Gulf of Carpentaria and six headed north into the Torres Strait area with two of these continuing further to Papua New Guinea