Media Release ·
​Endangered seabird discovery on Raine Island breaks 30 year record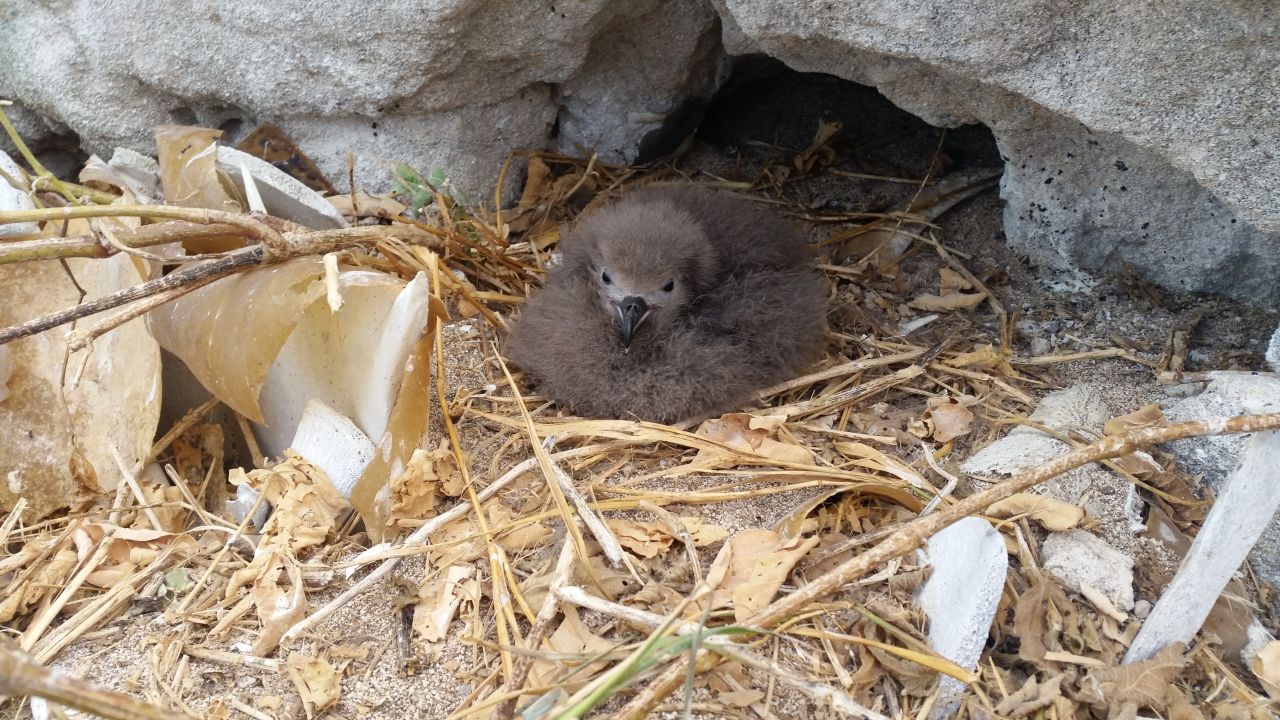 For the first time in 30 years, researchers can confirm one of the country's rarest seabirds has bred in Australia.

Environment Minister Steven Miles announced the discovery of a Herald petrel (Pterodroma heraldica) chick during the latest Raine Island Recovery Project research field trip.
"In June, Queensland Parks and Wildlife Service (QPWS) staff found an adult Herald petrel taking care of a single egg in a nest," Mr Miles said.
"When the project team returned to the island in August, they were thrilled to discover a healthy-looking chick had hatched."
Raine Island is the only known Herald petrel breeding site in Australia.
The seabird is listed as endangered in Queensland under the Nature Conservation Act 1992 and critically endangered in Australia under the Environment Protection and Biodiversity Conservation Act 1999.
Sightings of Herald petrels in Queensland were scarce until July 2014, when bird specialists from QPWS and the Department of Environment and Heritage Protection (EHP) observed 20 birds at Raine Island.
This count exceeded any previous counts of Herald petrels until the 2017 research trip, when 26 birds were seen.
Although Herald petrels were observed during winter field surveys over the last three years, no active nests with eggs were found until this year's discovery.
The exciting find of a Herald petrel chick in Australia is part of the important research underway through the Raine Island Recovery Project which aims to protect and restore the island's critical habitat to ensure the future of key marine species, including green turtles and seabirds.
This five-year project is a pioneering public-private partnership between BHP, the Queensland Government, the Great Barrier Reef Marine Park Authority, Wuthathi Nation and Kemer Kemer Meriam Nation (Ugar, Mer, Erub) Traditional Owners and the Great Barrier Reef Foundation.
Raine Island is the most diverse seabird rookery in the Great Barrier Reef World Heritage Area and seabirds are a key apex predator in the island's diverse ecosystem.
More than 80 bird species have been recorded at Raine Island and 16 species are known to breed on the island.
The project's seabird research may also uncover a new species.
In winter 2016 and again in 2017, dark plumaged petrels were observed on Raine Island, in another first for researchers.
QPWS Senior Conservation Officer Andrew McDougall said QPWS was working to confirm the identity of these darker coloured birds.
"Genetic testing will be conducted over the next year to help determine whether this bird is an entirely new species," Mr McDougall said.
"It has always been thought that these are Herald petrels, but the dark variants we've seen in 2016 and 2017 have raised questions about the Raine Island birds.
"The results of the genetic testing will help us find out more about these endangered seabirds and their place in the whole Raine Island ecosystem that this project is working to protect and restore."
Researchers will continue to monitor the new Herald petrel chick when they return to the island on the project's next field trip.