Media Release ·
"Operation Sand Dune" saves more Raine Island green turtles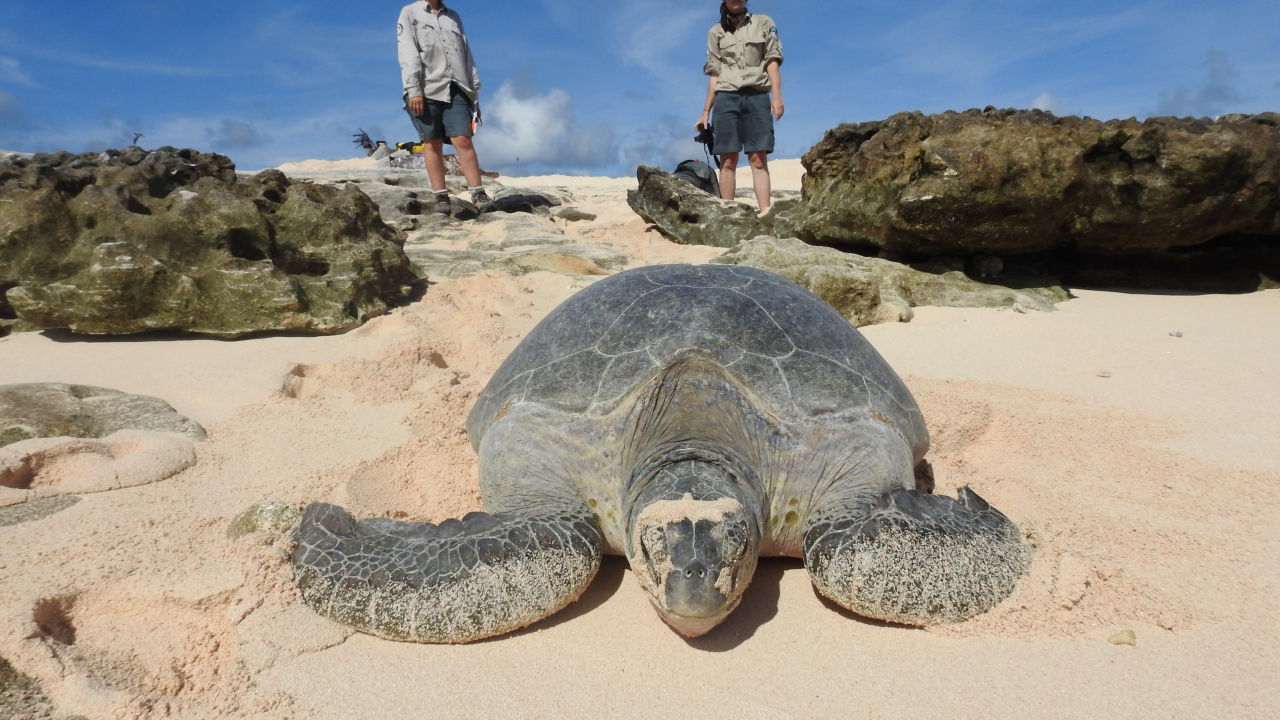 Green turtle hatchlings on Raine Island
Six Olympic-sized swimming pools of sand will be moved across Raine Island beach to boost the numbers of the threatened green turtle.
National Parks Minister Steven Miles said the rescue mission to build bigger sand dunes was needed to make nests safe from tidal inundation.
"This area is home to the largest and most important green turtle rookery in the world and we want to see as many hatchlings as possible make it," Mr Miles said.
"Regenerating the sand dunes will raise the nesting area to above tidal inundation level, preventing thousands of baby turtles still in their eggs from drowning.
"Specialist contractors and rangers will transfer 15,000 cubic metres of sand from the front of the beach and move it to the back of the beach, which is currently too low for nests.
"An area of 200 metres by 150 metres will be lifted by one metre. When the works are complete, any turtle eggs laid in this prime nesting area will be above tidal inundation and have a better chance of survival."
Traditional Owners and cultural advisors will also travel to the protected island to be on hand when the new works roll out.
Member for Barron River Craig Crawford said the excavation equipment will board a barge bound for Raine Island this morning (15 August).
"The delicate works will take about three to four weeks and will include installing 600 metres of turtle exclusion fencing on the small 'cliffs' to reduce adult turtle deaths," Mr Crawford said.
"This will stop turtles who get up onto the small cliffs from falling down on to their backs and dying of heat exhaustion.
"Work will also be done to re-shape a rock formation that scientists have dubbed 'Death Rock' due to adult turtles often becoming trapped under its overhangs and dying.
"In addition, new access scaffolding will be placed in the heritage-listed tower that stands on the island.
"This scaffolding will be a permanent installation within the tower to allow rangers and researchers to access the structure safely."
"This rescue mission follows a successful sand re-profiling trial in 2014, which led to increased hatching success rates and all nests staying above tidal inundation level for three nesting seasons in a row."
The re-profiling work is expected to finish by mid-September 2017.
The sand moving effort is part of the Raine Island Recovery Project, the five-year, collaboration between BHP, the Queensland Government, the Great Barrier Reef Marine Park Authority, the Wuthathi Nation and the Kemer Kemer Meriam Nation (Ugar, Mer, Erub) Traditional Owners and the Great Barrier Reef Foundation to protect and restore the island's critical habitat to ensure the future of key marine species.