Media Release ·
Vital turtle nesting site Avoid Island chosen as climate change refuge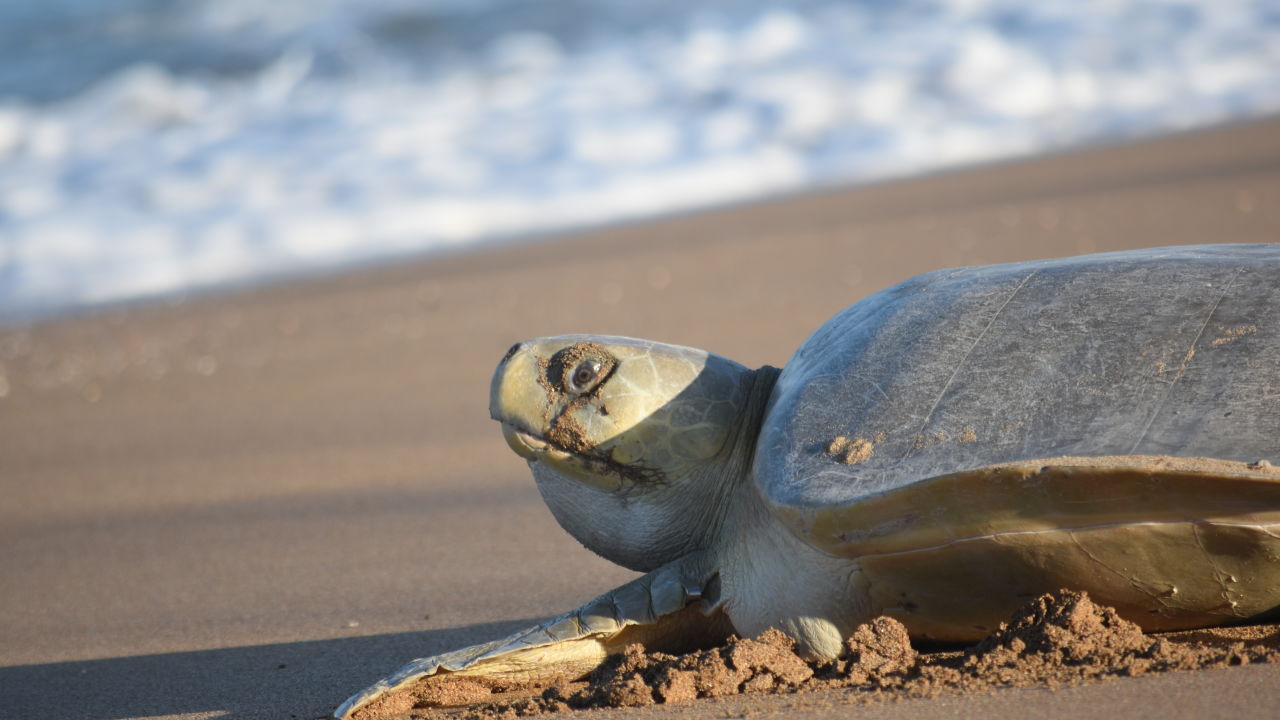 Photo credit: Georgie Braun
The Great Barrier Reef Foundation will restore and protect vital turtle nesting site Avoid Island under the next phase of its Reef Islands Initiative.
Building on the success of the initiative's first two sites — Lady Elliot Island and the Whitsundays — the Foundation will add Avoid Island to a crucial network of climate change refuges that protect surrounding ecosystems and help save vulnerable species.
Home to numerous dangerous creatures including death adders and crocodiles, Avoid Island is situated 100km south of Mackay and is a critical habitat for the vulnerable flatback turtle which is only found on the Great Barrier Reef.
With our partners Queensland Trust for Nature and Koinmerburra Aboriginal Corporation we're transforming the island into a hub of education and citizen science by developing opportunities for visitors to assist in the protection of important ecosystems, helping save flatback turtles, more than 80 species of birds and a diverse range of marine life.
Great Barrier Reef Foundation managing director Anna Marsden says the Reef, its islands and the marine life that depend on them are coming under increasing pressure from climate change.
"As the climate warms and cyclone intensity increases, the southern Great Barrier Reef will become an important refuge for reef residents looking to migrate to cooler areas," Ms Marsden says.
"Avoid Island will join our network of climate change refuges being created through the Reef Islands Initiative."
Federal Minister for the Environment Sussan Ley says the Australian Government's Reef Trust is delighted to be supporting Reef Islands with $5 million in funding to help protect reef species and rejuvenate ecosystems.
"Avoid Island is the second largest Flatback Turtle rookery on the Great Barrier Reef and restoring nesting habitats there will greatly benefit this species," Minister Ley says.
"It is fitting that the third Reef Islands project is being announced on the third anniversary of the initiative, which has already revegetated 7.5 hectares of Lady Elliot Island and seen a 125% increase in turtle habitat at that island's main nesting beach."
Queensland Minister for the Environment Meaghan Scanlon says Avoid Island is a worthy addition to the initiative as a refuge for some of the Reef's most vulnerable species.
"We've provided $3 million for the Reef Islands project which is already delivering fantastic outcomes such as restoring island habitats for the benefit of marine life and local communities," Minister Scanlon says.
"Climate change is of critical concern for the Reef and this initiative is one of the many ways the Queensland Government is working to ensure a climate-resilient, healthy Great Barrier Reef for now and future generations."
Lendlease Group Chief Executive Officer and Managing Director Steve McCann says protecting critical Great Barrier Reef habitats aligns with our commitment to leave a positive social legacy and create value through places where communities thrive.
"With significant turtle monitoring and revegetation progress achieved in the Whitsundays and at Lady Elliot Island, we look forward to continuing our shared partnership's work to protect and preserve these crucial ecosystems for future generations," Mr McCann says.
Queensland Trust for Nature Science and Education Manager Dr Renee Rossini says this project builds on our collective legacies; eons of management by First Nations custodians, represented now by Koinmerburra Aboriginal Corporation, QTFN's commitment to growing Queensland's biodiversity estate, and a history of conservation research and education.
"With the support of the Foundation, we will walk together to transition one of Queensland's only island Nature Refuges into a financially and environmentally sustainable hub of education, citizen science and climate adaptation," says Dr Rossini.
"Avoid will be a unique piece of that island ark puzzle as its unique flora and fauna differ to those already in the network. Its approach shows how we can collaboratively build and secure our environment and culture holistically, and share that legacy with our collective communities."
The Reef Islands Initiative is a Great Barrier Reef Foundation program, supported by funding from Lendlease, the Australian Government's Reef Trust, the Queensland Government and the Fitzgerald Family Foundation. It will be delivered on Avoid Island in partnership with Queensland Trust for Nature, Koinmerburra Aboriginal Corporation, Wonder of Science and Mackay and District Turtle Watch.