News ·
Community champions helping save our Reef
The Great Barrier Reef is an irreplaceable ecosystem which is home to thousands of species of marine life. But our Reef is facing a growing combination of threats.

Right now, we're working with community partners to deliver 24 citizen science and local action projects that are already making a positive impact on the health of our Reef. We all have a role to play in saving our irreplaceable Reef, and so far these projects have already seen 10,000 participants take part in community-led Reef protection and citizen science activities.

Meet some of these local Reef champions helping us save our natural wonder and its marine life for future generations through the short videos they filmed.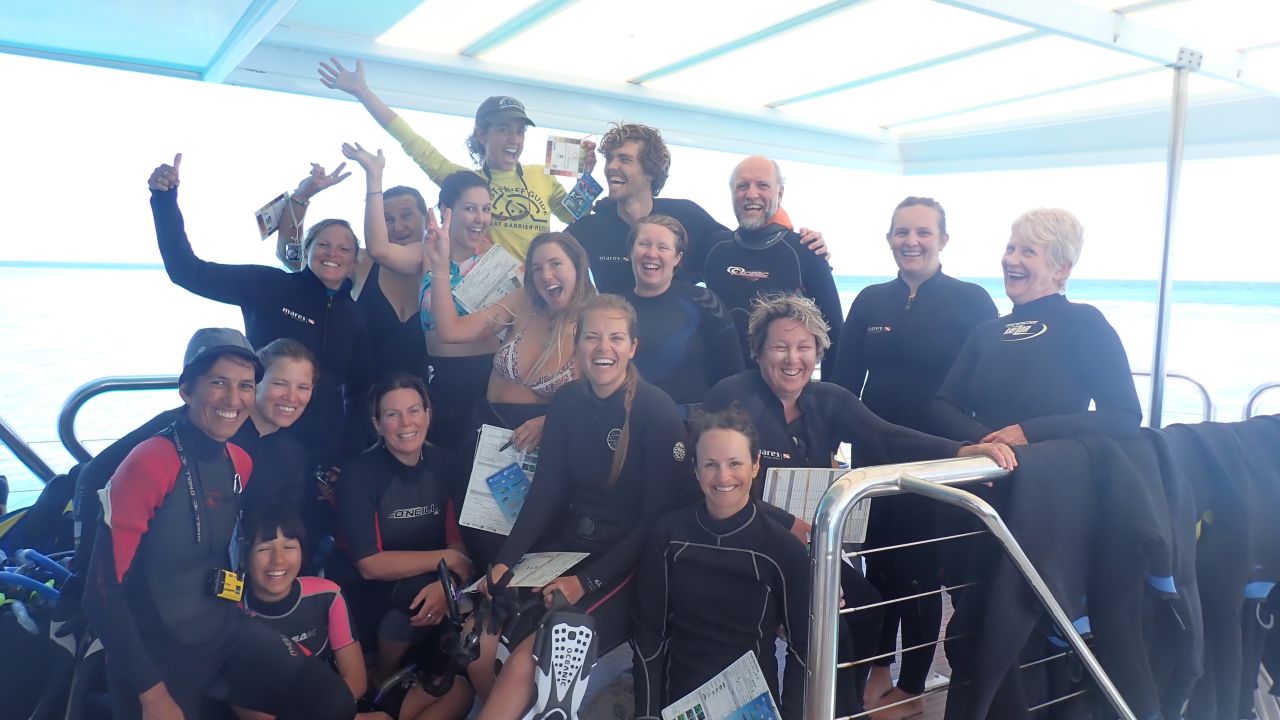 #Educating communities
CoralWatch
We're training community members to become citizen scientists and collect vital information on the health of their local reefs around Palm Island, North Keppel Island, Gladstone and Heron Island.

Everyone from local teachers to Indigenous students are taught how to collect information using CoralWatch colour charts. This information helps identify early signs of coral bleaching and build understanding about coral health trends.
#Seagrass mapping
Science Under Sail
We're upskilling high school students along the length of the Reef to become citizen scientists by collecting important information about critical Reef habitats such as seagrass.

Seagrass supports the Reef's endangered turtles and dugongs but is under threat from land run-off and climate change. The information collected through this project is helping fill an identified gap in information about seagrass health to improve data available for management decisions and building science skills for future Reef managers.
#What's down our drains?
Fitzroy Basin Association
We're installing drain buddies in litter hotspots that flow to the Reef in Rockhampton, Yeppoon and Gladstone. These devices are monitored and community-based behaviour change campaigns are put in place to help prevent littering. This project has prevented 27,191 pieces of litter and 721kg of pollutants (including 13,828 cigarette butts) from entering the Great Barrier Reef so far.
#Protecting Wetlands
Earthwatch Institute
We're delivering a school-based mangrove monitoring program so that high school students can become citizen scientist and collect vital data that informs local mangrove management and conservation work. Mangroves are important for the health of the Reef as they are essential nursery grounds for many reef species and also trap sediment.
#Whitsunday water quality monitoring
Reef Catchments
A healthy reef needs healthy water. Reef Catchments are partnering with the Whitsundays Charter Boat Industry Association to train 10 tourist operators to collect critical water quality data in the Whitsundays. This information will be used to help understand what is affecting the quality of water in the region to support informed Reef management decisions.
#Whitsunday reef monitoring
Reef Check Australia
We're collecting critical reef health data in the Whitsundays region and training the first cohort of Reef Ambassadors as community leaders who promote information about the condition of our coral reefs and what communities can do to help.
#Reef Keepers
Lady Musgrave Experience
We're working with local Traditional Owners, schools, Reef managers and community groups to collect Reef health data through CoralWatch and Eye on the Reef programs.

The information collected has been used to make decisions on where to focus Reef protection efforts, and to inspire the wider community to get involved in simple actions we can all take in our everyday lives to protect the Reef.
Funded by the Great Barrier Reef Foundation's partnership with the Australian Government's Reef Trust.
We worked with the team at Digital Storytellers and our community partners to produce these videos to engage more people in Reef protection activities.