News ·
Coral bleaching: It's not too late to save the Great Barrier Reef
​Reports of mass coral bleaching on the Great Barrier Reef are devastating to see and serve as a reminder that the impacts of climate change pose a serious threat to coral reefs. But now is not the time to lose hope.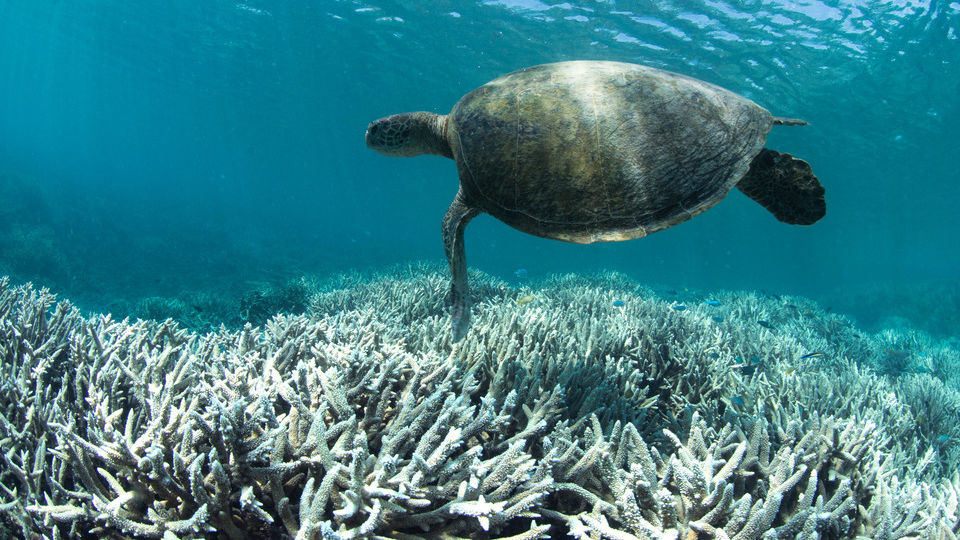 The Great Barrier Reef Marine Park Authority has announced a mass coral bleaching event on the Reef, with coral bleaching observed across multiple regions ranging in impact from low to severe. This is the fourth mass bleaching event since 2016 and has occurred despite La Niña conditions.
Aerial surveys completed by the Reef Authority and the Australian Institute of Marine Science covered approximately 750 reefs from the Torres Strait to the Capricorn Bunker Group. Most reefs surveyed have some level of bleaching. In the Far North, bleaching ranges from minor to severe. In the Northern and Central regions bleaching is mostly severe and some coral mortality was observed. In the South, bleaching was mostly minor.
Rising ocean temperatures caused by climate change are the primary cause of coral bleaching. Water temperatures are rising faster than corals can adapt, leading to more frequent, and more intense, bleaching events.

In 2016 and 2017, mass bleaching events reduced the Reef's shallow water corals by 50%. This year's bleaching is particularly concerning as it occurred during a La Niña weather event, which brings increased rain and cloud cover and typically lowers water temperatures. If we continue on our current path, the long-term outlook for our Reef is grim.
The Great Barrier Reef's future is on a knife-edge, but it's not too late to save it.
To succeed, we must do two things simultaneously. The highest priority is to tackle the root cause of climate change by drastically and rapidly reducing global emissions. If we achieve this, we can limit ocean temperature rises to manageable levels.
Equally important is the need to make coral reefs more resilient to the impacts of climate change that are already locked into the system. Without accelerated action on both fronts, the science clearly points to a catastrophic decline of coral reefs.
We're doubling down on our commitment to tackle climate change by finding and funding scalable solutions to some of the most complex ecological challenges of our time. Already we're achieving breakthroughs in marine science that provide real hope. These advances will buy the Reef time by helping it withstand the impacts of climate change while global greenhouse gas emissions are significantly reduced.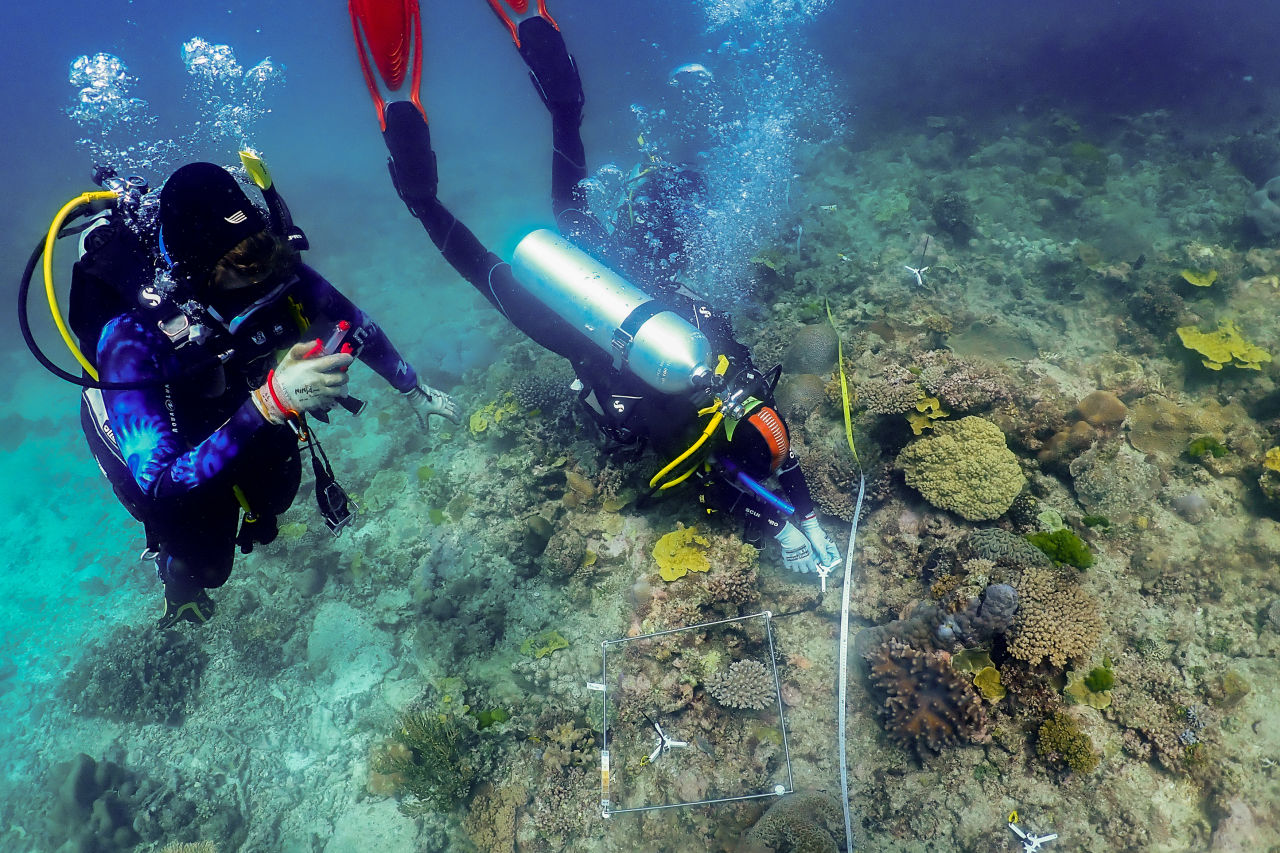 Researchers from the Australian Institute of Marine Science deploy coral babies onto the Reef at Heron Island. Credit: Gemma Molinaro, AIMS
Our planet needs healthy coral reefs to survive. Their role as a nursery to a quarter of all marine life means there will be no healthy oceans without healthy coral reefs.
Following the 2016 and 2017 bleaching events, a consortia was formed around the Reef Restoration and Adaptation Program – a research and development program to find the techniques needed for large scale restoration and adaptation.

For the past five years, we've been working with over 300 researchers from six large research institutions and their many partners on innovative solutions that can be scaled up and applied on coral reefs all over the world. It's the largest research and development effort of its kind on the planet and it's our best hope of saving coral reefs.
In the first year of research and development we've already:
Deployed over 8 million coral larvae onto priority reefs
Identified new genetic markers that indicate a coral's resilience in the face of heat stress
Cross-bred two new hybrid species of corals, with increased tolerance to warmer temperatures
Completed the first prototype testing of equipment, designed to help cool and shade the Reef
Established 90 ecological impact monitoring sites across the Reef, critical to helping us manage the success and cost effectiveness of different reef interventions.
Right now, we're exploring ways to:
Breed heat-tolerant corals that can better cope with higher water temperatures using automation and engineering techniques to do this at a scale not yet seen,
Preserve a diverse collection of coral species through innovative and scaled up cryopreservation technologies, so we can use them to grow corals outside of limited natural reproduction windows.
Protect reefs from coral bleaching through cooling and shading techniques that reduce heat and light stress.
We're finding and funding the best solutions for coral reefs and we'll share them with reef managers around the world so that together, we can save coral reefs for our children and grandchildren.
The Reef Restoration and Adaptation Program is funded by the partnership between the Australian Government's Reef Trust and the Great Barrier Reef Foundation. Partners include the Australian Institute of Marine Science, the Great Barrier Reef Foundation, CSIRO, The University of Queensland, QUT, Southern Cross University and James Cook University.