Media Release ·
Expert committee to oversee Reef Partnership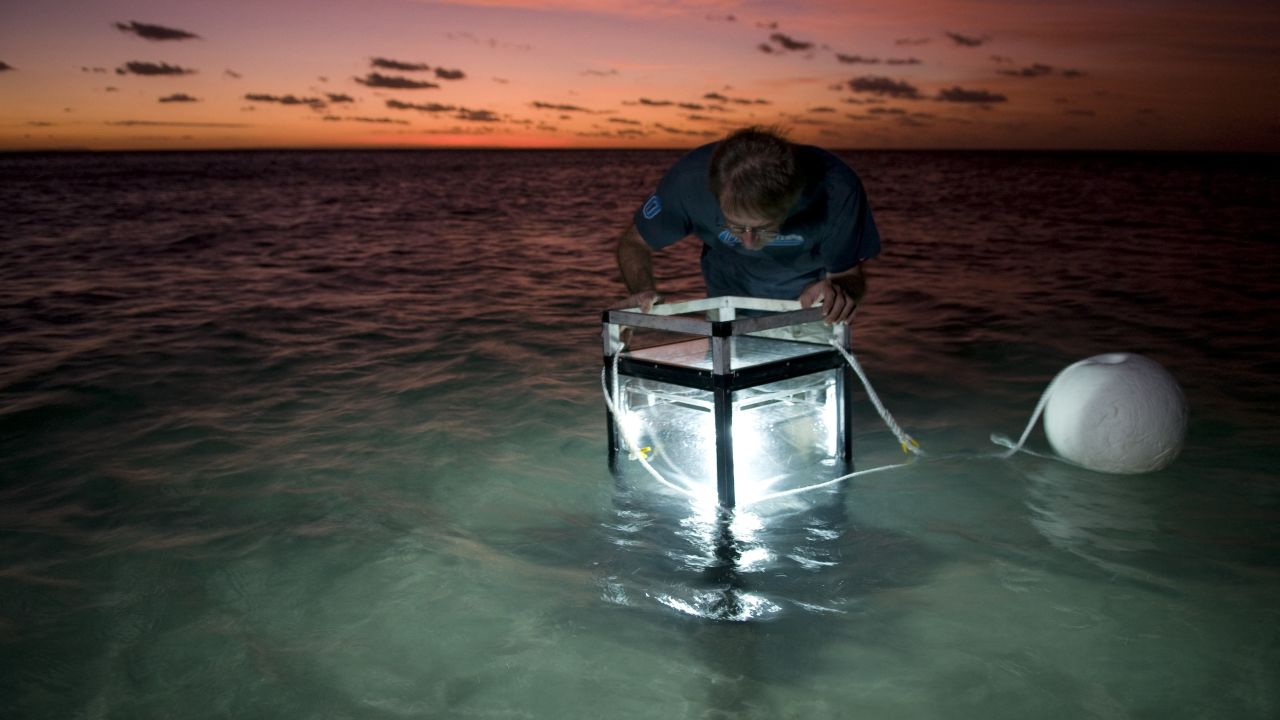 The Great Barrier Reef Foundation today announced an expert Partnership Management Committee to oversee delivery of the $443.3 million Reef Partnership announced in April by the Australian Government.
A panel of 10 science, research, marine and project management experts will oversee the investment for the Foundation and track its progress over the six-year life of the program, which will support the delivery of key actions under the Reef 2050 Plan and help ensure the future health of the Reef.
The panel will be co-chaired by eminent scientist John Gunn, former CEO of Australia's tropical marine research agency the Australian Institute of Marine Science, and Steven Sargent, a leading executive from the Australian corporate sector where he has held senior roles in mining technology, energy and finance.
The other committee members are internationally-renowned and respected marine scientist Prof. Ove Hoegh-Guldberg, former Queensland Chief Scientist Dr Geoff Garrett AO, former Vice-Chancellor of the University of Queensland Dr Paul Greenfield AO, Far North Queensland tourism expert Wendy Morris, distinguished Yuku Baja Muliku woman from Cape York Cr Larissa Hale, Executive Director of Projects and Partnerships at the Great Barrier Reef Foundation Theresa Fyffe, Australian Government representative from the Department of Environment and Energy Deb Callister and Queensland Government representative from the Office of the Great Barrier Reef, Elisa Nichols.
Great Barrier Reef Foundation Managing Director Anna Marsden said as the lead charity raising funds for Reef projects grounded in science, engineering, technology and on-ground action, the Foundation was uniquely placed to broker constructive partnerships for program delivery for the Reef.
"We have a history of securing partnerships for innovative projects to protect the Reef, such as the Raine Island Recovery Project that last year alone saved 220 breeding female green turtles, the pioneering larval reseeding ('IVF for coral reefs') project and the sun shield for the Reef project, to name just a few," Ms Marsden said.
"We have a track record of raising significant funds for the Reef, more than $90 million, and we will continue to do that to leverage these government funds."
"Since we were established in 2000, our focus has been single and clear – saving the Great Barrier Reef.
"We have one client and that is the Great Barrier Reef. Everything we do is focused on restoring this wonder of the natural world and keeping it safe for our children and grandchildren. This is our lifeblood and our dedicated Queensland based team of experts work tirelessly to meet this challenging goal."
Since the Australian Government Reef partnership announcement, the Foundation has been working to establish a transparent process for the Reef Partnership Program with key government departments and stakeholders.
While the Foundation is not yet calling for formal Reef project applications, interested applicants can now register to receive further information and updates about the program. Regular communication with each interested, registered party commenced from 1 July.
John Gunn
Mr Gunn has significant experience in leading the development of strategy, scientific research and capability, and stakeholder engagement across a research portfolio encompassing marine ecology, fisheries, coastal systems, physical and chemical oceanography, atmospheric chemistry and climate science. He has held leadership positions with Australia's two key science organisations: the Australian Institute of Marine Science (AIMS) and CSIRO. Before becoming CEO of AIMS, Australia's tropical marine research agency, and Mr Gunn the previous Chief Scientist of the Australian Antarctic Program, where he played a key role in developing the Australian Antarctic Science Strategy Plan: 2011–2021. Prior to this, John was Deputy Chief of CSIRO's Marine and Atmospheric Research Division.
Steven Sargent
Mr Sargent has 36 years of global corporate experience in industries including mining technology, energy, banking and finance. He has held senior leadership positions in Australia and New Zealand, the United States, Europe and Asia. In a career spanning more than 20 years with global company GE, Mr Sargent's leadership roles included President and CEO of GE Australia & New Zealand with responsibility across operations in Energy, Healthcare, GE Capital, Oil & Gas, and Transportation; President and CEO of GE Mining – GE's global mining technology and services business; President and CEO of GE Capital Asia Pacific; as well as being the first Australian in the company's 130-plus year history to become a member of GE's 45 member Corporate Executive Council.
Prof. Ove Hoegh-Guldberg
Professor Hoegh-Guldberg is the inaugural Director of the Global Change Institute and Professor of Marine Science, at The University of Queensland. Prof. Hoegh-Guldberg has held academic positions at UCLA, Stanford University, The University of Sydney and The University of Queensland and is a member of the Australian Climate Group; the Royal Society (London) Marine Advisory Network; and the Board of Editing Reviewers at Science Magazine. In 1999 he was awarded the Eureka Prize for his scientific research. He is the Queensland Smart State Premier's Fellow (2008-2013). In 2012 he was awarded a Thomson Reuters Citation Award in recognition of his outstanding contribution to research and was awarded an Australian Research Council Laureate Fellowship. He is also the Chief Scientist for the Catlin Seaview Survey of the Great Barrier Reef.
Dr Geoff Garrett AO
Dr Garrett was Chief Scientist of Queensland from 2011 to 2016. In this role he was accountable for science policy, providing strategic guidance across a range of government departments, and was also involved with or led a number of reviews and inquiries including the science of floods, uranium mining, bat derived horse viruses, underground coal gasification, health and biomedical research and water quality improvement in the Great Barrier Reef.
He has led two of the world's major national research and development organisations. For eight years, Dr Garrett was CEO of Australia's Commonwealth Scientific and Industrial Research Organisation (CSIRO), one of the world's largest and most diverse national research organisations, with over 5000 staff across more than 50 sites in Australia and internationally and an annual turnover exceeding Aus $1.2 billion. He also served on the Prime Minister's Science, Engineering and Innovation Council in Australia for eight years. Before joining CSIRO, Dr Garrett led South Africa's national science agency, the Council for Scientific and Industrial Research (CSIR) as President and Chief Executive. He is the Patron of the Australian Citizen Science Association.
Dr Paul Greenfield AO
As Vice Chancellor of the University of Queensland from 2008 to 2012, Dr Greenfield was the university's CEO and responsible to the University Senate for the overall direction of strategic planning, finance and external affairs. A chemical engineer, he was made an Officer in the General Division of the Order of Australia in 2006 for service to science and engineering, thereby providing recognition of his distinguished service of a high degree to Australia. Dr Greenfield was the Chair of the Australian Nuclear Science and Technology Organisation from February 2011 to August 2014.
Wendy Morris
Ms Morris is the chair of the Tourism Tropical North Queensland Board, a former director on the boards of Tourism Port Douglas and Daintree, Tourism and Events Queensland and Advance Cairns, and has long been a strong advocate for regional tourism promotion.
Wendy graduated from James Cook University with BSc Hons in Zoology and Marine Biology. She was the founder of Reef Biosearch in 1986, the first marine biologist-guided snorkelling operation aboard Quicksilver that continues to operate today. She has been involved in the management and marketing of a range of mostly family owned tourism enterprises in the region including the resorts now known as Rydges Reef Resort, QT Port Douglas, Ramada Port Douglas and Crystalbrook Lodge, as well as The Wildlife Habitat, Wetherby Outback Experience, Lady Douglas Paddlewheeler and luxury charter yachts.
Cr Larissa Hale
Larissa Hale is a Yuku Baja Muliku woman from Cape York Queensland. She is Managing Director for Yuku Baja Muliku Land Corporation and was instrumental in founding the Yuku Baja Muliku Indigenous Land & Sea Ranger Program, The Archer Point Turtle Hospital and the YBM Junior Ranger Program. Larissa is also a Councillor with Cook Shire Council and a member of a number of committees in the Cape York and Great Barrier Reef Region.
Elisa Nichols
Ms Nichols is Executive Director of the Office of the Great Barrier Reef, within the Queensland Government's Department of Environment and Science. She has led environmental policy and legislative projects for Queensland Government at Executive Director and Director level for over a decade, specialising in regulatory reform and innovation. A qualified solicitor, Ms Nichols was previously a solicitor with the Environmental Defenders Office and holds a Master of Laws in Environment and Natural Resources Law.
Theresa Fyffe
Theresa is Executive Director of Projects and Partnerships at the Great Barrier Reef Foundation. With a Masters in Science and a background managing cross-continent research projects, Theresa works with the Foundation's science team and partners to direct the Foundation's portfolio of Reef projects, ensuring they have real impact. She has expertise in new business initiatives, corporate and investor relations, stakeholder engagement and business integration.
Deb Callister
Ms Callister is Assistant Secretary, Heritage, Reef and Marine Division – Reef Branch with the Department of Environment and Energy, and is the Australian Government representative on this Committee. Deb has extensive experience in environmental management and regulation nationally and internationally across the government, not-for-profit and private sectors and holds a Masters in Environmental Management and Development
Margaret Johnson
Ms Johnson is General Manager Reef Strategy with the Great Barrier Reef Marine Park Authority
Half billion dollar landmark Reef funding
Record investment in the Great Barrier Reef - Australian Government media release