News ·
NAIDOC Week: How First Nations People are saving endangered turtles
The Wuthathi People from eastern Cape York Peninsula and Meriam Nation People from the eastern Torres Strait islands Ugar, Mer, Erub – have played a key role in efforts to save the Reef's endangered green turtles.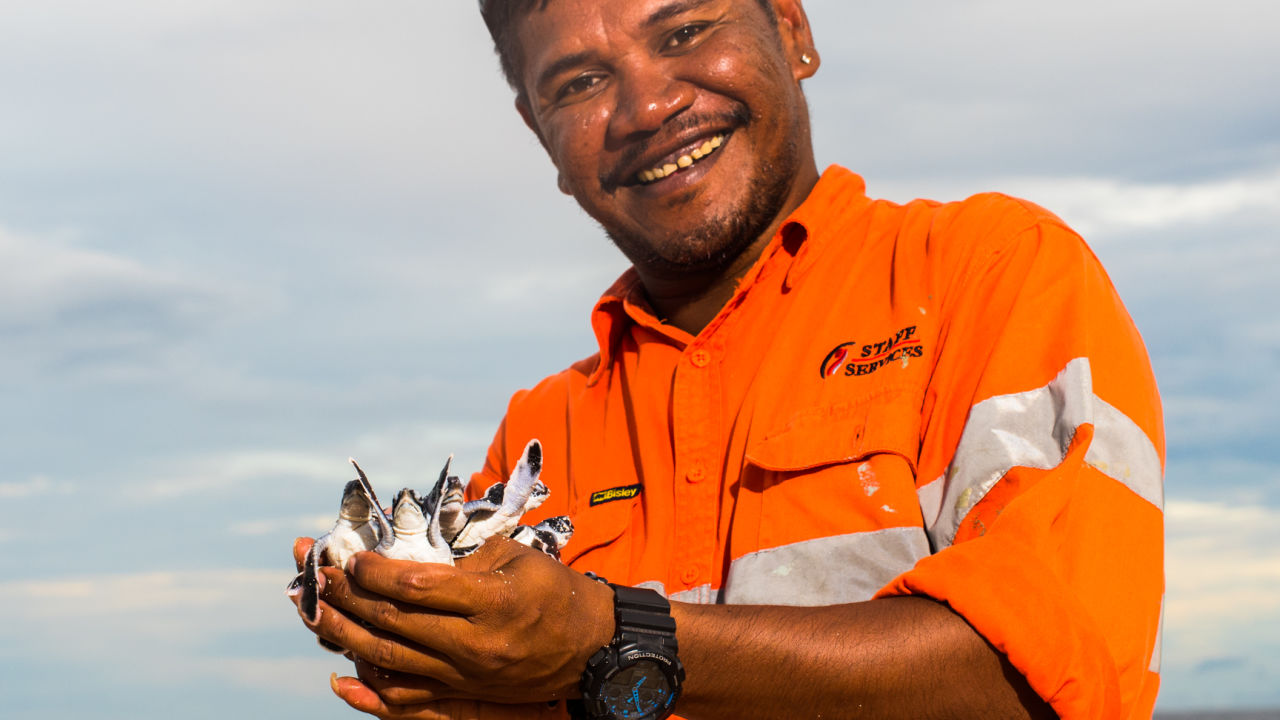 Wuthathi connections to Raine Island began over 60,000 years ago at a time when sea levels were much lower than today and the island was only five kilometres from the mainland. Raine Island is of cultural value for Meriam Nation (Ugar, Mer, Erub) People who are connected through voyages and the use of the island for several thousands of years.

Regardless of sea level changes and the varying distances of Raine Island from the coast, the Wuthathi People and the Meriam Nation (Ugar, Mer, Erub) People have maintained a strong and enduring physical, cultural and spiritual connection to the island and its surrounding waters.
Both groups continue to hold strong ties to Raine Island and the surrounding area, passing their traditional knowledge through the generations since their ancestors first visited the island, in song lines, stories and voyages to the island.
Why Raine Island?
Raine Island is a tiny, remote island on the northern edge of the Great Barrier Reef, located inside Wuthathi Sea Country. Here, more than 60,000 green turtles have been known to visit to lay their eggs in a single season. Nowhere else on earth do more green turtles come to nest than on Raine Island.
But over 30 years ago, scientists began witnessing a new phenomenon – tidal inundation was flooding the beach, drowning eggs and reducing the number of hatchlings emerging from nests. Female turtles were unable to find a safe nesting place and were returning to the sea exhausted.
So in 2015, the Raine Island Recovery Project was launched as a collaboration between the Wuthathi and Meriam Nation (Ugar, Mer, Erub) Traditional Owners, BHP, the Queensland Government, the Great Barrier Reef Marine Park Authority and the Great Barrier Reef Foundation to restore this critical nesting area.
The Raine Island Recovery Project is a unique partnership to restore the world's largest green turtle nesting area.
Crucial cultural and traditional knowledge
Throughout the project, First Nations People have shared their knowledge and made decisions on the management of the island. Wuthathi People and Meriam Nation (Ugar, Mer, Erub) People have been involved in every project trip to Raine Island, with rangers contributing to all on-ground works, helping restore and protect the island. Cultural Heritage Advisors have supervised the large-scale management actions on the Island such as the sand reprofiling works.
Wuthathi and Meriam Nation Rangers have helped build fencing on the island to prevent fatal cliff falls and rescued exhausted females who were struggling to make it back to the ocean after nesting. This turtle rescue program has ensured that 696 adult female green turtles have made their way safely back to the Great Barrier Reef.
Jimmy Passi, a Meriam Nation ranger who has been on 40 field trips to Raine Island, has helped rescue many of these turtles. The video below shows him rescuing one of these adult green turtles using a specially designed sled on a power carrier to assist with moving these massive turtles that can weigh upwards of 120kgs.
Meriam Nation ranger Jimmy Passi rescuing a green turtle on Raine Island. Credit: QLD Government
"As an Indigenous nation, our involvement helps us learn from the scientists, but it is good for them too to learn from the Traditional Owners,"" says Peter Wallis, a Wuthathi ranger.
"I think they get a better understanding of our respect for the country and that we are all the same. There is no black or white, it is just about respect for the land and respect for others, which is how we have been brought up."
An additional 640,000 baby turtles have begun life on the Great Barrier Reef because of the Raine Island Recovery Project. As authors of their own destiny, the Wuthathi People and Meriam Nation (Ugar, Mer, Erub) People aim to continue managing the island to mitigate future issues that may impact the island, such as climate change.
Read more about the Raine Island Recovery Project here.