People of the Reef ·
Andrea Uchel: 'The cultural value of our Reef gives me a sense of pride'
Andrea is working hard to protect and preserve Palau's Rock Island's Southern Lagoon, to ensure the reef survives for future generations of Palauans to enjoy.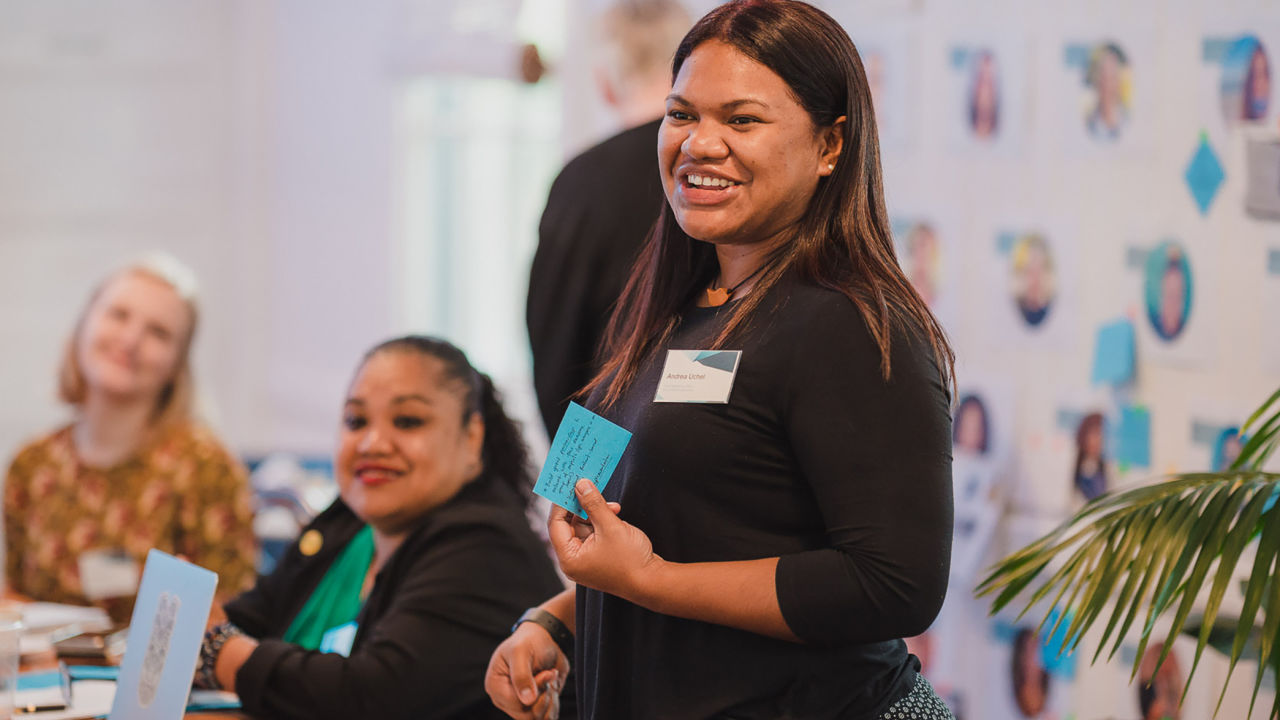 Nestled in the western Pacific Ocean amongst a chain of over 500 small islands is the World Heritage-listed Rock Islands Southern Lagoon in Palau. This site is part of our global climate change program – the Resilient Reefs Initiative – and home to Andrea Uchel, Chief Resilience Officer at Koror State Government.
Preserving the natural beauty and resources of her country is what drives Andrea in her work. "I want to protect my environment and the ocean to keep it in a state where my kids and their kids will be able to enjoy the same reef I had when I was a kid," she says.
"Not only is our reef pristine in its natural beauty, but the cultural value it has on us Palauans gives me a sense of pride as that's not common elsewhere."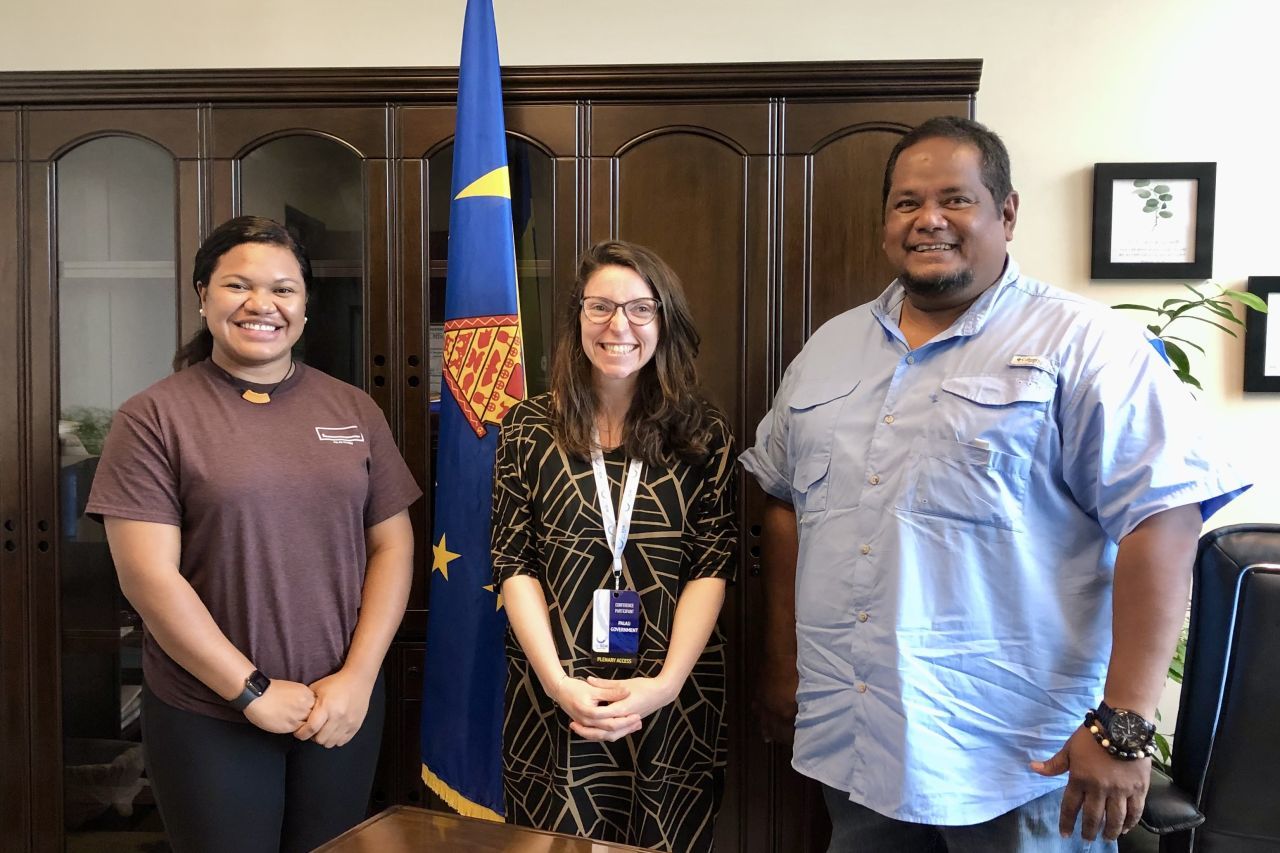 Andrea (left) with Resilient Reef Initiative Director, Amy Armstrong and Governor Eyos Rudimch of Koror State in Palau.
Andrea, like her country, is a fierce advocate for ocean conservation. Palau is the only country on Earth that has protected 80% of its offshore marine environment and it also created the world's first shark sanctuary in 2009.
"My greatest professional achievement is being able to do the work I love in learning, adapting, protecting and preserving my country and its natural resources, and at the same time giving back what I've learned in my profession and education journey to my country," Andrea says.
For Andrea, like many Palauans, the reef isn't a holiday destination – it's integral to her day-to-day life and identity.
"In my younger years, 98% of the time we were out on the reef in my dad's 19-foot marine out-board engine boat, either going to the Rock Islands with my family or learning the different fishing methods."
Like so many island nations, Palau is facing the challenge of managing declining fish stocks in a way that enables communities to retain their cultural ties and access to fish. "Not only is the Rock Islands Southern Lagoon home to a magnificent coral reef, endemic marine species and wildlife and an underwater diving paradise, the cultural and historical resources of the reef are rooted deep in our Palauan Identify," Andrea says.
Andrea joins the RRI-RISL steering committee to discuss resilience challenges for the Reef.
Andrea developed a keen interest in learning how important the ocean and environment is to both herself and the livelihood of Paluauns when she became a Policy Development Officer at the Palau International Coral Reef Center under the guidance of Dr Yimnang Golbuu.
"Five years into the job I became more and more interested in the sustainability of our resources and how we can best preserve it for the future [by] engaging with many of the students, traditional leaders, science partners," Andrea said.
"Dr. Golbuu then proposed to me this opportunity that can further build my capacity in stakeholder engagement and yet give back to my home state. With all that, I then accepted this role as a Chief Resilience Officer for Koror State Government.
"I'm not a science person – I never liked the subject," Andrea says. "But because of my network with projects and initiatives like the Resilient Reefs Initiative, I have fallen in love with my country and its natural and historical resources even more. With the Great Barrier Reef Foundation, Andrea and our partners in Palau are working with a global team of experts to develop a resilience strategy to protect the future of the Rock Islands Southern Lagoon from the impacts of climate change. The aim? To map a future that looks after not only Palau's reef, but the people who call it home.
Andrea speaking at a Resilience Reefs Initiative's 2022 Solution Exchange. Credit: Bec Taylor.
Protecting and nurturing people and wildlife is a common theme when speaking with Andrea.
"My favourite reef animal is the Hawksbill turtle," she says "because of its cultural significance to me as a Palauan woman and also the dugong because of its ability to nurture its young similar to a human mother and its child.
"The Hawksbill turtle is not only a source of food to us Palauans but its hard shell is used to make a palauan money called toluk. The toluk is used in customary events that the women exchange in terms of helping the family of a deceased in their expenses, used to celebrate exchange during a woman's first birth ceremony, or when a new family builds a home it is used as a gift for the new woman's family in her future obligation as a mother, a wife in her home. The toluk isn't just a means of palauan currency but it is used as a means of coming together as a society in helping one another in times of needs," said Andrea.
"If I wasn't doing this job," Andrea smiles, "I'd like to be sitting in a beach house in the Rock Islands with my grandmother and my daughter while my grandmother shares her stories of surviving and living in the Rock Islands with ample resources of fish and taro.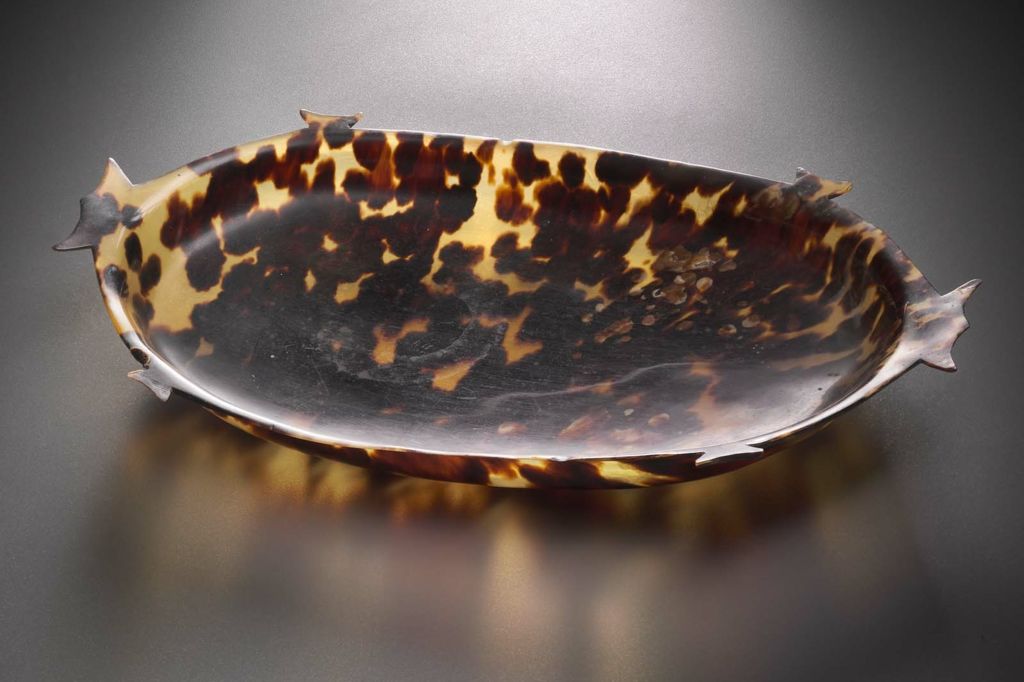 Toluk represents more than currency but helping each other in times of need.
Andreas's profile photo is by Bec Taylor.