People of the Reef ·
Emma Jackson: 'By restoring seagrass, we're protecting Reef health'
A self-professed seagrass nerd, Emma Jackson had seagrass flowers in her wedding bouquet. As Director of the Coastal Marine Ecosystems Research Centre (CMERC), her passion for seagrass restoration is helping protect vital habitats for marine life, improving water quality on the Reef and helping offset our carbon footprint.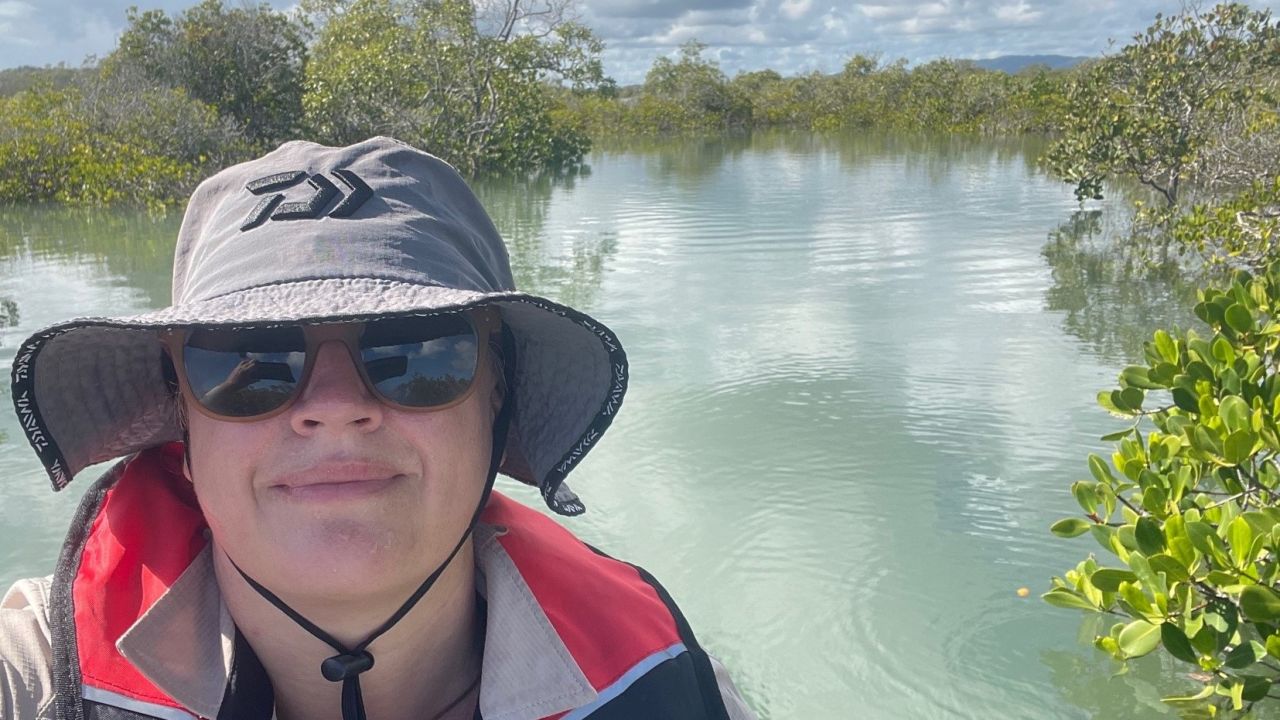 Emma Jackson loves to spend as much time out on the water as possible, but her love for seagrass ecosystems was initially fostered through a television screen.
"Growing up in the UK, Saturday evenings were family time watching Dr Who and documentaries," she says.
"Documentaries about the Great Barrier Reef were just incredible, and a very different environment compared to the UK rock pools I was used to. I loved the diversity, the colours and the different worlds with intricate lives playing out on the screen.
"Seeing it for the first time in person some 30 years later, when I moved to Queensland, was next-level. It was at Heron Island, just off the coast from where I live in Gladstone. I literally did not know where to look first, I wanted to be in the water all the time."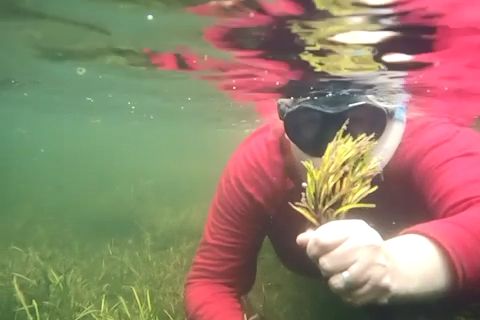 Emma used seagrass flowers like these in her wedding bouquet. Supplied: Emma Jackson
Emma's career initially involved researching marine habitat loss, however she longed to help find solutions to the threats facing the Reef.
"My previous job focused a lot on researching the causes and impacts of loss and degradation of marine habitats," she says.
"It was important but a bit depressing – I used to look around at people in the supermarket and think, 'all these awful things are happening to the marine environment and it isn't that people don't care, it's that it isn't even on their radar'.
"Researching methods for seagrass restoration and supporting other researchers at CMERC to undertake solutions-based applied marine research feels much more positive."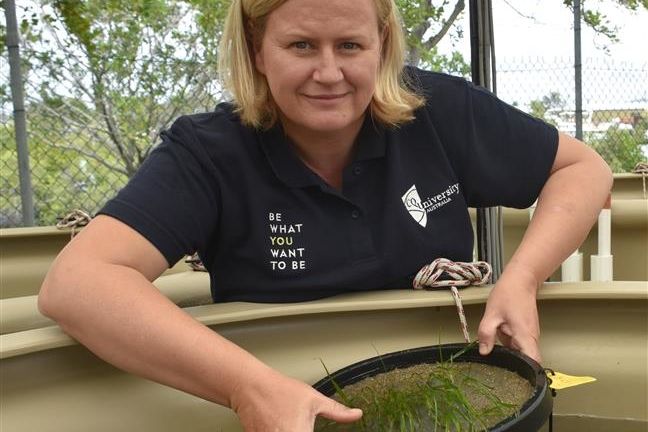 Emma is exploring different methods of restoring seagrass meadows on the Reef. Supplied: Emma Jackson
Seagrass covers more than 10% of the Great Barrier Reef World Heritage Area and provides a huge range of ecosystem services. It provides habitats for fish, food for iconic species such as the green turtle and dugong, filters nutrients and fine sediment to improve water quality and traps and stores carbon, offsetting our carbon footprint.
"By protecting and restoring seagrass, we are protecting the health of the Reef," she says.
Emma loves engaging with local communities and working with proactive Traditional Owners, industry stakeholders and port managers to protect and restore seagrass meadows.
"It fills me with optimism," she says.
"Our Citizen Science programs and the great people we meet through them continuously remind me that there are a lot of people out there who care enough to want to find out more and provide their time to help make things better."
Emma's second passion, after seagrass, is sailing and she spends as much time as she can sailing and snorkeling on the Reef with her family.
"My children love being in the water and we just drift for hours watching the life on the Reef going about its business, and seeing something new each time, and thinking how utterly amazing it is."