People of the Reef ·
Kenny Wolfe: 'Finding important Reef animals where you least expect them'
Kenny's made it his mission to turn the infamous coral-eating crown-of-thorns starfish from predator to prey.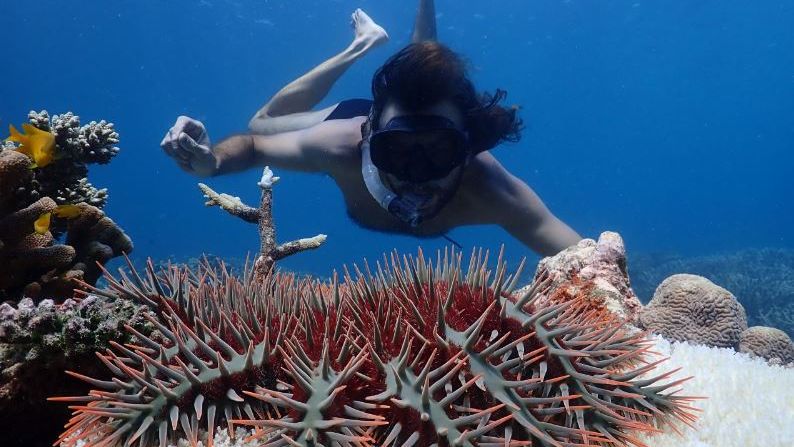 Growing up around the beaches of Sydney, spending every spare moment swimming, fishing and snorkelling with his family, it was obvious to Dr Kenny Wolfe from a very young age that he would go on to study Marine Biology.
It was the hours spent in the tidal rock pools searching for tiny creatures where he fell in love with a particular group of marine creatures called echinoderms.
This group of animals includes sea stars, sea urchins and his favourite Reef animal that pulled him towards research on the Great Barrier Reef, the sea cucumber.
"Most research on coral reefs has focused on the corals and fishes, but I am motivated by the interesting stories that emerge from the small and overlooked critters of the Reef," he says.
"Echinoderms are critical to coral reefs and have a remarkable capacity to alter ecosystem condition. They are impressive and captivating animals!
"For example, reefs without sea cucumbers can experience changes in oxygen levels, algal growth and overall reef health."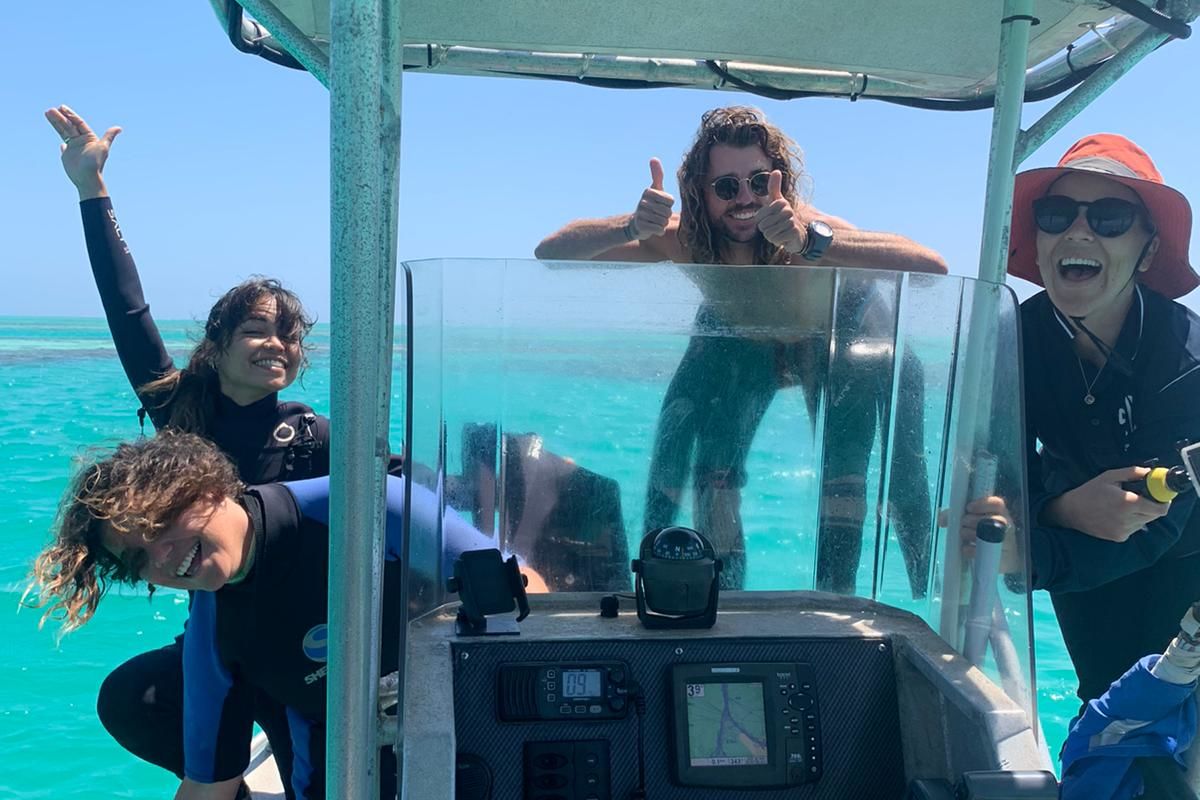 Kenny and his research team during fieldwork at One Tree Island on the Great Barrier Reef
Through his research as a scientist at the University of Queensland, and as team member of the conservation group Invertebrates Australia, Kenny is determined to make sure these often-overlooked creatures are better understood and protected, including the Reef's threatened species of sea cucumber.
"Many people don't realise that sea cucumbers are fished, in fact grossly overfished, from all of our oceans. One of the greatest outcomes of my work to date is an increased protection of threatened species of sea cucumber on the Great Barrier Reef, but a lot more needs to be done to protect these slow-pokes from the current trends in global overfishing."
Kenny's research spans many interesting invertebrates, alternating his focus from themes of protection to predation.
He is now leading the investigation into how to turn the world's most infamous echinoderm, the coral-eating crown-of-thorns starfish, from predator to prey.
Crown-of-thorns starfish are native to the Great Barrier Reef, but they have big periodic population outbreaks that can cause wide-spread damage to coral habitats, making them one of the biggest threats to coral on our Reef.
"I think of them as locusts going through a farmer's crop, they can decimate certain parts of the Reef," he says.
But some important warriors in the war on the starfish could be hiding where you least expect it, and Kenny is determined to find them.
"Our reefs are under a series of mounting threats, but they are indeed resilient.
"There are uplifting stories all over the Reef, but often in unexpected parts of the ecosystem or from species that are typically overlooked."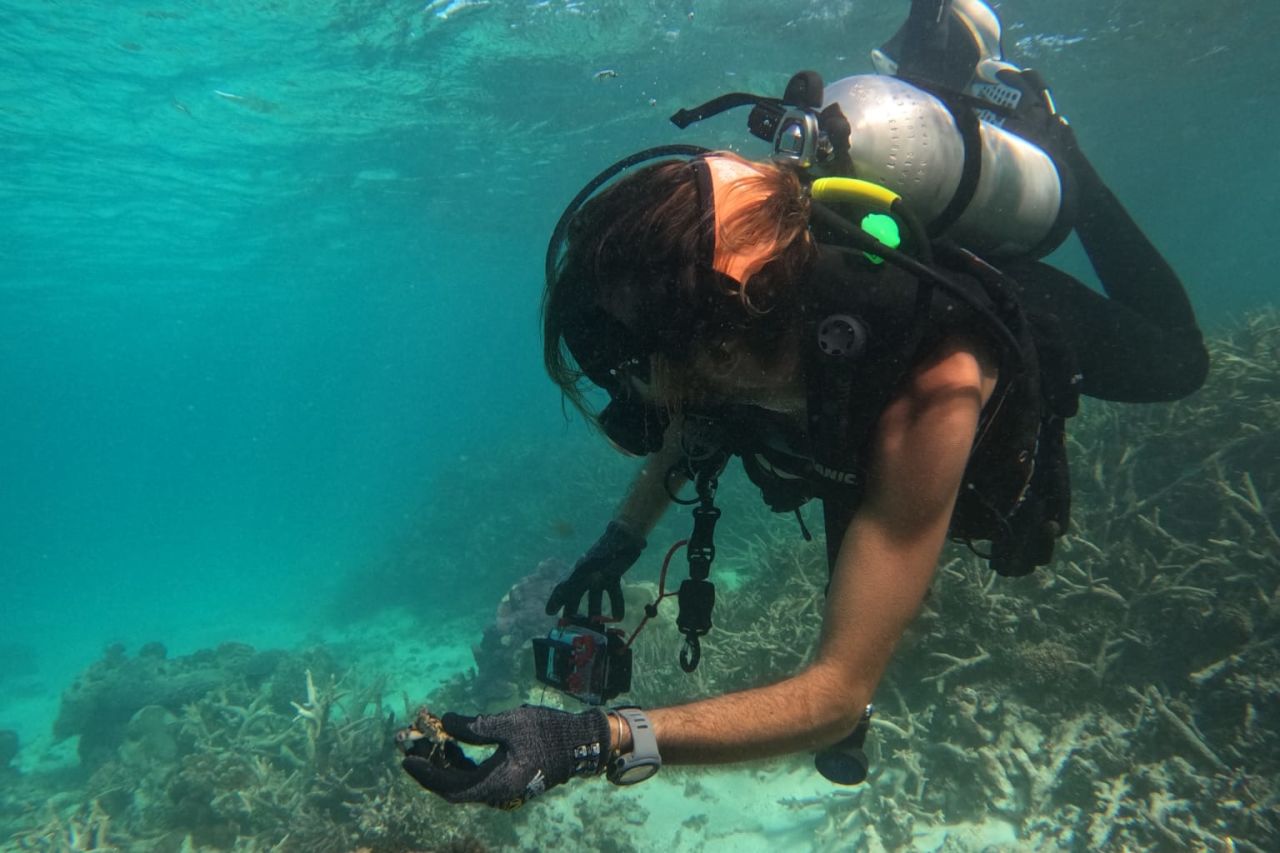 Kenny collecting predatory crabs for experiments on crown-of-thorns starfish
One of those overlooked parts is in the coral rubble that is left after a physical disturbance like a cyclone or a storm.
"Coral rubble holds many interesting stories for marine science, and in fact, animal biodiversity is often higher in rubble compared to live coral. It is just often out-of-sight, out-of-mind," he says.
"We have found new natural predators of the crown-of-thorn starfish by searching in coral rubble, where the starfish live as babies."
By looking in this 'cryptic' habitat, Kenny and his team have identified a number of animals that eat crown-of-thorn starfish juveniles. The research is part of the Foundation's COTS Control Innovation Program, a collaborative research program which brings together scientific experts to develop innovative and scalable ways to manage outbreaks of this major Reef pest.