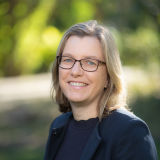 Theresa Fyffe
Executive Director Projects and Partnerships
Theresa combines overseeing the conservation project portfolio for the Foundation with developing collaborative and enduring partnerships across corporate and private donors, the science community, governments and marine park managers. She leads the Foundation's dedicated science team, working to ensure all Reef projects have real impact.

With a Masters in Science and an established career leading cross-continental research projects including the Bill & Melinda Gates Foundation Grand Challenges in Global Health Project, Theresa's expertise includes new business initiatives, corporate and investor relations, stakeholder engagement and complex program design and management.

Since joining the Foundation in 2010, Theresa has been instrumental in securing major projects including the $14 million Reef Islands Initiative, $7.95 million Raine Island Recovery Project and the five year Resilient Reefs Successfully Adapting to Climate Change program that delivered a portfolio of more than 30 projects aimed at building the Reef's resilience to climate change.

Theresa is a member of the Partnership Management Committee for the $443.3 million partnership with the Australian Government's Reef Trust and she sits on the Reef Restoration and Adaptation Program steering committee.