Media Release ·
Australian-first reef restoration hub for Cairns & Port Douglas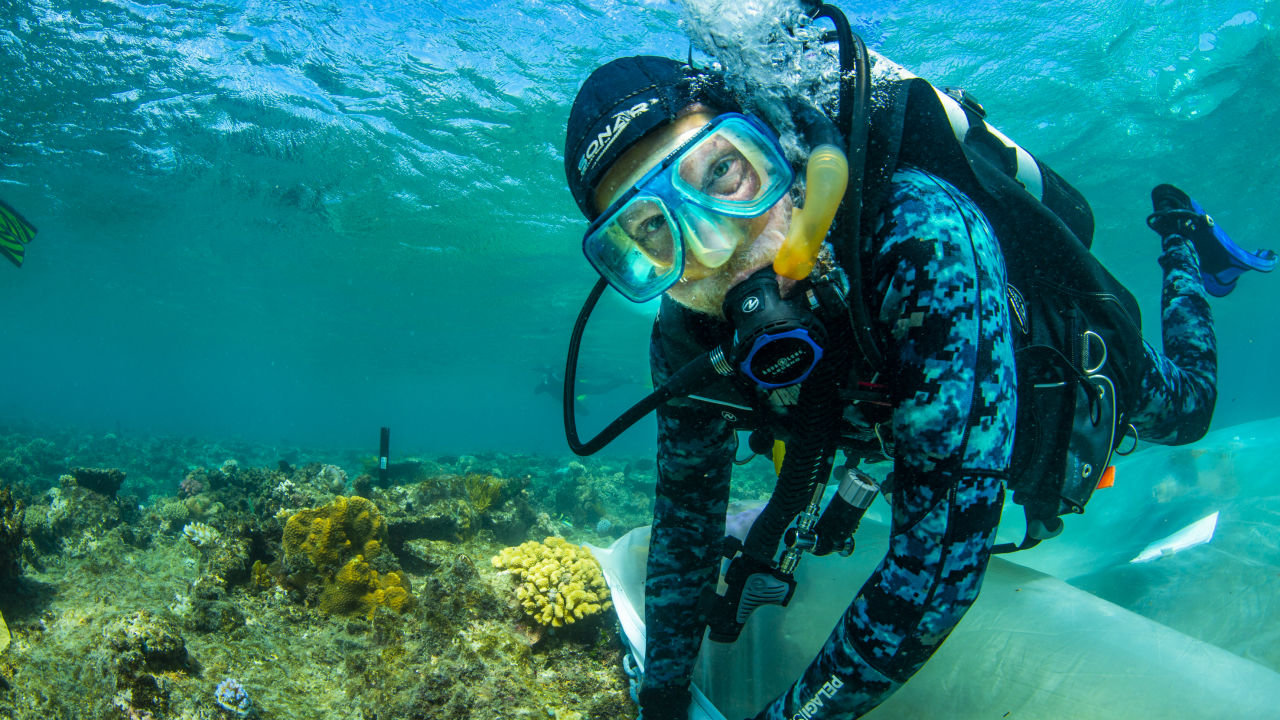 Efforts to protect and restore coral reefs in the iconic Cairns & Port Douglas tourism region will receive a substantial boost with the Great Barrier Reef Foundation announcing the creation of Australia's first integrated Reef Restoration Hub as part of the ambitious plan to restore 100 priority reefs by 2030.
The new Reef Restoration Hub will connect the world's largest coral reefs program led by marine science experts with the in-water local projects already underway in Cairns and Port Douglas to find new ways to protect coral reefs and the marine life that depends on them.
Great Barrier Reef Foundation Managing Director Anna Marsden said, "Tourism operators, citizen scientists, community groups and locals who are already actively working to restore and rebuild the area's precious reefs will have the opportunity to amplify their efforts and join forces with the cutting-edge science that we're investing $100m in through the large-scale Reef Restoration and Adaptation Program.
"We're already seeing the effects of climate change with our Reef weathering its third mass bleaching in just five years and the Cairns Port Douglas Reef Restoration Hub will play a key role in bringing together the innovative science and hands-on solutions needed to build its resilience," Ms Marsden said.
"We're investing $1.7m in the hub and local-scale projects which will give tourism operators, Traditional Owners and local groups the ability to expand their valuable role in championing Reef protection and connect with larger-scale restoration technology and research."
Expressions of interest are now open for both local scale reef restoration projects and the Reef Restoration Hub Engagement Coordinator to be the central connection point for the program. There will be a future dedicated opportunity for Traditional Owners to co-design projects, and funding available for these projects to be implemented.
Minister for the Environment Sussan Ley said Australia is a world leader in reef science and reef management and that the work of the foundation in supporting the hub is another important step in the Australian Government's $1.9 billion investment in protecting the reef.
"We're investing in ground-breaking reef adaptation and science, water quality and Crown of Thorns starfish control and the strategic focus of projects like the restoration hub will play another important role in protecting the reef and the communities who depend on it."
Special Envoy for the Great Barrier Reef Warren Entsch said Far North Queensland is at the forefront when it comes to reef restoration projects.
"These important restoration projects will aim to help ensure our Reef can continue to be appreciated for generations to come."
Ms Marsden said the Cairns Port Douglas Reef Restoration Hub will set the standard for a regional hub model that can be expanded to other regions.
"In pioneering Australia's first integrated Reef Restoration Hub, the Foundation is bringing diverse groups together to collaborate and have a much greater impact on Reef health than they could working in isolation. We will continue to play this connecting role as it's only by working together that we will save our Reef and its precious marine animals for future generations."
Launching the Hub will add to the Foundation's more than 60 Reef-saving projects that include the citizen science, Traditional Owner Reef protection and water quality improvement projects ongoing in the Cairns and Port Douglas region.
The Cairns Port Douglas Reef Restoration Hub is a collaboration between the Great Barrier Reef Foundation and the Reef Restoration and Adaptation Program and is funded by the partnership between the Australian Government's Reef Trust and the Foundation.
This work is supported by the 'Best Practice Coral Restoration for the Great Barrier Reef project' funded by the Australian Government's The National Environmental Science Program's Tropical Water Quality Hub.
More information on the opportunities is available here.
Key partner quotes:
Tourism Tropical North Queensland CEO Mark Olsen said, "Through isolation, the Great Barrier Reef has continued to inspire the world both to visit and conserve globally significant ecosystems. Tourism Tropical North Queensland, as the tourism voice for Cairns and Great Barrier Reef, is very supportive of the Hub initiative to bring tourism and science-led conservation sector even closer together."
Reef Restoration and Adaptation Program Executive Director Dr Cedric Robillot said the program, beginning this year, will develop, test and risk-assess novel interventions to help sustain the Reef on a medium to large scale.
"This ambitious undertaking will require an all-in effort and we are delighted to be able share knowledge, and work in collaboration, with local scientists and reef restoration practitioners, as well as Reef Traditional Owners, industry and local communities through this hub," he said.
TropWATER at James Cook University Dr. Ian McLeod said, "We are working with scientists, managers and practitioners to produce guiding resources for local-scale coral restoration on the Great Barrier Reef. The creation of the new Reef Restoration Hub for Cairns and Port Douglas will enable us to further develop and apply this toolkit to support planning for where and what type of restoration techniques can help meet their project goals."