Media Release ·
Helping the Ningaloo Coast adapt to climate change
In a world-first for any World Heritage Marine Site, we have developed a Resilience Strategy to help another incredible reef, and the largest fringing reef in the world, face the impacts of climate change and local threats.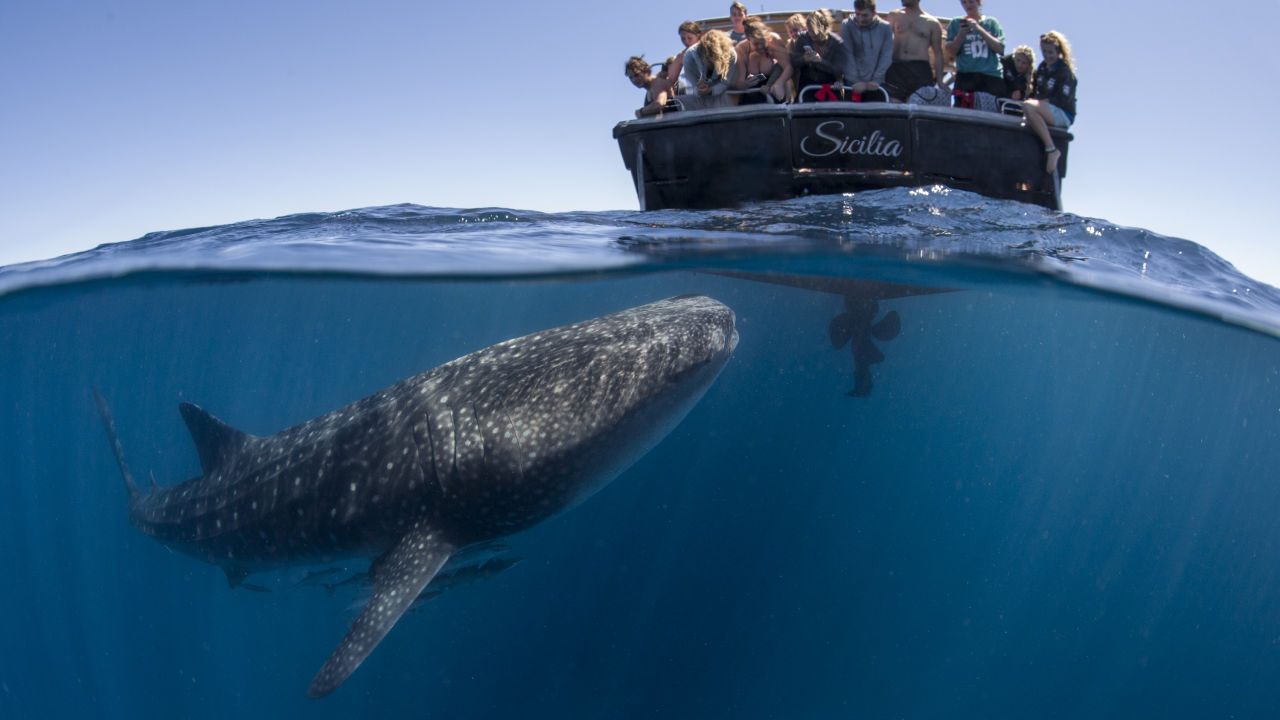 Walking along the beach at Ningaloo, you'd be forgiven for thinking you'd stumbled into another world. The raw, arid landscape contrasts with the vivid white beaches and the beautiful turquoise water of the Indian Ocean.
This UNESCO World Heritage site is the largest fringing coral reef in the world. Perhaps best known as one of the world's top spots to get up close with whale sharks, Ningaloo is also home to an incredible range of wildlife including endangered species like the loggerhead turtle, short-nosed sea snake and curlew sandpiper.
But Ningaloo, like all reefs worldwide, is feeling the impacts of climate change. And despite its strong management and lack of coastal development, the water at Ningaloo is getting warmer, coral cover appears to be declining and coral bleaching is becoming more frequent.
In a world-first for any World Heritage Marine Site, we've worked with our partners to develop a Resilience Strategy that is guiding locally-led action by the community and the government to help Ningaloo Coast and its communities adapt to the impacts of climate change.
At Ningaloo, the future of the community and the reef are intertwined. And climate change presents major threats to both. This small, rural community is highly dependent on, and extremely proud of, its reef. It is a crucial part of both its economy and local identity and has been for at least 32,000 years – as long as the Baiyungu, Thalanyji and Yinikurtura people have called this place home.
The community and Traditional Owners actively participated in developing the strategy, with almost one in every five residents contributing to its development. This level of support and engagement is unprecedented. The result is a strategy that highlights the strengths of the region as well as the growing threats it faces. It also provides the vision for how the community and reef can better prepare for the impacts of climate change, addresses local threats and identifies opportunities for building a more adaptive management approach.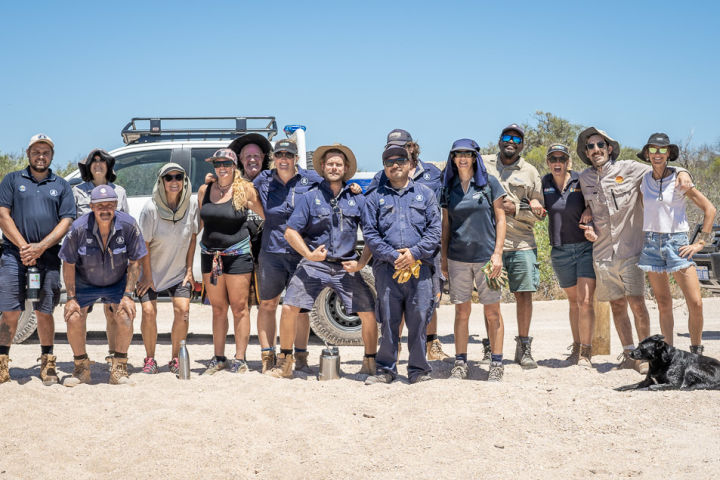 Participants in the Bundegi track extension. Credit: Joel Johnsson and Department of Biodiversity, Conservation & Attractions (DBCA).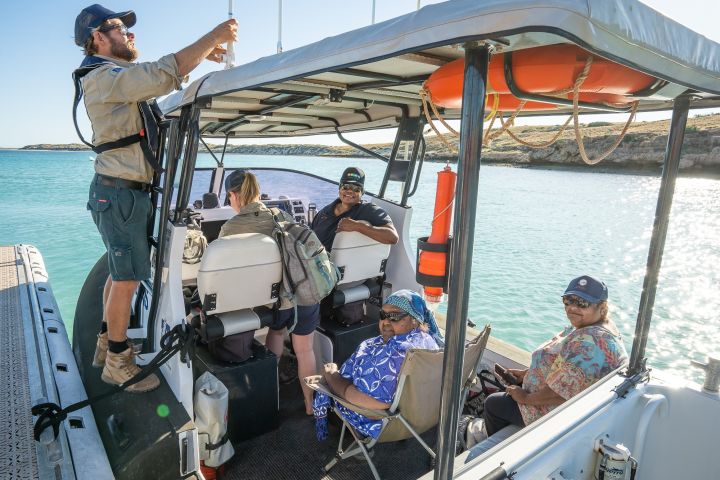 Cultural mapping with Traditional Owners. Credit: Joel Johnsson and DBCA.
The strategy is already guiding a coordinated approach to actions:

Traditional Owners were supported to document their aspirations for healing sea Country and to map their values and sites of significance so they can be protected into the future.
The economic contribution of the reef has been quantified to support decision makers in the tough decisions they have to make every day.
A framework for decision-making on reef restoration was developed to coordinate research, mitigate risks and ensure that trials are designed in partnership with Traditional Owners, tourism operators and community members.
The local school is working with scientists and managers to understand data gaps and help to fill these through their field trips to the coast, and tourism operators are researching the behaviors that are driving increases in the number of vessel strikes on manta rays.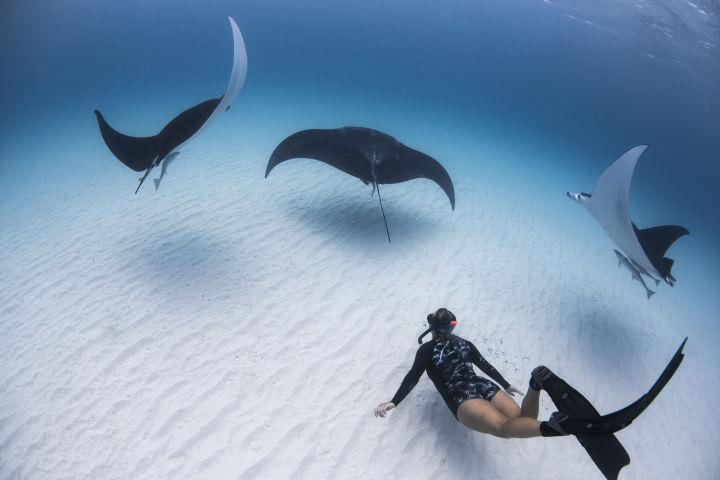 Swimming with manta rays at Coral Bay. Credit: Sam Lawrence.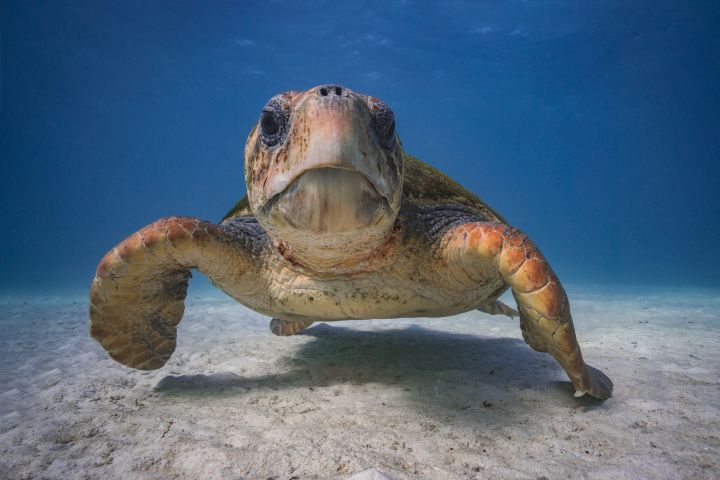 Loggerhead turtle. Credit: Lewis Burnett, Ocean Image Bank.
This strategy has been developed through the Resilient Reefs Initiative, a global climate change program pioneered by the Great Barrier Reef Foundation. Recognising that the challenge facing the world's reefs is too big for one site to tackle in isolation, the initiative connects reef managers, governments, First Nations Peoples and communities with each other and with a network of global resilience experts, and co-designs and funds solutions to help reefs and communities adapt.
"Global climate impacts are already having very real consequences for coastal communities," says Amy Armstrong, Director of Resilient Reefs.
"This strategy — and the actions and partnerships that underpin it — show what a way forward can look like."
Ningaloo is one of four global sites in the Initiative currently, which also includes areas of Belize, Palau and New Caledonia. Each year all the sites gather to share learnings, workshop problems and advance solutions for coral reefs. Over the next year, the other Resilient Reefs sites will follow with their own Resilience Strategies – road maps to help reef managers and the community implement solutions to build resilience to climate change and increase the chances of coral reefs and the communities that depend on them surviving and thriving into the future.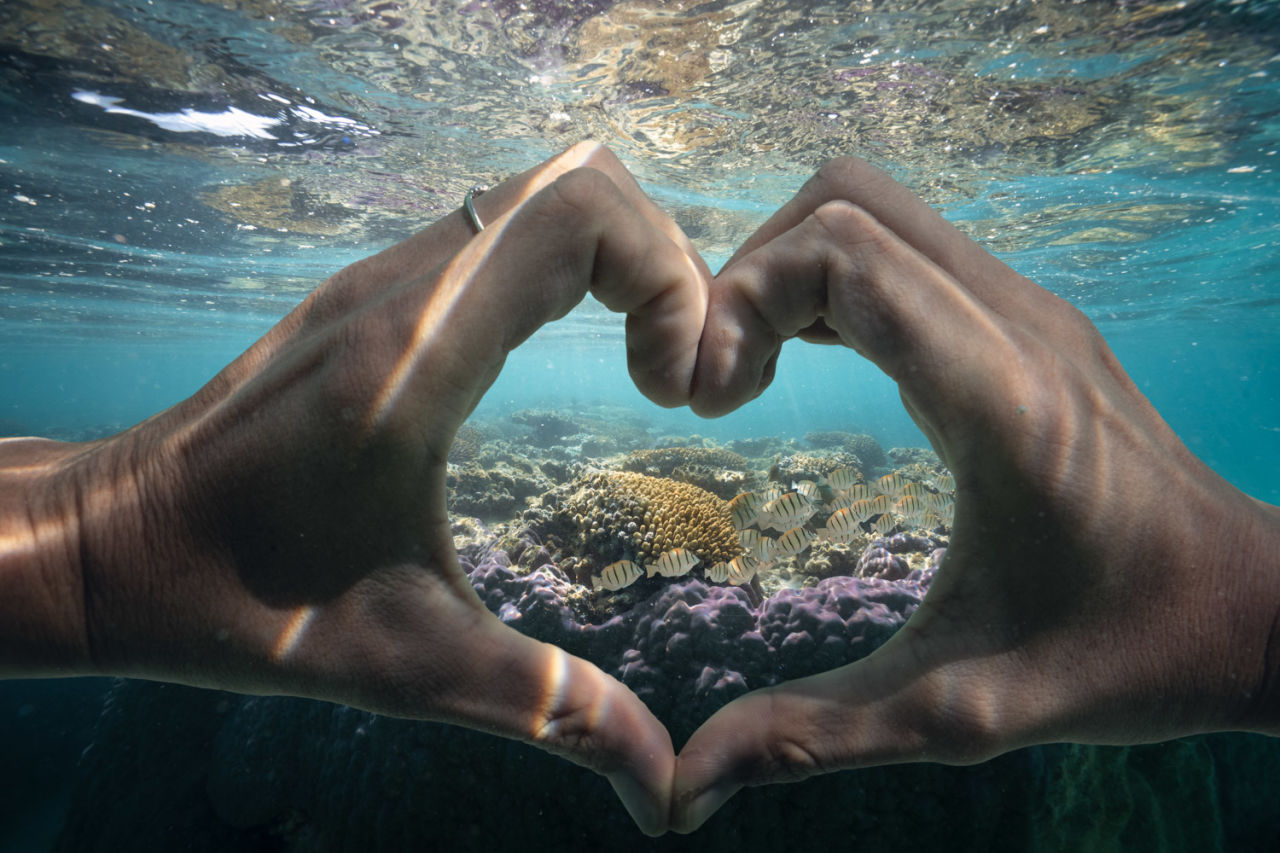 Ningaloo Reef. Credit: Joel Johnsson.
Main image (top): Curious whale shark and tourist boat. Credit: Sam Lawrence.
Initiated by the Great Barrier Reef Foundation, Resilient Reefs is a collaboration with The Nature Conservancy's Reef Resilience Network, Columbia University's Center for Resilient Cities and Landscapes, Resilient Cities Catalyst, UNESCO and AECOM. The program is enabled by the BHP Foundation. These global partners each bring unique expertise and support to the pilot sites, as well as help to share the lessons and learnings from the Initiative with Reef communities around the world.