Media Release ·
Science and tourism a perfect match for Reef
'Love Fest'
Rare 'blood' moon heralds mass coral spawning event on the Great Barrier Reef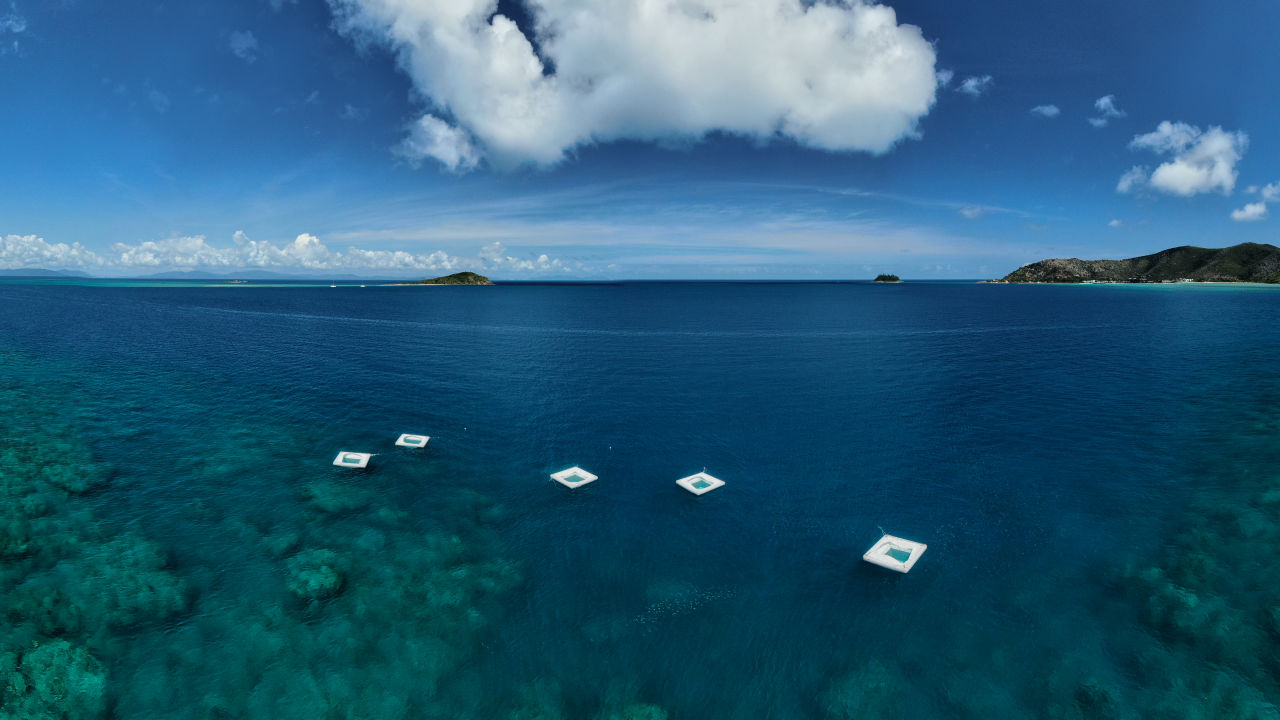 Nature will get a helping hand when it comes to coral baby making on the Great Barrier Reef this year, with tourism operators teaming up with scientists during the once-a-year mass coral spawning event this weekend, 12 and 13 November.
November's full moon – this year a rare red or 'blood' moon due to the total lunar eclipse – is the signal to Great Barrier Reef corals that it's time to reproduce a few days after, in what Sir David Attenborough describes as "one of the greatest of all natural spectacles".
Three Whitsunday tourism operators are gearing up with scientists to help restore areas of reef where it's needed most, using tourist boats to capture more coral spawn and reach more locations through the Boats4Corals project funded by the Great Barrier Reef Foundation's Reef Islands Initiative.
To boost the number of coral babies produced from this year's spawning, the Boats4Corals crews will use the innovative coral larval restoration technique (also known as Coral IVF) successfully pioneered on the Reef by Southern Cross University's Distinguished Professor Peter Harrison working with the Great Barrier Reef Foundation. This vital scientific know-how is being passed on to the tourism industry to put into practice in the Whitsundays.
After dark around November 12 and 13, the Reef's corals will release trillions of eggs and sperm into the water in a mass breeding phenomenon likened to an underwater snowstorm.
Boats4Corals 2022 tourism operators Red Cat Adventures, Ocean Rafting and Zig Zag Whitsundays will embark on the night missions to help capture millions of coral eggs and sperm in specially designed floating larval pools set up over the Whitsundays' inshore reefs.
The precious spawn bundles will remain in the nursery pools for up to a week while they develop into coral babies (aka coral larvae), ready to be settled out onto targeted reef areas and grow into healthy young corals to bring new life to the Great Barrier Reef.
Scientists estimate the coral survival rate is 100 times better through coral IVF, improving survival from one in a million coral babies in nature to one in 10,000 using the science-assisted coral IVF technique.
Great Barrier Reef Foundation Managing Director Anna Marsden wished the tourism operators and Australian Institute of Marine Science-led research team a successful voyage.
"The Foundation is pleased to be working hand in hand with scientists, the tourism industry, local community and Traditional Owners in the Whitsundays to help reefs recover from the impacts of climate change, including coral bleaching and increasingly severe cyclones," Ms Marsden said.
"The Boats4Corals collaboration is empowering locals with the scientifically-backed knowledge to help restore local reefs using the innovative coral IVF technique. The combination of the tourism industry's leadership, boats, local knowledge, and people-power allows us to achieve reef restoration at a greater scale than researchers can achieve alone so it's a powerful partnership."
The Boats4Corals crews will be setting out from Airlie Beach from 5.30pm until midnight on 12 and 13 November to capture the coral spawn and returning to settle millions of coral babies out onto the Reef from 19 to 21 November.
The Great Barrier Reef Foundation's Reef Islands Initiative is the largest reef island habitat rehabilitation project of its kind in the Southern Hemisphere. The Initiative is supported by funding from Lendlease, the Australian Government's Reef Trust, the Queensland Government and the Fitzgerald Family Foundation.