Media Release ·
Leading UQ marine ecologist appointed Chief Scientist of Great Barrier Reef Foundation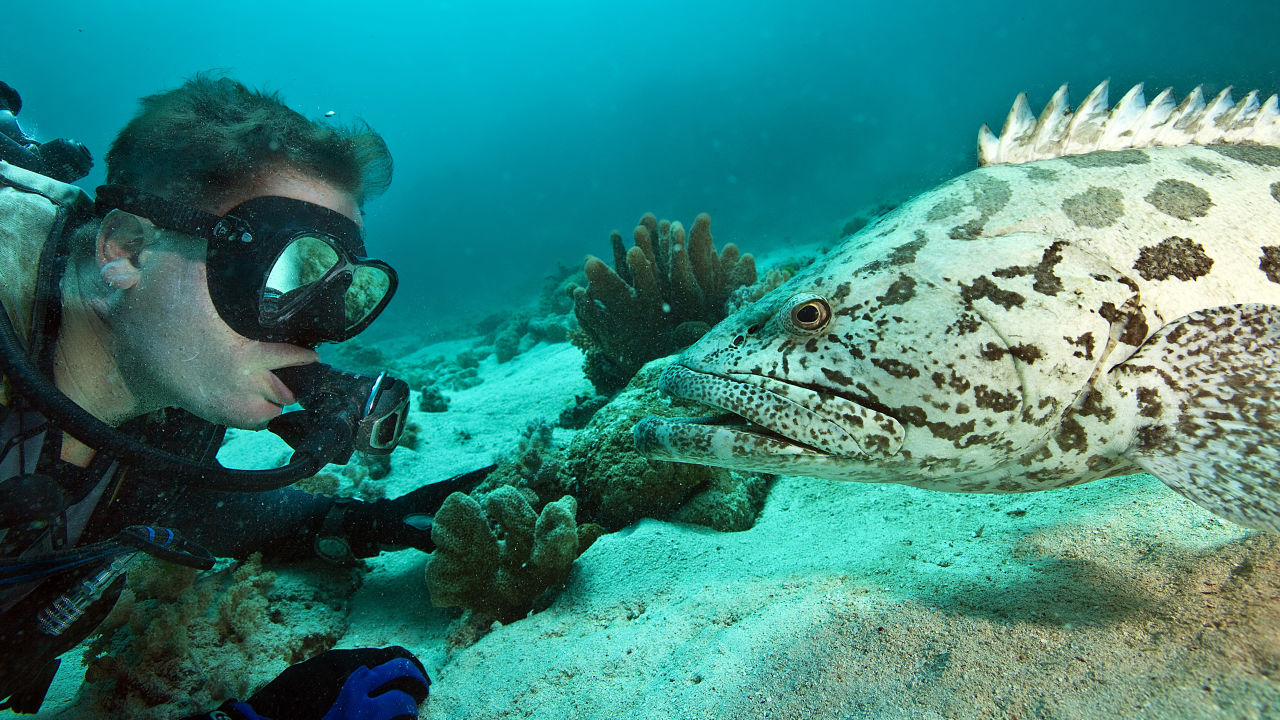 There has never been a more important or exciting time to contribute to managing the Great Barrier Reef
The Great Barrier Reef Foundation has appointed the head of the University of Queensland's Marine Spatial Ecology Lab, Professor Peter Mumby, to the key role of Chief Scientist.
Professor Mumby is an internationally respected marine and coral reef expert with a career spanning almost three decades.
Announcing the appointment, Great Barrier Reef Foundation Managing Director Anna Marsden said securing Professor Mumby as Chief Scientist will further strengthen the Foundation's long-standing approach to protecting the Reef through enabling projects grounded in science.
"As Chief Scientist, Professor Mumby will join the Foundation's International Scientific Advisory Committee and provide strategic advice to help shape the Foundation's portfolio of projects which will include projects to be funded through the recently announced $443.3 million Reef Trust Partnership with the Australian Government," Ms Marsden said.
"His extensive experience working at the interface of science, management and policy for coral reefs will be invaluable in providing guidance on selecting and designing the projects that will have the highest impact for the Reef.
"We're delighted to welcome Professor Mumby as our Chief Scientist and look forward to his contribution to our Reef projects ."
UQ Vice-Chancellor and President Professor Peter Høj said the appointment builds on the University's unwavering commitment to research into protecting the Great Barrier Reef.
"From research into regenerating the reef after coral bleaching through to the development of new biocomposite fertilisers that reduce the amount of runoff into our oceans, UQ researchers are working to protect and preserve the natural wonder that is the Great Barrier Reef," Professor Høj said.
"Only through partnerships and collaboration will scientists be able to deliver the practical solutions required for the array of challenges faced by our marine environments.
"I congratulate Professor Mumby on his appointment, and I look forward to seeing further research collaborations between UQ and the Great Barrier Reef Foundation."
Professor Mumby welcomed the opportunity to contribute as Chief Scientist.
"There has never been a more important or exciting time to contribute to managing the Great Barrier Reef," Professor Mumby said.
"Australia has world-leading science and a ready appetite to include science in the decision-making process. I very much look forward to working with the Foundation and its partners."
Professor Mumby has published over 250 articles in scientific journals and written five books and 15 book chapters. Most recently he co-authored the paper published in ScienceAdvances describing the Reef's decreasing ability to recover from the cumulative effects of threats and disturbances over the past 30 years which also highlighted the scope for management to help remedy the situation with improvements in water quality.
He was awarded a Pew Fellowship in Marine Conservation in 2010, and is also winner of the Rosenstiel Award for excellence in marine biology and fisheries, and the Marsh Award for contributions to marine conservation.
ENDS
Media contact: Louise Sturgess, Great Barrier Reef Foundation 0409 352 493
About Professor Peter Mumby
Inspired to become a marine biologist in equal parts by the movie Jaws and David Attenborough's wildlife series, Professor Mumby graduated with first class honours in marine biology from the University of Liverpool and completed his PhD in coral reef remote sensing at the University of Sheffield.
He began his career helping to design marine park areas in Belize, Central America. After completing his PhD, he won a NERC Post-doctoral Fellowship to study ecological processes on coral reefs and moved to the University of Newcastle to join the Centre for Tropical Coastal Management Studies. He was then awarded a Royal Society Fellowship to integrate empirical ecological data into models of coral reefs with a view to studying how changes in human activity can affect the health of reefs. At this point he moved to the University of Exeter where he was made Professor at the age of 34. In 2010, Peter moved to the University of Queensland to take up an ARC Laureate Fellowship.
Career
2010-onwards ARC Laureate Professorial Fellow, University of Queensland, Brisbane, Australia
2006-2010 Professor and Royal Society Research Fellow (till 2008), University of Exeter
2000-2006 Royal Society Research Fellow, University of Exeter
1997-2000 NERC Post-doctoral Research Fellow, University of Newcastle
1994-1997 Research Associate, University of Sheffield
1992-1994 Science Coordinator, Coral Cay Conservation
Qualifications
1997 PhD (Coral reef remote sensing), University of Sheffield
1992 BSc (Hons) First Class, Marine Biology, University of Liverpool
Awards
2015 Inaugural Winner of the International Society for Reef Studies 'Mid-career Award' for contributions to coral reef science.
2015 Fellow of the International Society for Reef Studies
2011 Rosenstiel Award for Marine Science, University of Miami
2010 Pew Fellowship in Marine Conservation (www.pewmarinefellows.org)
2010 Marsh Award for Marine Conservation, Zoological Society of London