News ·
On the front line with the mighty mangroves
Meet the teachers and trainers who are bringing mangrove conservation into Australia's classrooms and communities through Earthwatch Australia's TeachLive program.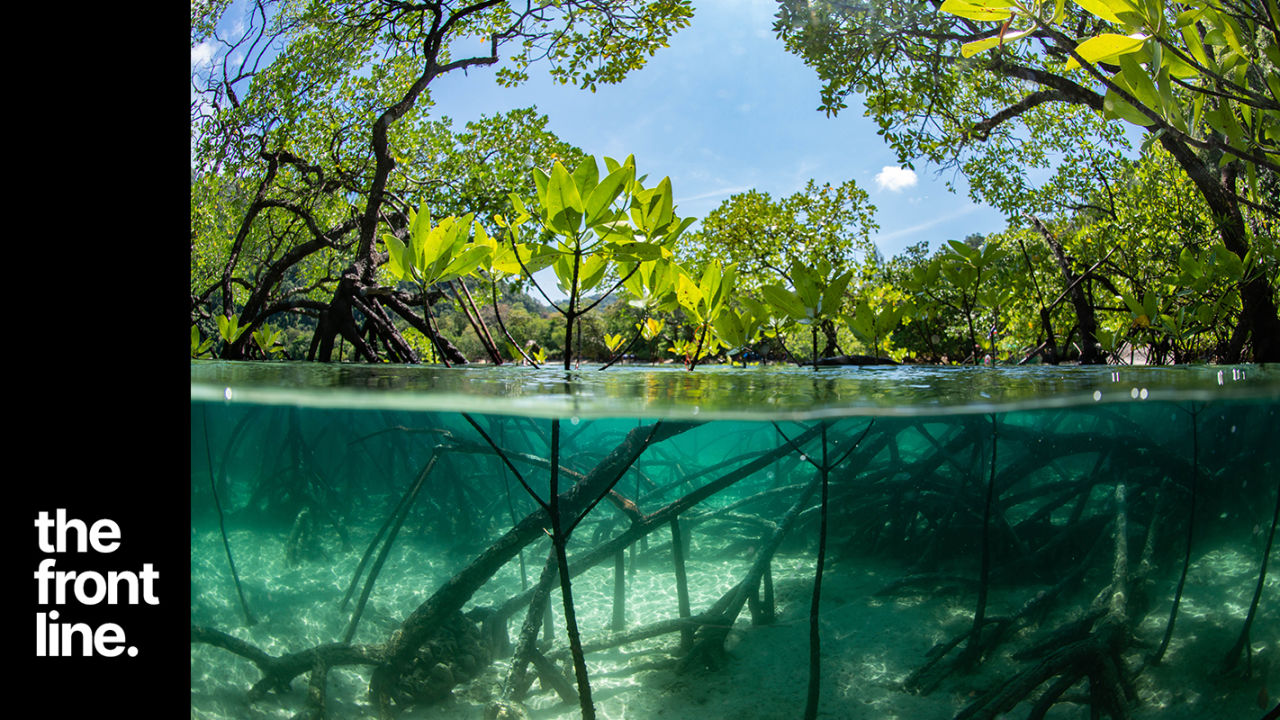 Mangroves are natural guardians of the Great Barrier Reef. Their matrix of highly connected habitat helps protect shorelines, provides homes and nurseries for marine wildlife, filters water coming from catchments, offers places for local fishing and boating and retains irreplaceable cultural values for First Nations Australians. Tidal wetlands, which include mangroves, are also significant blue carbon stores, helping combat climate change. The Great Barrier Reef World Heritage Area is home to half of the world's mangrove species.
The MangroveWatch citizen science monitoring program was developed to engage, educate and empower local communities in mangrove conservation and management, activating local participation in mangrove management and translating citizen science data into on-ground conservation.
In August, our partners at Earthwatch Australia in Gladstone held one of the 'Protecting Wetlands for the Future' TeachLive expeditions. Over the course of the week, mangrove ecologist Jock Mackenzie was joined in the mangroves by a team of teachers and community leaders from around the Great Barrier Reef. Together, they learned about the MangroveWatch approach to mangrove monitoring and came up with actions they will take back to their communities to protect mangroves and saltmarsh habitats into the future.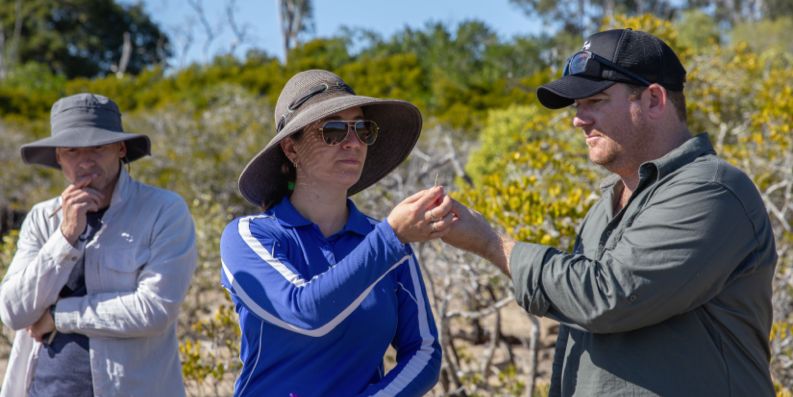 The MangroveWatch team help participants identify mangrove species by looking at their leaves. Credit: Ben and Di
"Australia has a vast coastline and a lot of it is covered with mangroves. What we need is lots of people out on the ground to help us understand what's going on with our mangrove habitats, what are the issues, and what can we do at a community level to help reduce those impacts that are threatening the capacity of mangroves to adapt," Jock explained.
During the expedition, participants had the chance to learn firsthand about mangrove monitoring and practical ways to protect these critical habitats.
"In our ecology unit at school, we teach the kids that mangroves are the nurseries for the water and the Reef and in the Mackay region we have a lot of reef. If that's instilled in them from an early age, potentially it's something they'll always look out for," said teacher Fiona Forrest from Pioneer State High School.
The team took a deep dive in monitoring mangrove crabs. These little critters are vital to the recycling of carbon and nutrients. They scurry out of their mud burrows when the leaves fall and bring them back into their home where they eat and effectively bury the leave's carbon into the ground.
Participants took photos of leaves for species identification. Credit: Ben and Di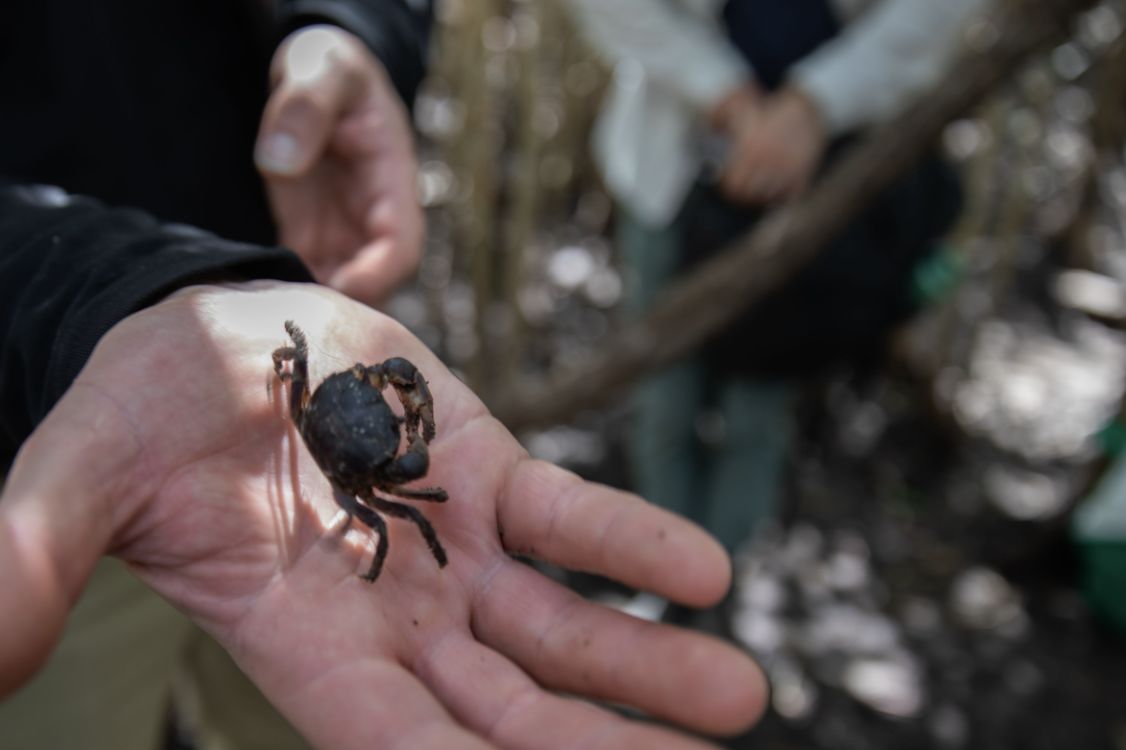 Participants monitored mangrove crabs. Credit: Ben and Di
The teachers and community leaders will take this information back to their communities to continue building a network of mangrove champions along the Reef.
"We're going to come back with so much knowledge and to be able to try and share that knowledge is going to be really exciting," said Lisa Van Zelst from Mount Larcom State School near Gladstone.
"The end game is to get more kids involved. The number one thing for me is learning more so I can share that knowledge," said Josh Reid from Daradgee Environmental Education Centre in Innisfail.
Jock has been working in the mangrove and saltmarsh space for 20 years and through his research and experience he's learned some valuable lessons. "I've seen that whilst there is a lot of degradation and threats going on, we are improving our understanding as a community of their importance, of their value. I really do believe that by working together, we can all make a real difference."
Earthwatch Australia's 'Protecting Wetlands for the Future' TeachLive program is funded by the partnership between the Australian Government's Reef Trust and the Great Barrier Reef Foundation.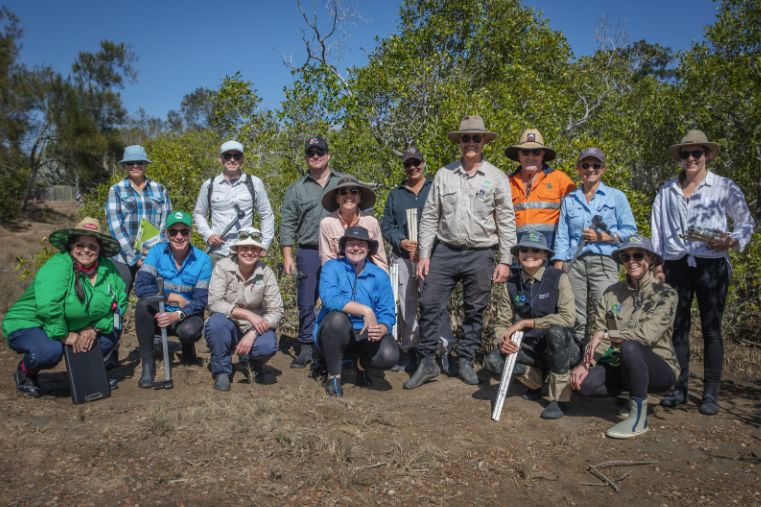 The team ready to tackle a day out in the mangroves. Credit: Ben and Di