People of the Reef ·
Cédric Robillot: 'Our Reef is a place of profound connection'
As one of the leaders of the world's biggest reef restoration and adaptation effort, Cédric Robillot tackles our most complex conservation problems every day. Discover how he maintains hope for the future of our Reef.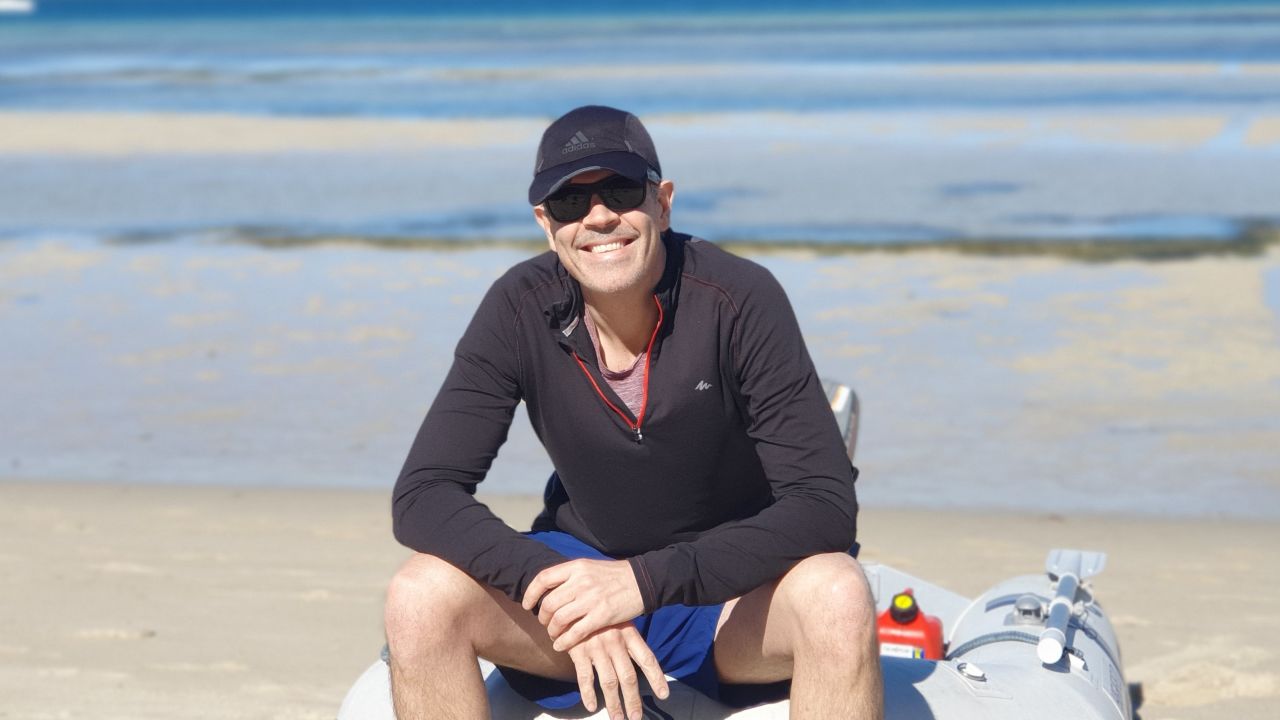 It's no secret that protecting the Great Barrier Reef is challenging; it's an ecosystem of thousands of square kilometers, with often competing interests, economic and political considerations, and conservation funding gaps. It's a messy, seemingly never-ending, and complex problem. And one that is completely worth solving.
Dr Cédric Robillot, the Executive Director for the Reef Restoration and Adaptation Program (RRAP) is showing up, focused and ready to tackle reef protection, one of our generation's greatest challenges.
"The Reef as we know it cannot and should not be taken for granted. The fact that it has been so resilient to date does not mean it is not fragile," he says.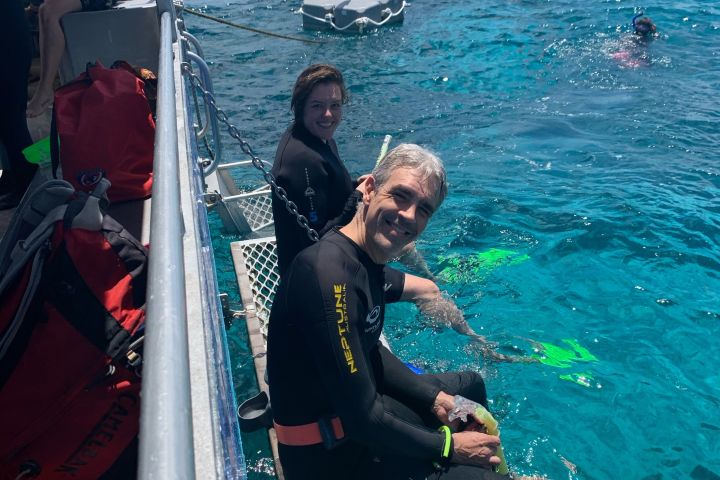 Cedric with other members of RRAP team. The Program is made up of a multi-disciplined group of more than 350 researchers.
RRAP is one of the world's largest research and development efforts to help an entire ecosystem – our Great Barrier Reef – resist, adapt and recover from the impacts of climate change. Cédric stands at its helm, bringing a multitude of experience that began, unusually, with a career in organic chemistry researching naturally occuring toxins.
It's perhaps a surprising origin story, until you delve deeper into the world of biotoxins. Therein lies a myriad of complex chemical connections that, once unravelled, can be used for real-world benefits in health and medicine.
"I've always been passionate about translating scientific research into innovative applications that have positive impact," says Cédric.
Cédric has also previously led the Reef Trust Partnership, eReefs and major projects at Seqwater. He knows that every success, big and small, can drive progress.
"I look back at some of the programs I was involved with at a very early stage, and they are still growing and delivering impact, whether in water treatment, irrigation, or on the Reef. That gives me a kick," he says.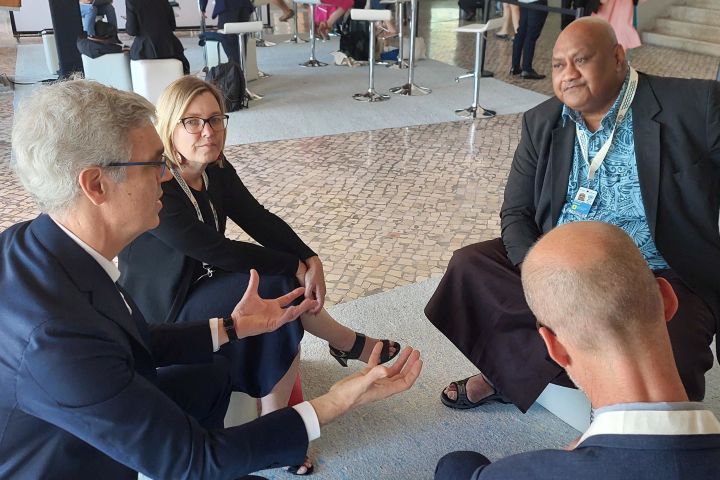 Cedric attended the UN Ocean Decade and COP15 UN Biodiversity Conferences, sharing the importance of reef protection to conserve marine biodiversity.
The Reef Restoration and Adaptation Program is now three years old, with some seriously game-changing research and development under its belt. Cédric and the multi-discipline research team, 350+ strong, are focused on breaking through the scientific and engineering bottlenecks and knowledge gaps that currently limit the size and scale of meaningful reef conservation efforts. The mission is to build a toolkit of innovative and large-scale reef restoration and adaptation solutions that can be used by reef managers around the world.

But these interventions are no substitute for action on climate change, with emissions reduction urgently needed alongside scientific solutions. Cédric knows that unless we address climate change, repeated stress and bleaching events and ocean acidification will destroy the unique beauty and richness of our reef ecosystems.
"Extinction is not just a land and forest problem; it is happening in the oceans as we speak. We can and must act now," he warns.
Cedric's family originates from Bréhat Island in Northern Brittany, France.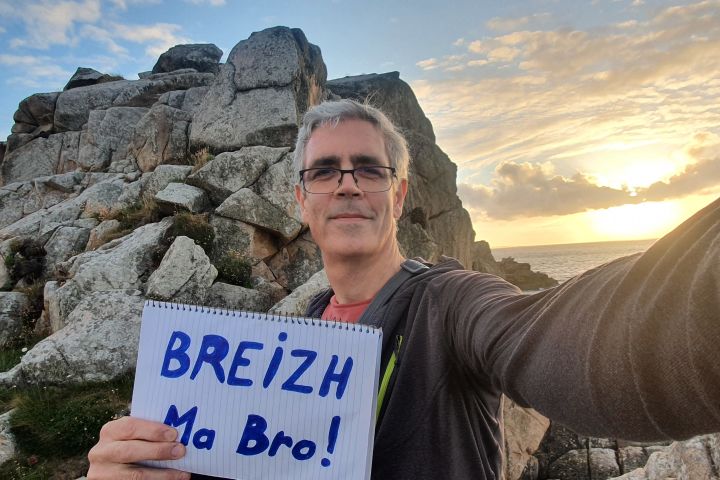 "Breizh ma bro" means "Brittany, my Country" in the local language.
For Cédric, protecting coral reefs is not just a professional challenge but a personal one too. He grew up on the wild coastlines of Northern Brittany, rich with Celtic folklore and tales of sailors and ocean adventures. Now an avid sailor himself, he continues the maritime connection, regularly escaping to the high seas with his family on yachting adventures.
The Reef too, has this profound connecting power, Cédric says.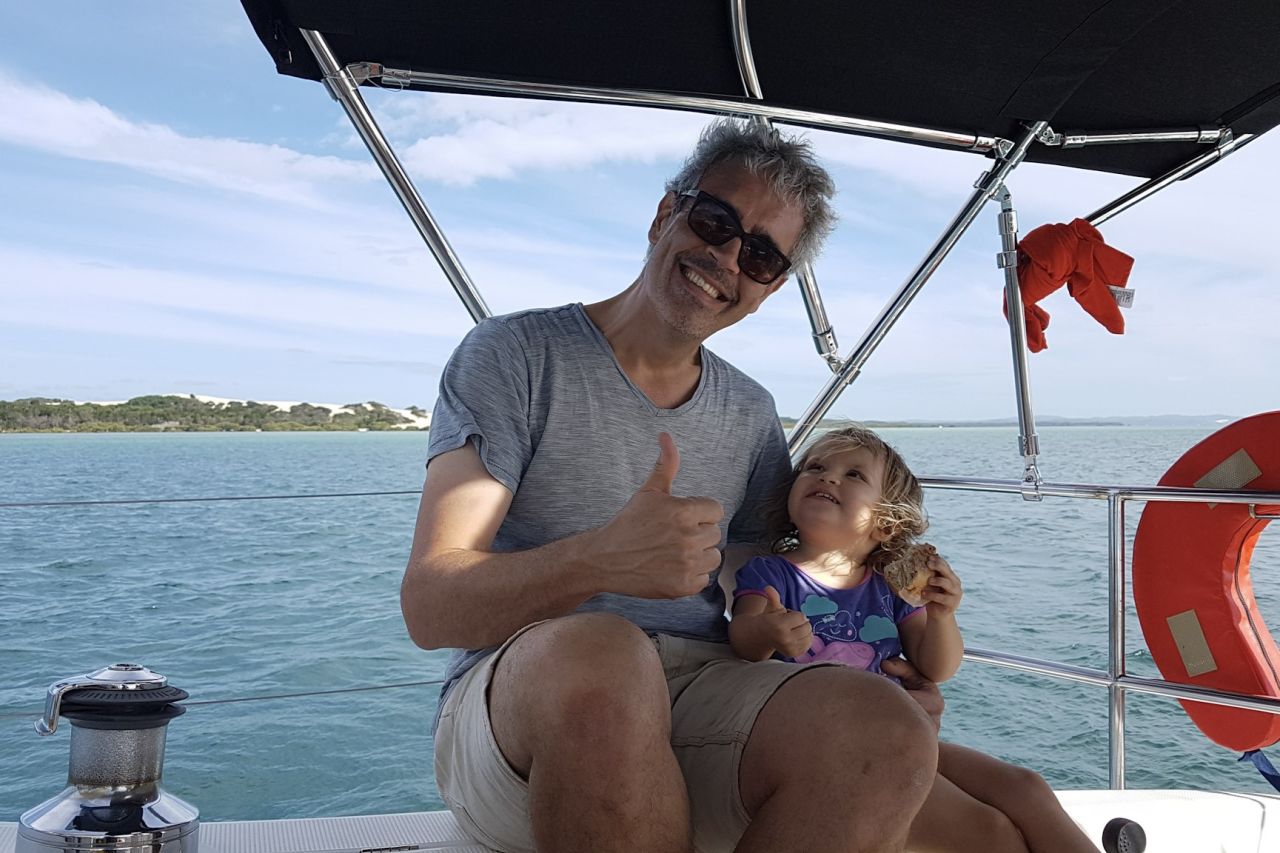 Cedric and his family share a love of sailing on the Great Barrier Reef.
"Throughout history our Reef has connected people, cultures and stories. Aboriginal and Torres Strait Islander Peoples have incredible stories of creation and connection over thousands of years. Coral reefs figure prominently in stories of sea explorers, both for their splendour and the deadly challenges they presented to navigation. Now, Modern Australia as a whole also feels a deep sense of pride and responsibility for the Reef."
By harnessing the connections in the complex, Cédric knows that, together, we can build a better future for our Reef.