People of the Reef ·
Gareth Phillips: 'The Great Barrier Reef ecosystem is unparalleled on this planet'
Gareth Phillips is a company director, marine biologist, skipper, engineer, Master Reef Guide and head of the marine tourism body. The South African says he feels honoured to be part of the Reef community.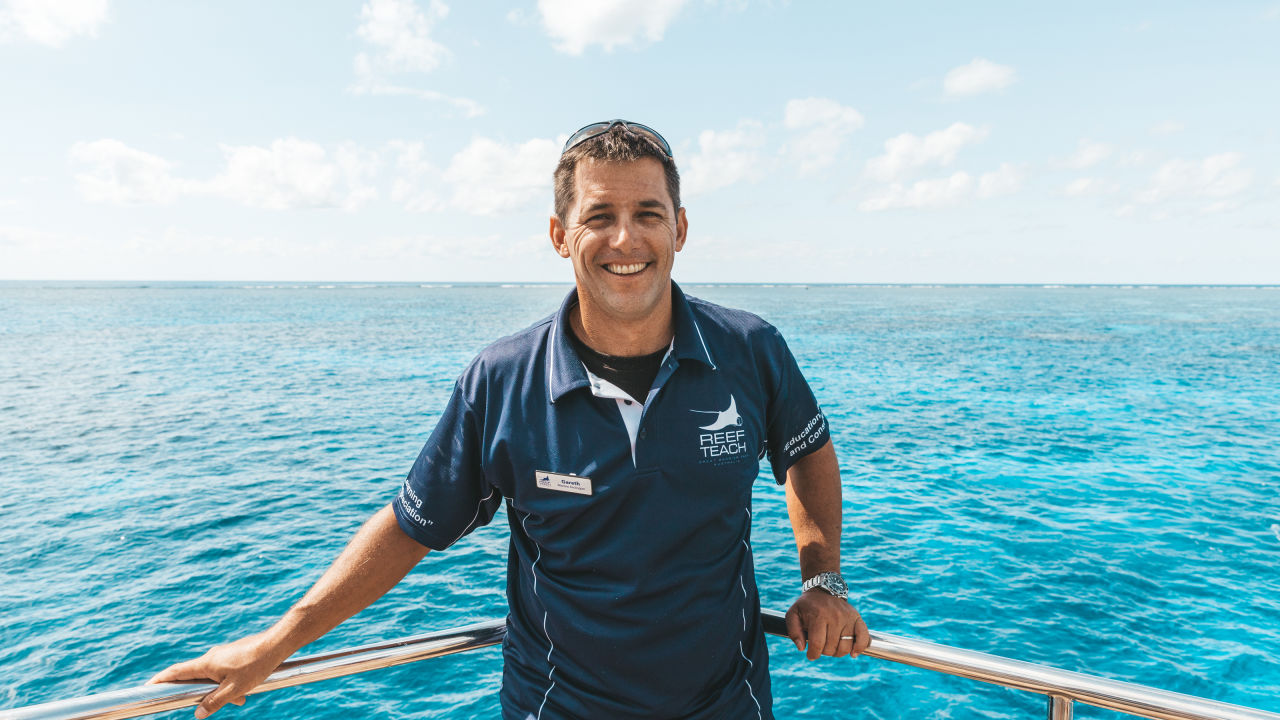 As a boy growing up in the South African city of Pietermaritzburg, about 80km north-west of Durban, Gareth dreamed of visiting the Great Barrier Reef.
But he never imagined that not only would he one day live there, he would go on to run his own research and education company on the Reef, have skippered some of the best dive vessels in the region and been appointed the chief executive of the peak industry body for marine tourism.
"If you'd asked me if I could achieve all this when I was 18, I'm sure I'd have given you some overly confident 18-year-old answer, but the reality is I couldn't have imagined it," he says.
"I'm honoured to be part of the Great Barrier Reef community."
As the owner and director of Reef Teach Cairns, Gareth leads research and education projects on the Reef, including one with the Great Barrier Reef Foundation to train tourism operators to capture critical data about the Reef's health.
"Tourism operators are out on the Reef regularly and have a unique opportunity as advocates and active contributors for reef conservation," he says.
"They have a range of important roles to play to support the health of the Reef now and into the future, such as helping to undertake monitoring, supporting targeted interventions where needed and sharing with their guests what they can do on the Reef and at home to help care for this iconic and inspirational place."
Gareth is also the head of the Association of Marine Park Tourism Operators (AMPTO), a marine biologist, skipper, marine engineer, Master Reef Guide and Eco-Guide.
He says his love for the Reef is an inherent part of who he is.
"I can't really say what first sparked my interest in the Great Barrier Reef," he says.
"I'm one of the lucky people in the world who has always known since birth that I wanted to be a marine biologist and make the oceans my life.
"The Great Barrier Reef has always been one of those iconic environments I used to dream about seeing at least once. I think I've achieved that!"
Gareth says its complexity is what sets it apart from other coral reefs around the world.
"All coral reefs are complex but when you consider the size of the Great Barrier Reef, it just takes it to a whole new level," he says.
"I love how different bioregions have their own characteristics – each made up of the same building blocks, yet they come together in different ways. From one area to another, the Reef can vary so much.
"Each region has its own uniqueness, strengths, weakness. They can stand on their own two feet and yet they are all connected and work together to form an ecosystem that is unparalleled on this planet."
Gareth says while the Reef is full of incredible creatures, each with characteristics that fascinate him, his favourite is coral.
"Coral is a jellyfish-type animal that is about the size of a pinhead on average," he says.
"Although the Great Barrier Reef has super high biodiversity, it's this tiny jellyfish animal that it all revolves around, and it's this tiny animal that has created a structure so big you can see it from space."
Gareth believes the ocean is part of him and he wouldn't be happy doing anything else.
"I did leave the marine sector for nine months and managed a frameless glass company, but I hated every minute of it. The people at the company were great and the pay was great, but the work was horrible," he says.
"I suppose the ocean is part of me, whether I'm in a leadership role with very little on-water time or whether I'm submerged every day. I just love it."
For a man who has achieved so much it must be difficult to choose a career highlight, but Gareth says seeing a Longman's beaked whale – twice – is definitely one of them.
Sightings of these elusive whales, sometimes known as tropical bottlenose whales or Indo-Pacific beaked whales, are incredibly rare and much remains unknown about the species.
"At the time, only 12 people in the world had seen one alive. It was pretty special," he says.