People of the Reef ·
Jacinta Shackleton: 'You can help create a better future for the Reef'
A thirst for adventure runs in Jacinta Shackleton's blood. A relative of esteemed Antarctic explorer Sir Ernest Shackleton, Jacinta spends her days exploring the mesmerising world beneath the waves and teaching people how they can help protect it.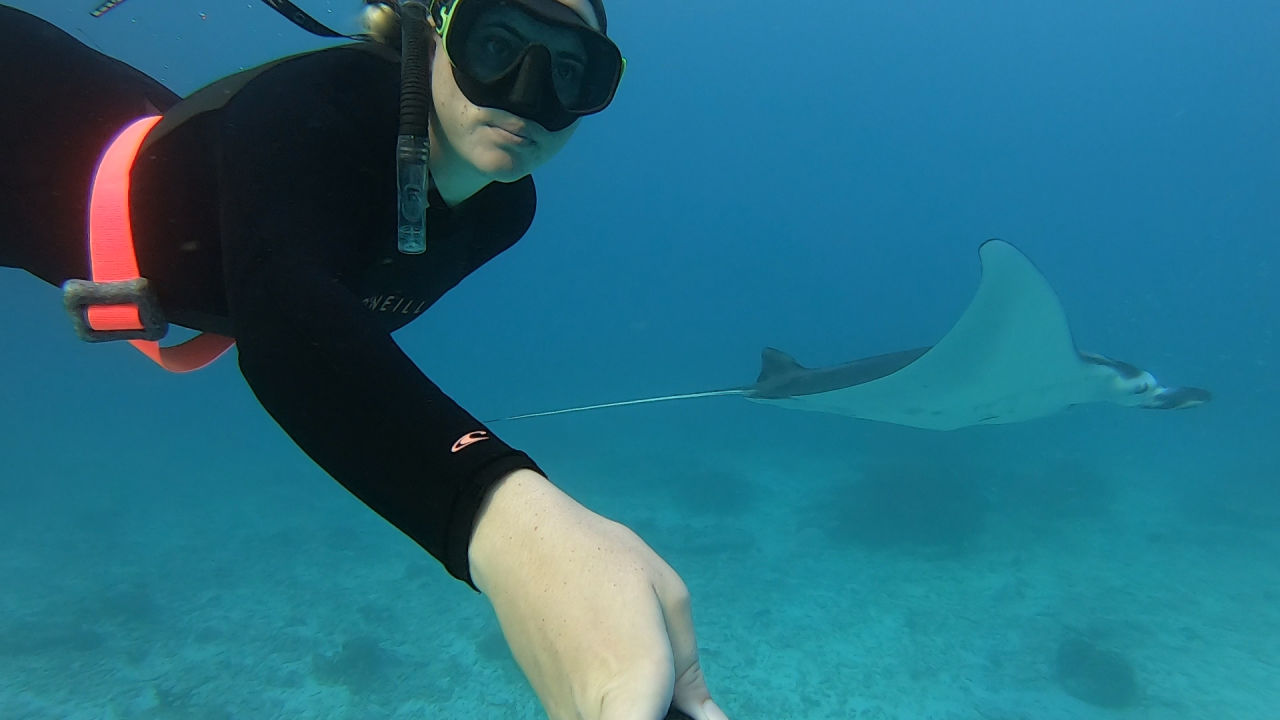 Jacinta Shackleton lives and breathes the Great Barrier Reef. A marine biologist and Master Reef Guide, she's dedicated to educating people about the Reef and its inhabitants.
Master Reef Guides are the world's leading reef ambassadors, tasked with sharing the wonders of the Great Barrier Reef World Heritage Area with visitors. They relay the latest scientific and management information about the Reef and explain what people can do to make a difference in their day-to-day lives.
"I'm proud to be a Master Reef Guide," Jacinta says. "I've loved the ocean from a very young age and I'm strongly motivated by the reactions I see from people I'm showing the Reef to. Watching their face light up and having them ask me hundreds of questions about what they have just seen is really rewarding."
Jacinta loves showing visitors the amazing creatures that call our Reef home. Credit: Jacinta Shackleton
Jacinta works on Lady Elliot Island, which is the southern-most island in the Great Barrier Reef Marine Park. It's a beautiful coral cay about the size of 50 football fields and is a sanctuary for over 1,200 species of marine life, including whales, manta rays, turtles, dolphins and corals. The island also has the second highest diversity of breeding seabirds of any island on the Great Barrier Reef.
Jacinta's a keen underwater photographer and videographer and she shares her incredible encounters around Lady Elliot on social media, where she's amassed an impressive following. Spending so much time on the island and in the water, Jacinta's often rewarded with rare sightings.
She's one of only around 50 people to have spotted ornate eagle rays, and earlier this year she had a once-in-a-lifetime encounter with a blanket octopus while snorkelling off Lady Elliot Island.
Ornate eagle rays are incredibly rare, but Jacinta has been lucky enough to spot two around Lady Elliot Island. Credit: Jacinta Shackleton
This video of a blanket octopus went viral when Jacinta posted it on her social media channels. Credit: Jacinta Shackleton
"My encounters with ornate eagle rays have been nothing short of magical," she says. "The first was on the day the resort was closing due to Covid, so it was a very special temporary goodbye for me. I had my second sighting on the day I returned to work on the island after the shutdown – maybe the island was welcoming me back! My blanket octopus sighting was extremely exciting as you can hear from my screaming throughout the video!"
Her videos are so impressive, they've been snapped up by the Discovery Channel and Netflix.
"The Netflix project is a new movie called The Sea Beast, which has an underlying message to protect our marine life and the oceans. I've also written an article about turtle conservation work this year for Rolex."
For Jacinta, education is the key to helping people understand they too can make a real difference for the Reef.
"We spread this message daily at the resort – reduce your energy usage, reduce your plastic use and make sure you recycle. These things all make a real difference for the ocean. I strongly encourage everyone to do beach cleans on their own and simply pick up rubbish they see in natural areas. Just think, each piece of plastic you pick up is one less thing that could threaten the life of a turtle or sea bird.
"I'd also love everyone to know that it's a great idea to get out there and see the Reef in person, rather than solely believing what you see on the news."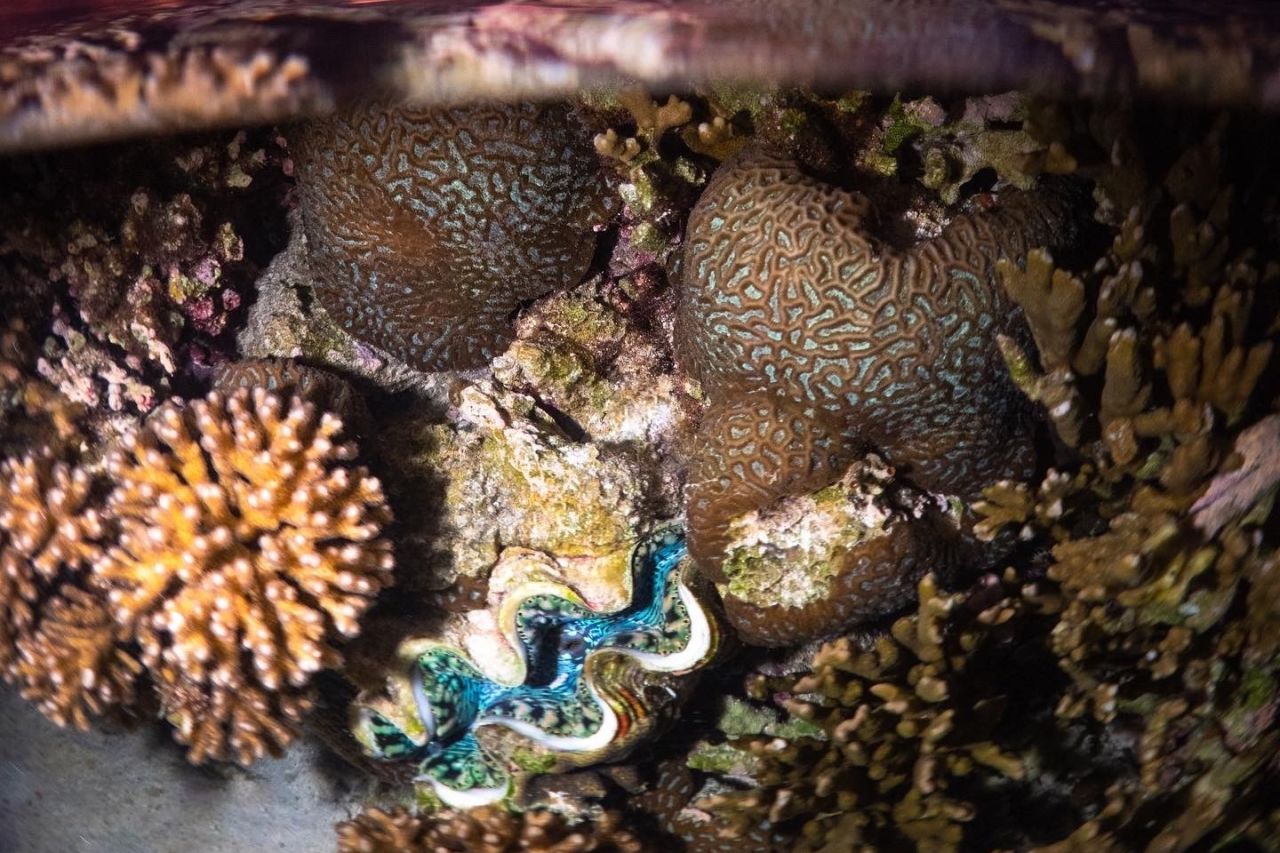 Lady Elliot Island's lagoon is full of incredible corals and other marine life. Credit: Jacinta Shackleton
Originally from South Australia, Jacinta first visited the Reef on a family holiday to Green Island, near Cairns, when she was 12.
"Once I stuck my head underwater I was absolutely hooked and genuinely couldn't believe what I was seeing," she says. "The diversity of shapes, colours and wildlife was truly mind blowing and I knew I had to be near the Reef or ocean from then on."
When asked to name her favourite Reef animal, Jacinta hesitates: "I'm not sure I can narrow it down! I interact with a lot of Reef creatures but am absolutely fascinated by cephalopods, which include squid, octopus and cuttlefish, and I also love manta rays. These animals are very brainy so it's quite special to spend time with them and watch their behaviours and reactions to people."