People of the Reef ·
Larissa Hale: 'Working with Traditional Owners leads to better outcomes for the Reef'
Yuku Baja Muliku woman Larissa Hale has long fought for Traditional Knowledge to sit alongside Western science in Reef protection efforts. She says scientists are now beginning to recognise and understand its unique value.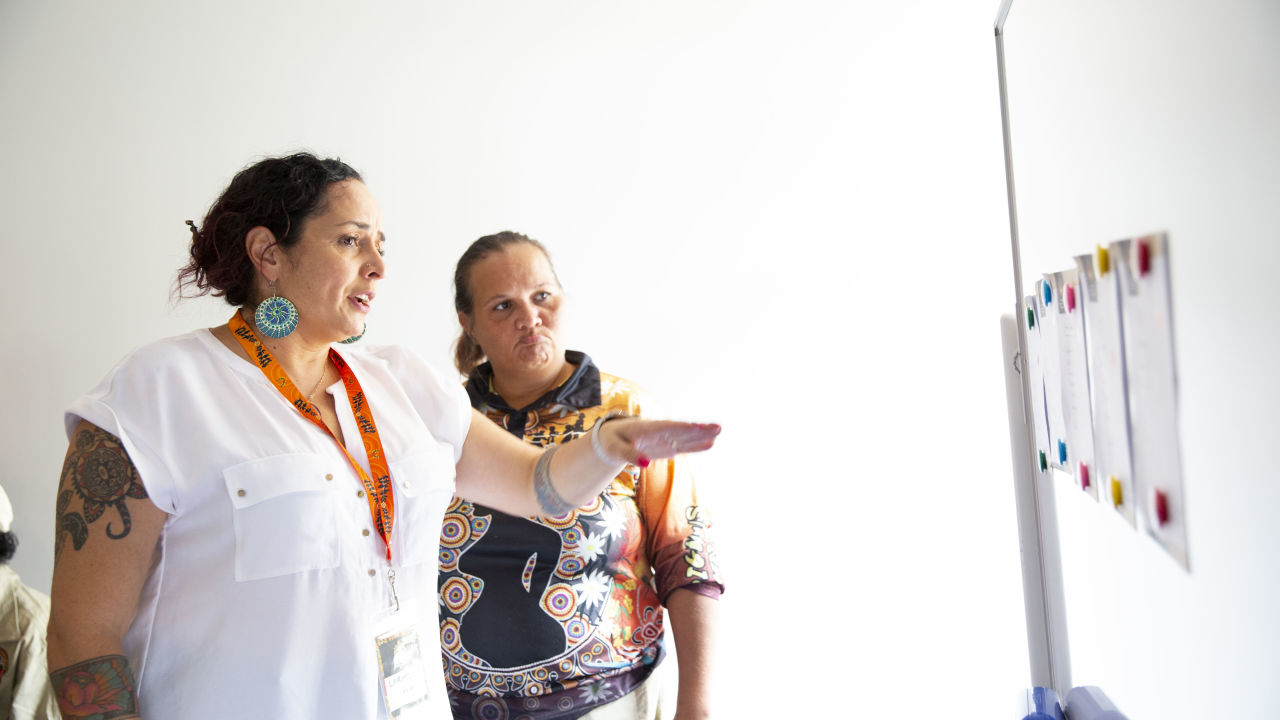 Larissa Hale is a proud Yuku Baja Muliku woman from Archer Point, just south of Cooktown. Having grown up on the northern end of the Great Barrier Reef, she spent many hours as a child fishing with her uncles and has a strong connection to her Land and Sea Country.
More than 20 years ago, Larissa promised her grandfather Jack that she would always fight for her People and their Country.
"He just knew that I had the passion and the love for it," Larissa says. "He didn't let me give up, so that was my promise. One of the things I've always been strong about is that it's our responsibility to look after Country."
In 2008, Larissa helped establish the Yuku Baja Muliku Ranger Program in her hometown.
The Yuku Baja Muliku People are the Traditional Owners of Archer Point, which encompasses 22,500 hectares and borders two of Australia's World Heritage Areas – the Wet Tropical Rainforests of Queensland and the Great Barrier Reef. The ranger program gives Traditional Owners the opportunity to take a lead role in managing and caring for their Land and Sea Country using Traditional Knowledge and practices.
The program started with just two part-time rangers and has now grown to more than 18.
A Junior Ranger Program is also in full operation, with 48 children from Prep to Year 7 and a Ranger Cadet Program with six children from Years 8 to 12
Larissa says one of her proudest achievements is being able to provide opportunities for families to come back home and work as a ranger and make a real contribution to looking after Country.
"We can bring our Mob home and provide a space where they're actually working on Country," she says. "It means something, it's not just a nine-to-five job. It's the connection and it's the reconnection as well, bringing the young ones home and passing on the Traditional Knowledge."
One project that's particularly close to her heart is the Queensland Indigenous Women's Ranger Network, which Larissa helped establish in 2018.
Larissa was Queensland's first Indigenous female coordinator and was instrumental in growing the number of Indigenous female rangers in Queensland from 19 to 124.
"I think that with the Indigenous Women's Ranger Network, people started realising 'hang on, women can do this job'," she says.
Not only are the local rangers up to the job, they're leading critical work to protect threatened species and habitats. When Cyclone Yasi wiped out seagrass meadows at Archer Point in 2011, the turtle population was left without an essential food source. The result was critical numbers of turtles in distress and needing help.
The Yuku Baja Muliku rangers established an emergency rehabilitation team to care for the turtles. That emergency centre has grown into the Yuku Baja Muliku Turtle Rescue and Rehabilitation Centre.
Turtles are Larissa's favourite animal so rescuing and rehabilitating them is a personal passion and she often cares for them at home. It's just one of the many roles that fill her personal and professional life.
"I'm a mum, a wife, a daughter, a leader," she says. "I'm a Local Government Councillor. I'm the Managing Director of Yuku Baja Muliku, the Ranger Coordinator. I'm a firefighter, an artist. I work with my team for turtle rescue and rehabilitation. I run a Junior Ranger Program. I work with Traditional Owners for Great Barrier Reef management."
Larissa believes the broad scope of work being done by Reef Traditional Owners has been critical to ensuring Traditional Knowledge is recognised and respected by the scientific community. "I think scientists are starting to listen and understand that Traditional Owners know what they're talking about," she says. "Scientists are realising that if we work with Traditional Owners, we're going to get better outcomes."
Larissa is Chair of the Great Barrier Reef Foundation's Traditional Owner Advisory Group, which works to ensure Traditional Owners' voices are elevated and they're genuinely involved and leading programs that are helping the Reef heal.
Larissa's passion, drive and leadership has been instrumental in achieving these goals and she continues to work every day for her People, her Country and her grandfather Jack, upholding the promise she made to him more than 20 years ago.