People of the Reef ·
Laura Dunstan: 'Reef community and Traditional Owner groups inspire me every day'
A life-long adventurer, diver and outdoor-lover, Laura Dunstan is helping communities along the Great Barrier Reef collaborate, innovate and participate in the conservation of the Reef.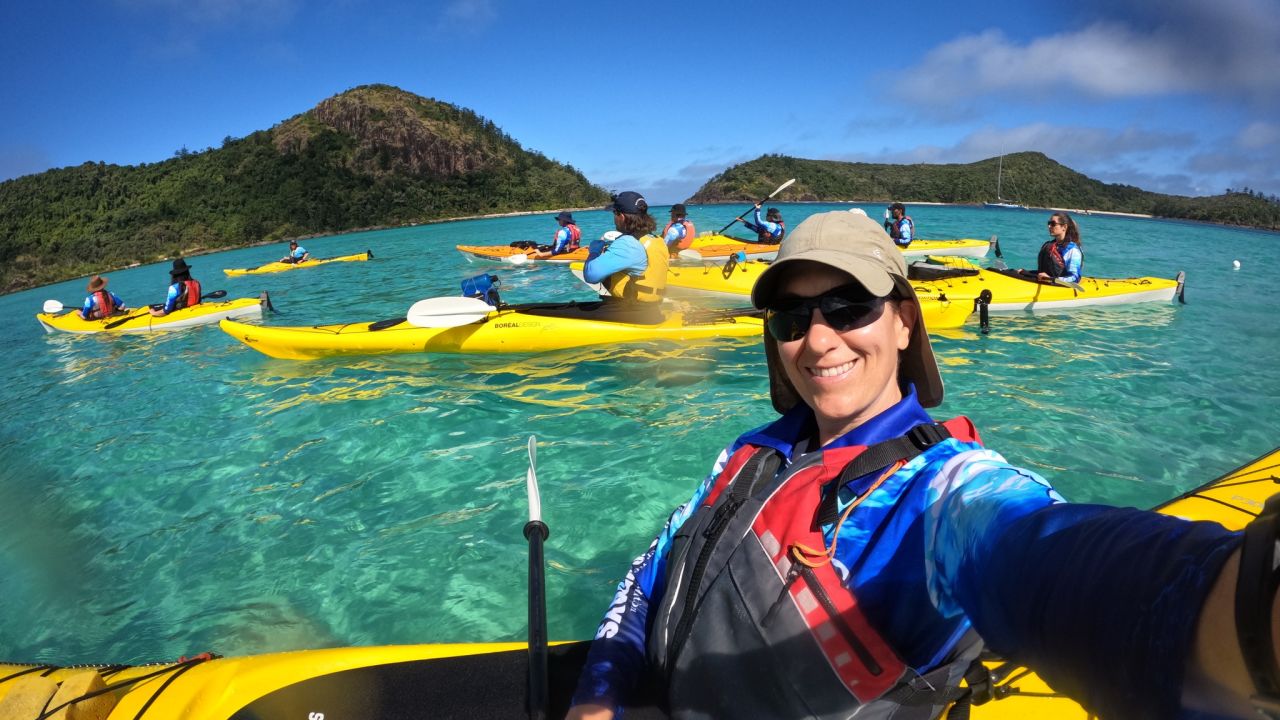 At 14, Laura Dunstan went scuba diving for the first time at Victor Harbor in South Australia. What she saw sparked a life-long love for conservation. As she sank beneath the waves, she came face-to-face with a curious sea lion that stared back at her inquisitively.
"Two seconds of eye contact with such a playful and graceful animal had me hooked for the rest of my life," she says.
Growing up in Adelaide, Laura spent her childhood exploring the natural environment with her dad. Together they spent a lot of time with the resident bottlenose dolphins in the Port Adelaide River estuaries, which are well-known for the unusual presence of marine mammals in an urban area.
She volunteered with a local conservation group and learned to identify the dolphins from their dorsal fins. Unfortunately, those dolphins are increasingly threatened by pollution and disease, with many newborn calves dying from toxins passed down from their mothers.
"As a little kid that's devastating to see and it had a really big impact on me," Laura says. "As I began to understand the effect humans are having on the natural world, I knew I wanted to dedicate my life to looking after the marine environment."
Through her studies in marine biology at Flinders University in South Australia, Laura discovered her fascination with coral reefs and decided to transfer to James Cook University in Queensland. Early on in her career, she worked for Reef HQ aquarium, the Great Barrier Reef Marine Park Authority, NQ Dry Tropics, and spent a year on Lady Elliot Island.
She then went back to university to complete a Masters in Education for Sustainability, knowing that "if you want to make a big difference for the environment, fostering attitude and behaviour changes in humans is absolutely key".
Since then, Laura has been fortunate enough to dive all around the world, but the Great Barrier Reef remains her favourite place.
Laura now calls Yunbenun (Magnetic Island) home, which she says is the perfect place to enjoy the Great Barrier Reef's World Heritage values through snorkeling, diving, kayaking, sailing, bush walking and mountain biking.
"My day usually starts with a kayak at dawn, gliding along with the fish and turtles, and the humpback whales during winter. I then ride my bike to work, which includes a relaxing ferry ride to the mainland. I think I have the best commute in the world! I feel incredibly grateful every day to live and work on the Great Barrier Reef."
When she's not working, Laura spends her spare time adventure racing – a team sport that requires you to navigate an unmarked course through the wilderness.
"You mountain bike, trek, paddle in rivers, lakes and the ocean, swim and abseil all using a map and compass – there's no technology allowed," Laura explains.
"Adventure racing has taken me to some of the most remote and beautiful places around Australia and events can take anywhere from 24 hours to a week to complete. I love it because it's just as much of a mental challenge as it is physical. You work closely with your team mates to solve problems and make strategic decisions. You also connect with your surrounding environment and gain an appreciation for it on a deeper level. Sometimes it's terrifying, like when you're racing down white-water rapids, and other times it's sublime, like seeing the sunrise after hiking in the dark for 12 hours. It really pushes you out of your comfort zone and is a lot of fun."
While sea lions and dolphins initially sparked her passion for conservation, today it's the community and Traditional Owner groups she works with that motivate and inspire her every day.
For the last three and a half years, Laura's worked at the Great Barrier Reef Foundation as the Project Manager in the Community Partnerships team.
"This is a dream job for me, where I get to combine all of my skills in marine biology, social science, community engagement, communications and project management to make a tangible difference for the Reef and the communities that rely on it," Laura says.
"Hundreds of organisations and their project partners, plus thousands of volunteers, are dedicating their time, knowledge, expertise and resources to collect important citizen science data. They also empower the next generation of Reef leaders, and undertake a huge diversity of projects such as coastal rehabilitation, cultural heritage protection, education and behaviour change programs, as well as coral restoration.
"I love supporting their achievements through on-ground projects, collaborations and new partnerships, developing innovative solutions and different ways of working, increasing community participation, and building community and youth leadership, and then showcasing and celebrating their achievements. Their successes really demonstrate the collective impact that individuals and groups are making for the whole Reef."