Project News ·
Citizen Science project wrap: Stories of impact
Cairns and Far North Queensland MangroveWatch
Impact Summary (Project funded mid-2019 and wrapped mid-2021)

This project launched community-led tidal wetland monitoring in the northern Wet Tropics region that aims to inform and supports local community engagement to monitor mangrove and tidal wetland health in collaboration with scientists, Traditional Owners, and a range of community partners to help identify local solutions to care for these critical habitats. This is the first citizen science assessment for mangrove and tidal wetland health across seven estuaries within the Wet Tropics and Southern Cape York region. Project leads worked with the Wet Tropics Report Card to design a set of indicators to use this citizen science data set to report on mangrove health in 2022 report card.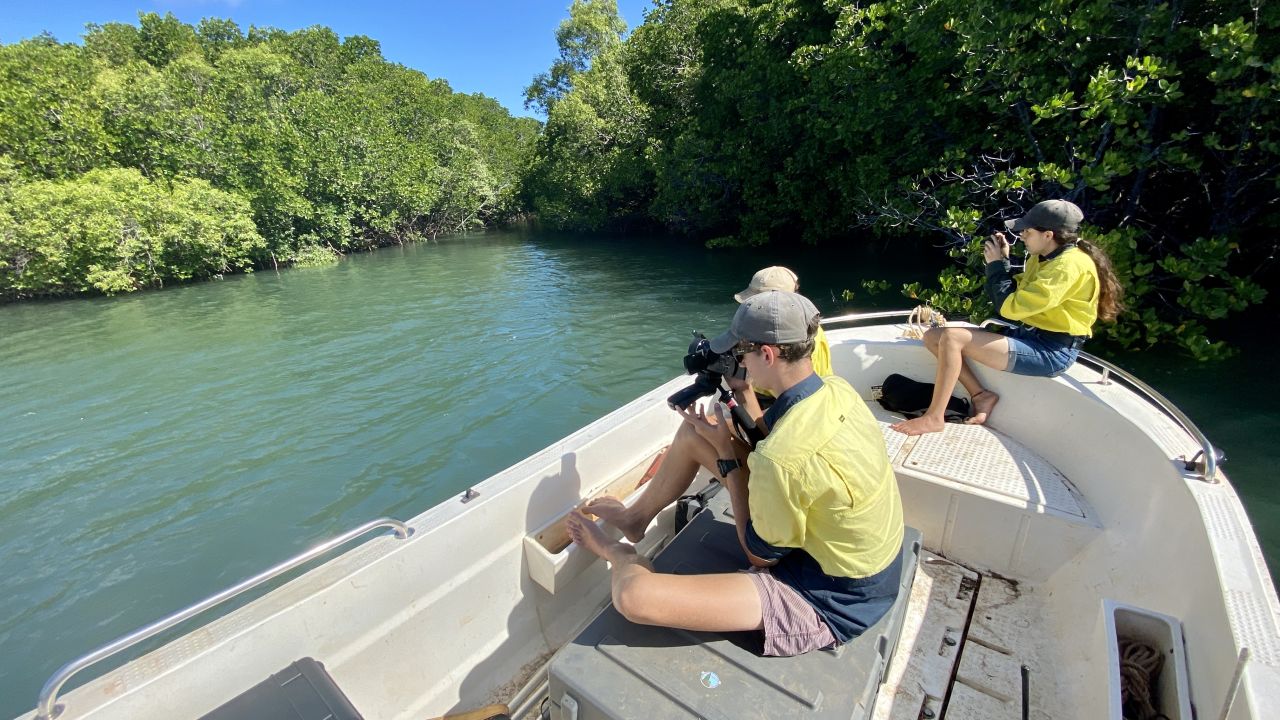 Mangroves are natural guardians of the Great Barrier Reef and provide ecological, economic, social and cultural heritage services to this World Heritage Area. Although ubiquitous along the Great Barrier Reef (GBR) coastline and estuaries, mangroves and associated tidal wetlands are under threat from coastal development, land clearing, and climate change, diminishing capacity to sustain the critical benefits they provide. GBR communities have a vested interest in conserving mangroves, but there is limited local understanding of the value of these habitats or opportunities to learn more about the benefits they provide.
This project launched community-led tidal wetland monitoring in the northern Wet Tropics region that aims to inform and supports local community engagement to monitor mangrove and tidal wetland health in collaboration with scientists and reef managers to help identify local solutions to care for these critical habitats.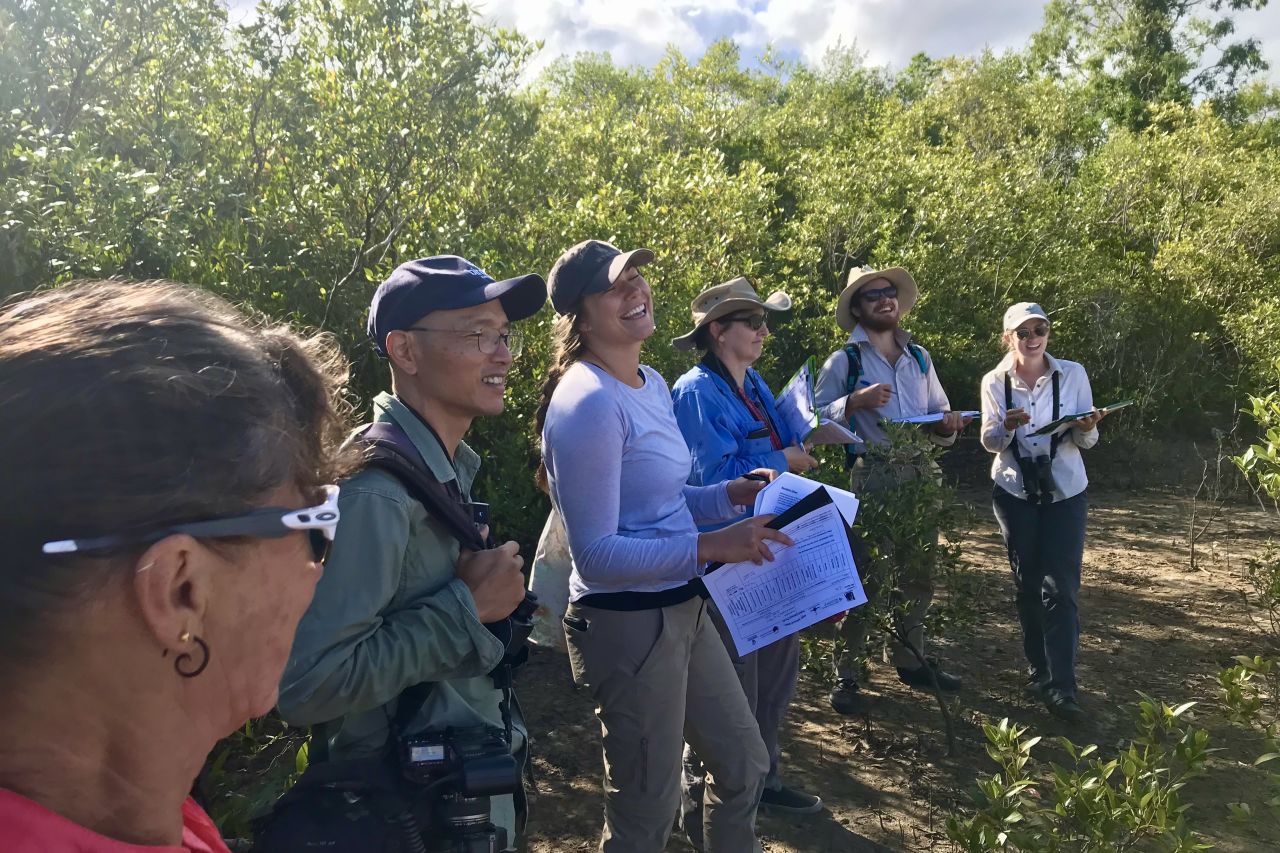 Volunteers and team leaders in the field undertaking mangrove condition assessments. Credit: CAFNEC.
Since 2019, the Cairns and Far North Environment Centre (CAFNEC) have have worked with community partners to engage and train over 300 community members to undertake 350 kilometres of shoreline video transects across 7 estuaries.
The project was designed to systematically collect information about mangrove extent and condition across key representative estuary areas, and develop suitable indicators for reporting and helping to drive positive local actions to protect mangrove and saltmarsh habitats.
In 2021, volunteers recorded new mangrove species records of Nypa fruticans (Nipa palms or mangrove palms) for the Johnstone River and Barron River. This species was only previously officially recorded north of Cairns and the Hinchinbrook channel, with no formal records of occurrence in between (although locals indicate it has been established since Cyclone Larry in 2006). This serves as another great example for the impact of citizen science to empower local people to record observations to understand species migrations with climate change.
"Science and decision making can be seen as exclusive, citizen science offers a way to bridge that gap. Local community members can collect robust information to understand what's around them. This project offers a rallying point – it brings a range of people together to discuss and analyse problems. The shared experience and evidence base breaks down barriers between researchers, decision-makers, Traditional custodians and passionate community members. It brings the community together to advocate for the environment."

Lucy Graham, Director of CAFNEC
For example, to restore the Jack Barnes Boardwalk – a publicly accessible and well-loved iconic location near the airport. The Boardwalk was closed in 2019 due to disrepair and pending demolition. CAFNEC drove a community initiative to work with the Cairns Airport and Council to repair the boardwalk infrastructure rather than remove it, ensuring this area can continue to be enjoyed, monitored and protected.
"MangroveWatch has been a great opportunity for everyone who is concerned about changes in the marine and coastal environment in our local area. This project is not just for recording what we have now. This is a part of our preparation for the future. Our marine environment is always under threat from various human and natural processes. Sometimes changes are very subtle and they can only be detected when compared with each other side by side. Mangrove Watch allows us to do this. I am hoping that this way we can detect issues in the early stage and allow us to raise them and take actions."

Program volunteer Hidetoshi 'Mikey' Kudo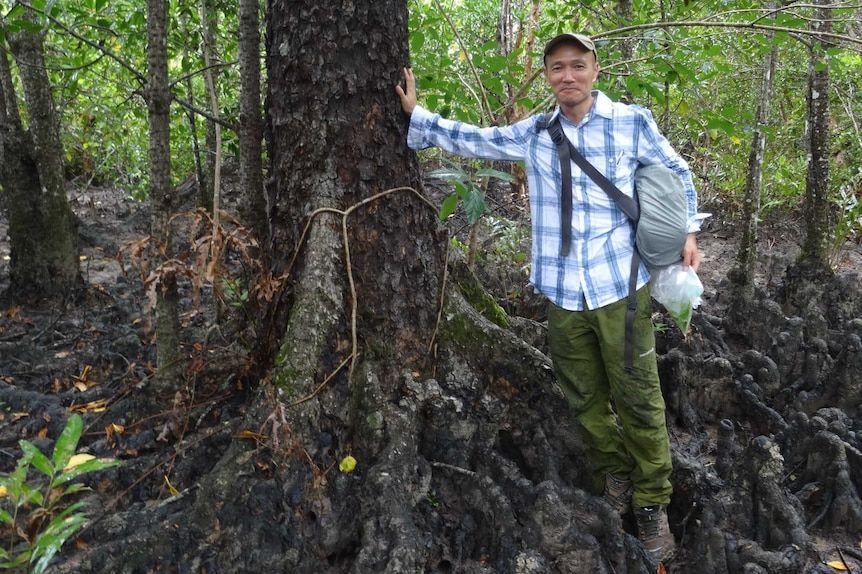 Program volunteer Hidetoshi 'Mikey' Kudo with another mangrove discovery in Trinity Inlet. Credit: CAFNEC
The program was designed to address an identified gap in mangrove condition reporting for the Wet Tropics Healthy Waterways Report Card. Data collected by community members across seven estuaries will be included in the 2022 report card for the first time (for 2020 – 2021 data).
Mangrove extent is currently included in the report card, but this is first time mangrove health data will be reported for the region, and its fuelled by passionate local citizen scientists passionate about protecting their local environment.
"An aspiration of Wet Tropics Waterways has been to add indicators for mangrove condition to complete the range of indicators required for mangrove assessments of the estuaries. The implementation of MangroveWatch shoreline assessments coordinated by CAFNEC in estuaries of the Wet Tropics region over the last few years provides effective data and results for reporting on mangrove condition in the Wet Tropics report card. WTW very much supports continuation of the MangroveWatch program coordinated by CAFNEC which provides valuable and effective monitoring to assess change in the condition of mangroves of the Wet Tropics over time."

Richard Hunt, Science Technical Officer for Wet Tropics Waterways Report Card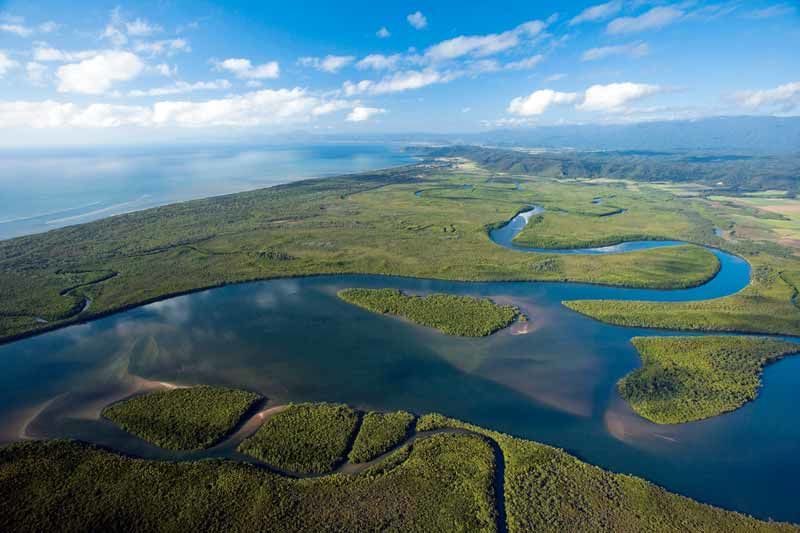 Aerial view of Wet Tropics mangroves. Credit: Wet Tropics Waterways Report Card.
This two-year investment has been a launch point for program expansion and continuity. CAFNEC has secured additional funding for monitoring kits and maintaining monitoring into 2021 in Cairns and is committed to ongoing continuity for the Wet Tropics region. The workshops held in Ingham and Innisfail were the first step to working with partners to expand the program southward for the Johnstone and Herbert River and Hinchinbrook Channel.
'By expanding our network, we are engaging our network to support critical understanding of tidal wetland condition and resilience collection that can contributes to positive GBR tidal wetland management outcomes. For next steps, we're looking to build organisational capacity to undertake data analysis and reporting and looking to continue expanding this successful model to cover areas between Cairns and Hinchinbrook – another gap in mangrove monitoring data. We're excited to keep growing our work with Traditional Owners and other partners to adapt what we have learned and grow the program's impact for the Reef and Reef communities,' shared Lucy.
Cairns and Far North Environment Centre's Cairns and Far North Queensland Mangrove Watch project (2019-2021) was funded by the partnership between the Australian Government's Reef Trust and the Great Barrier Reef Foundation with support from Mangrove Watch, Great Barrier Reef Legacy, South Cape York Catchments, and Dawul Wuru Aboriginal Corporation.