Project News ·
Citizen Science project wrap:  Stories of impact
Amplifying Reef citizen science
Impact Summary (Project funded mid-2019 and wrapped mid-2021)

This project delivered intensive reef health and coastal surveys at three Port Douglas reefs and explored how multiple citizen science datasets can be collected and combined to improve model estimates and predictive performance of Reef health. The results suggest that the diversity of data collected by the programs may be beneficial, offering information that can help with predicting ecosystem health. It also indicated that data from different citizen science programs could be integrated to provide additional benefits for ecosystem health monitoring, prediction, and increased communication with volunteers. These present important preliminary results that can help shape how programs work together and with end data users to strengthen citizen science data outcomes.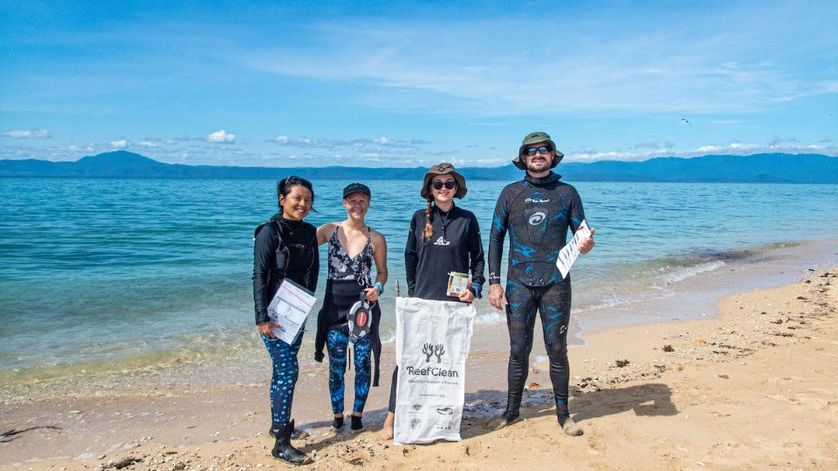 Across the Great Barrier Reef, a range of citizen science programs are engaging community members in collecting, using and sharing information about the health of reef habitats and wildlife. Yet, there is ongoing discussion around the connections between and applicability of data from these diverse programs and challenges in ensuring information is used to guide local actions to protect the Reef.
Through their two-year citizen science grant, the Great Barrier Reef Legacy team collected regular data at three Cairns-Port Douglas reef sites for multiple citizen science programs, and worked with data scientist, Dr Erin Peterson, to explore data applications. Collectively the field teams conducted 157 surveys during 18 field days and collected almost 10,000 points of data.
"The chance to regularly undertake Reef health surveys offered insights into season trends and responses to disturbance. Our site visits were supported through partnerships with tourism operators who see the value of having the team onboard because they can access more information about the health of their site and it's a great opportunity for guests to learn more about the science and the Reef. Regularly undertaking field work helped us to build relationships and the program also strengthened regional capacity to deliver multiple programs."

Dr. Dean Miller, Managing Director of GBR Legacy.
Exploring data applications looked at two different angles to help understand the barriers and greater opportunities for using citizen science data. Part one focused on comparing and contrasting data collected by GBR Legacy at Low Isles, Tongue, and Opal Reefs using methods from four science programs: Reef Check Australia, CoralWatch, and two Great Barrier Reef Marine Park Authority Eye on the Reef Programs (Rapid and Reef Health Impact Surveys).
The results indicate that there was relatively little correlation in data collected by the different programs, which suggests that volunteer effort across multiple programs offer different types of information.
However, results also confirmed that measures collected by programs using different methods are not directly comparable, even when they are designed to capture similar aspects of ecosystem health (e.g. percent hard coral cover). This makes it hard to compare data sets between programs as they use different methods and categories.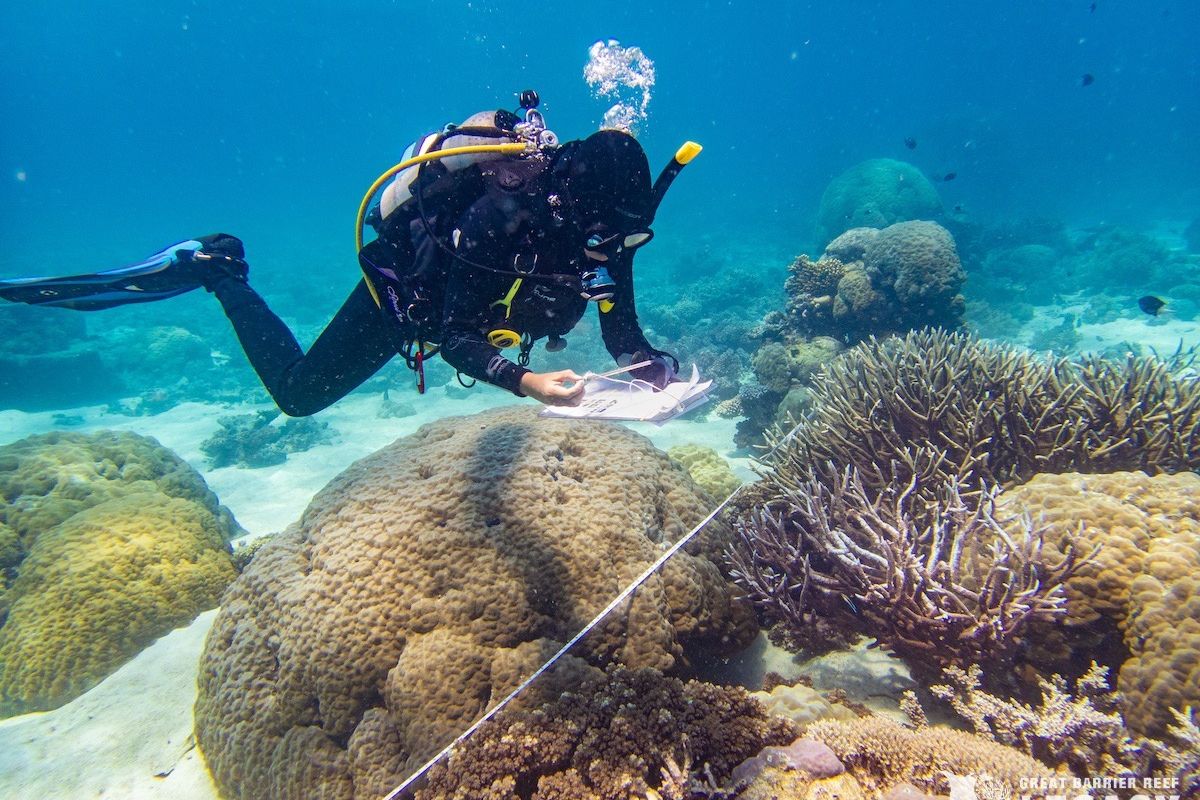 Citizen scientist doing a reef health survey. Credit: GBR Legacy
The second part of the project focused on the estimation and prediction of reef health at six reefs in the Port Douglas/Cairns region using data from three citizen science programs: Eye on the Reef Rapid surveys, Reef Check Australia, and CoralWatch. Results from three coral cover models indicates that data from the three programs improved cover score predictions by 19-32%. These results are promising, but exploratory given the small sample size. Results suggest that replicating the study using data from a greater diversity of reefs and much larger sample sizes could be worth exploring.
The results of the desktop review and two case studies suggest that:
The diversity of data collected by the programs may be an advantage, rather than a disadvantage, when it comes to predicting ecosystem health.
Volunteers with a range of skills and knowledge about marine science (i.e. minimal to high levels of scientific expertise) can contribute useful data describing ecosystem health when they take part in a program designed for their skill and commitment level.
Data from different citizen science programs could be integrated to provide additional benefits for ecosystem health monitoring, prediction, and increased communication with volunteers.
"The project highlights the vast potential of citizen science and the potential boost from an automated data integration platform. It also raised some challenges to be addressed including consideration of data licensing, data storage and accessibility, and standardised data formats to support programs with specific goals for translating data collection into data use."

Dr. Erin Peterson, data scientist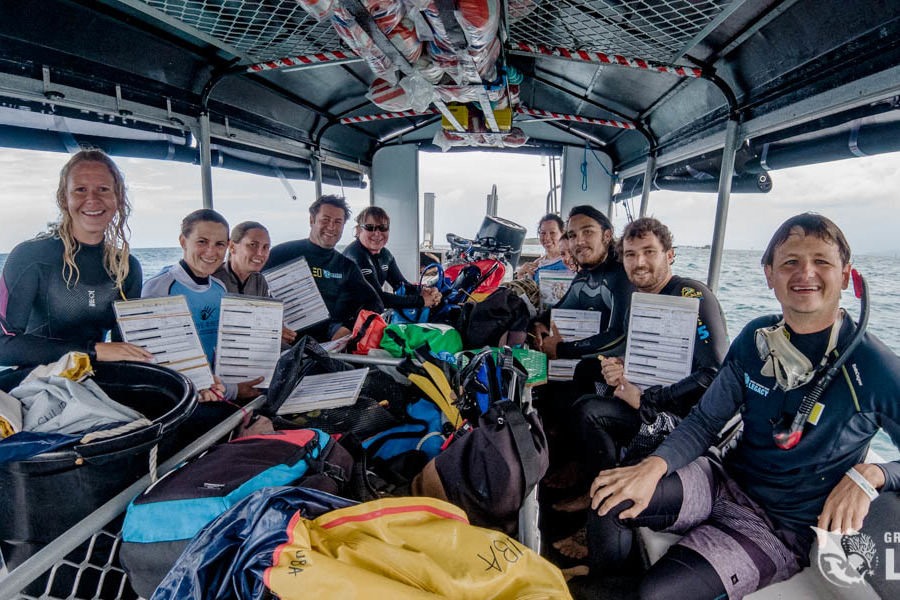 Citizen scientists in training. Credit: GBR Legacy
The project suggests that cross-program data integration can offer considerable benefits for some data applications, but is not necessarily relevant for all programs. Integration would require substantial commitments from programs and staff, who may need legal and technical support to address these significant challenges and the costs may outweigh the benefits for some programs.
Therefore, one of the important next steps for Reef citizen science is exploring where data integration can help both meet the goals of individual program goals as well as working with end data users to identify specific data gaps that citizen science can help to fill.
This Great Barrier Reef Legacy project was funded by the partnership between the Australian Government's Reef Trust and the Great Barrier Reef Foundation (2019-2021) in conjunction with Erin Peterson Consulting and QUT and support from project partners, Calypso Reef Cruises, Reef Check Australia, CoralWatch, and Tangaroa Blue.