Project News ·
Empowered communities care for mangroves in Queensland
This World Mangrove Day, we are celebrating the people making a difference on the ground to research, protect and restore valuable and vulnerable mangrove habitats.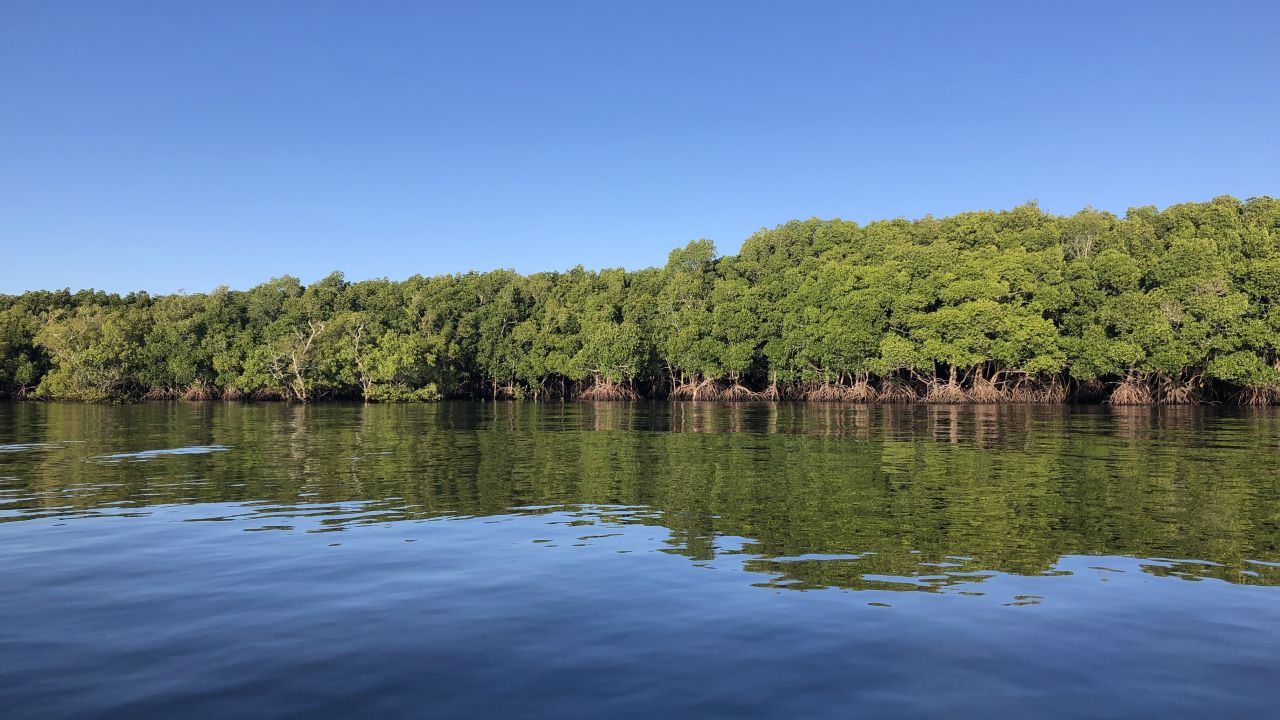 Mangroves are natural guardians of the Great Barrier Reef. Their matrix of highly connected habitat helps protect shorelines, provides homes and nurseries for marine wildlife, filters water coming from catchments, offers places for local fishing and boating and retains irreplaceable cultural values for First Nations Australians. Tidal wetlands, which include mangroves, are also significant blue carbon stores, helping combat climate change.
The Great Barrier Reef World Heritage Area is home to half of the world's mangrove species. Like many ecosystems, mangroves have felt the impact of threats including coastal development, pollution and climate change. It is vital to understand current habitat condition, trends and potential actions to better care for these valuable and vulnerable mangroves.
The Great Barrier Reef Foundation is proud to partner with a range of community organisations working on the ground to make this happen through citizen science programs, community action, youth empowerment and education.
#Targeting knowledge gaps with trusted citizen science
Despite increasing efforts to assess the health of mangroves, there is still a lot we dont know about the state of these coastal habitats and, more importantly, how to protect them.
The issues that threaten Queensland's mangroves in each estuary are unique and require specific management approaches. Local traditional and community knowledge is necessary to identify and develop appropriate management solutions that protect and enhance local mangrove ecosystem services and protect adjacent Reef habitats.
The MangroveWatch citizen science program was developed to engage, educate and empower local communities in mangrove conservation and management, activating local participation in mangrove management and conservation through citizen science monitoring.
Cairns and Far North Environment Centre (CAFNEC) and Earthwatch Australia scientists have grown a community network for tidal wetland monitoring and action using the MangroveWatch citizen science methods. Together with Traditional Owners, community groups, education centres, and Wet Tropics Waterways, this network is empowered to collect and apply valuable data on mangroves across the Wet Tropics region.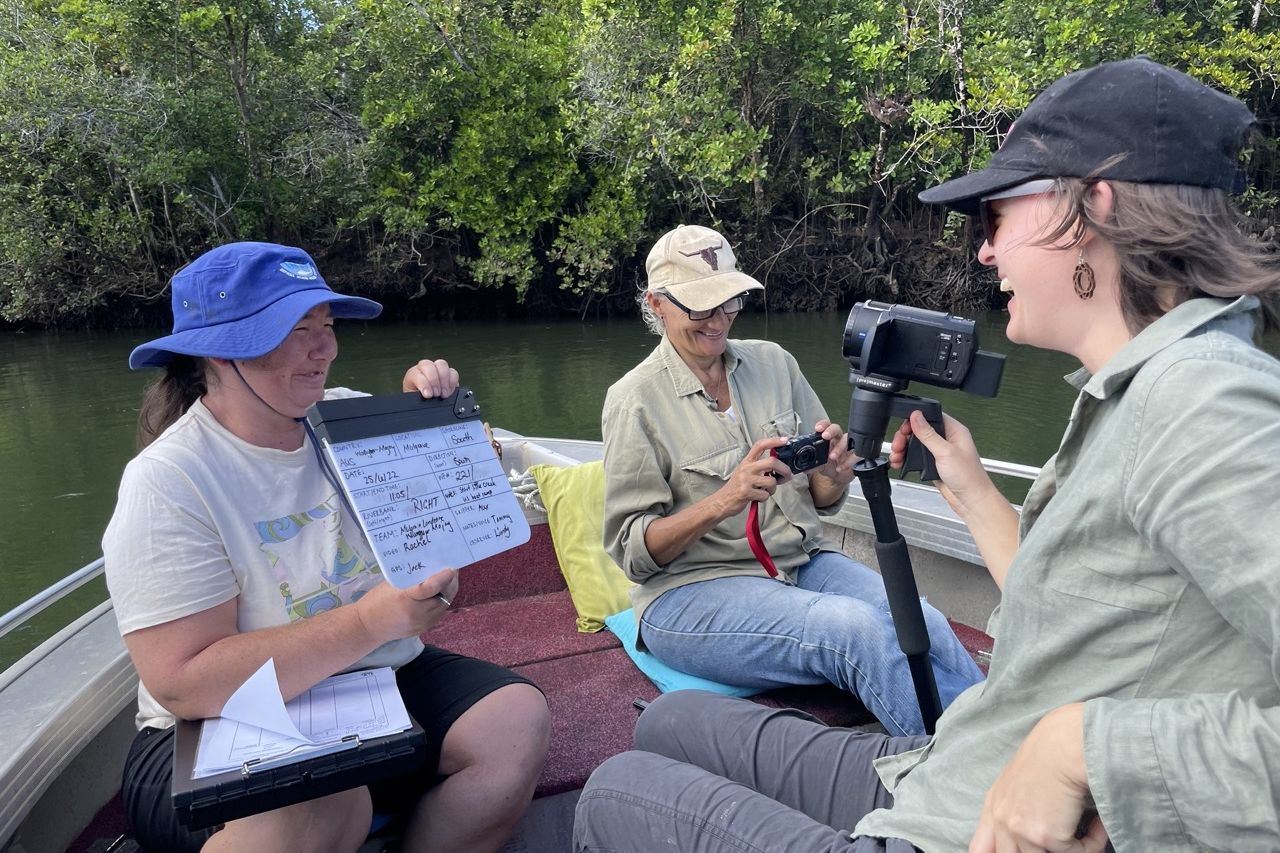 CAFNEC Volunteers doing mangrove monitoring along the Mulgrave River. Credit: CAFNEC
The program takes people into the field to carry out surveys, giving them hands-on monitoring experience. These outings help volunteers connect with their environment, learn about the importance of mangroves, and take an active part in the protection of their local habitats.
This community data is now being used as a Wet Tropics Waterways report card for the region, filling a gap in mangrove condition reporting to understand ecosystem health and highlighting the vital role of citizen science.
Program volunteer Hidetoshi 'Mikey' Kudo says: "This project is not just for recording what we have now. This is part of our preparation for the future. Our marine environment is always under threat from various human and natural processes. Sometimes changes are very subtle and they can only be detected when compared with each other side by side. MangroveWatch allows us to do this. I am hoping that this way we can detect issues in the early stage and allow us to raise them and take actions."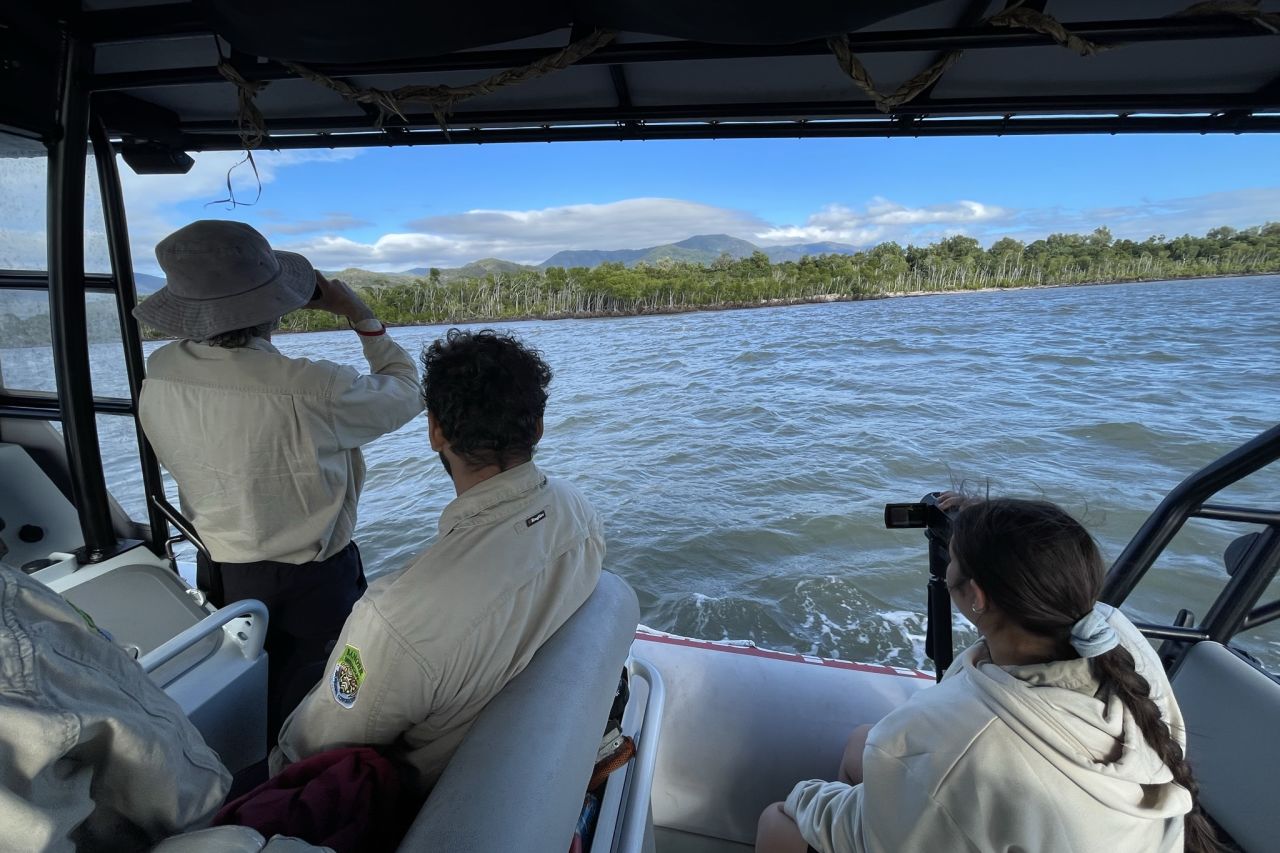 CAFNEC Volunteers, EarthWatch Australia, and Girringun Aboriginal Corporation teaming up to monitor Hinchinbrook Channel. Photo Credits: CAFNEC and EarthWatch Australia
#Collaborative action for mangrove protection
In a first for the region, CAFNEC and Earthwatch are working with partners and passionate community members to apply this information to undertake a series of four Local Action Plans (LAPs) to identify community-led actions for mangrove protection and recovery.
These plans apply the community-collected data and put it back into those same communities by hosting collaborative workshops to develop locally relevant strategies to address estuary-specific threats.
CAFNEC's Shannon Bredeson says: "Opportunities like this show you how simple it is to get involved and have an impact. People sometimes think that the 'experts' are the only ones that can take care of things, or that to be involved you need a degree. But when it comes to looking after coastal ecosystems, the community can play an active and much-needed role."
Local Action Plans have already started making a difference in local communities.
The Mulgrave LAP Leaders from Mulgrave Landcare and Wanyurr Majay Aboriginal Corporation have started teaching fortnightly lessons at a local primary school to share the importance of mangroves in their local estuary.
While the Hinchinbrook LAP Leaders consisting of CAFNEC volunteers, members of CASPA (Cardwell and Surrounds Progress Association), and Girringun Aboriginal Corporation, are working on two strategies including a buyback plan to restore an old dredge spoil site near Hinchinbrook Marina to healthy mangrove habitat, and a revegetation plan to reduce erosion and support mangrove growth in the Cardwell Foreshore.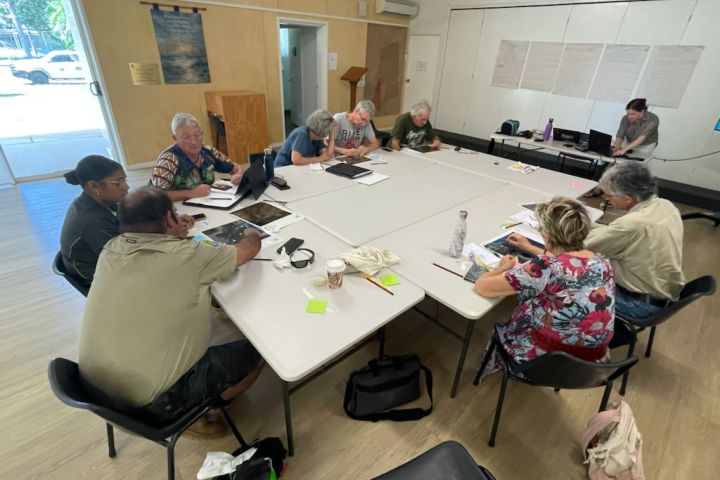 The Cardwell community coming together to discuss mangrove values and threats and create a local action plan to protect the mangroves. Credit: EarthWatch Australia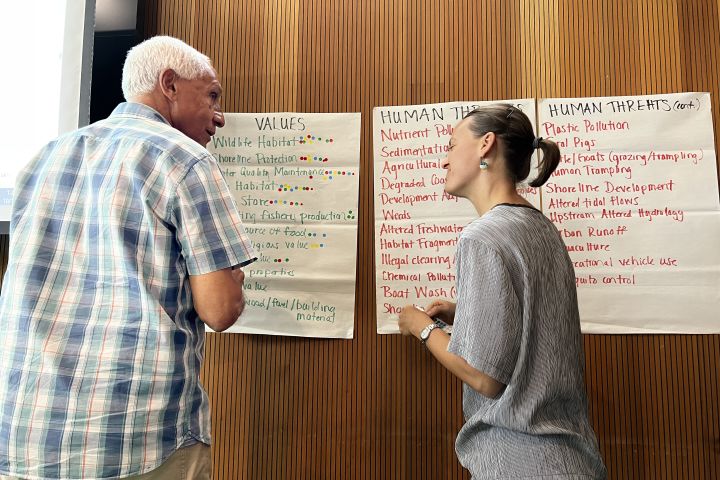 Mulgrave LAP Leaders discussing why mangroves are valuable and what is threatening them. Credit: Earthwatch Australia and CAFNEC
#Training the trainer to protect wetlands for the future
The Earthwatch Protecting Wetlands for the Future project is training teachers and community-leaders to work with young people in their community to deliver citizen science tidal wetland data collection, processing, analysis and action.
Through these hands-on expeditions, participants build readiness to kick-start their own local community tidal wetland monitoring site and build opportunities for more young people involved in monitoring and caring for tidal wetlands. These projects help to grow understanding about local blue carbon storage and sequestration potential across Queensland and can help to drive local mangrove habitat restoration and conservation action.
This information can also directly influence national climate change policy. Previous student-led initiative data was submitted to the Australian Government Department of Industry, Science, Energy and Resources to inform mangrove blue carbon modelling, supporting the development of a new Blue Carbon Emissions Reduction Fund method.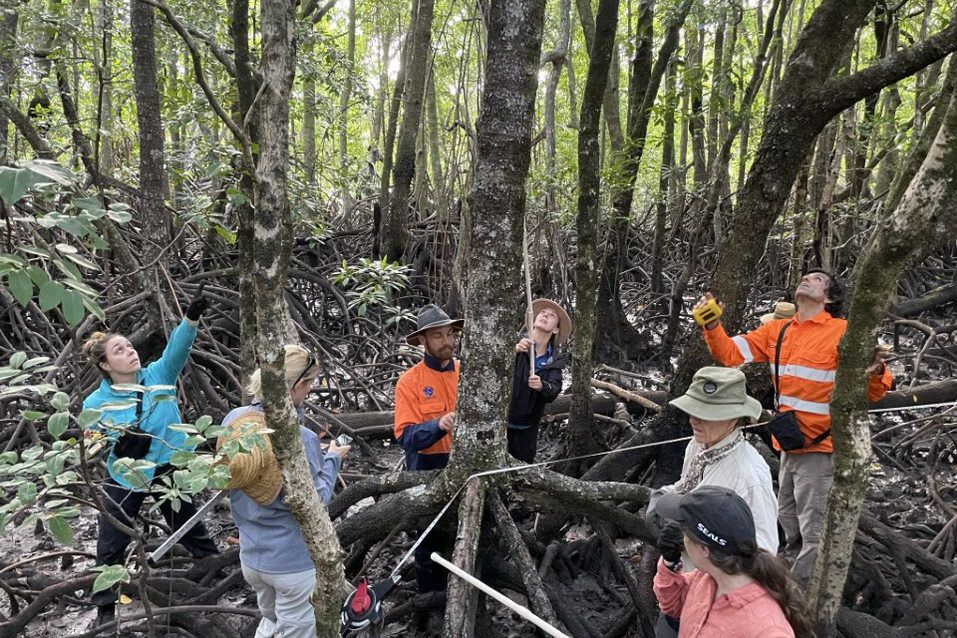 Teachers and community educators carry out transects in the mangroves during a TeachLive expedition. Credit: Earthwatch Australia
#Empowering communities for mangrove conservation
Through the MangroveWatch program, Earthwatch Australia and CAFNEC and are championing local communities, empowering youth and Indigenous voices to upskill and encourage people to get involved in the protection of their environment and mangroves.
"One of our key objectives is to highlight the importance of empowering local community mangrove champions and ensuring that community voices, particularly youth and Indigenous voices, are a central part of mangrove conservation and management. Too often, the community voices of the people who live among and depend on mangroves are excluded from decision-making. Citizen science provides a pathway to engage, educate and empower local communities to enable active participation in mangrove conservation from the local to international scale," said Jock Mackenzie of Earthwatch Australia.
We hope these stories of hope will encourage more people to get involved with local habitat restoration so we can keep working together to protect our precious wetlands and mangroves.
Learn more about Earthwatch Australia's MangroveWatch programs.