Project News ·
There's no "butt" when you want to save the Great Barrier Reef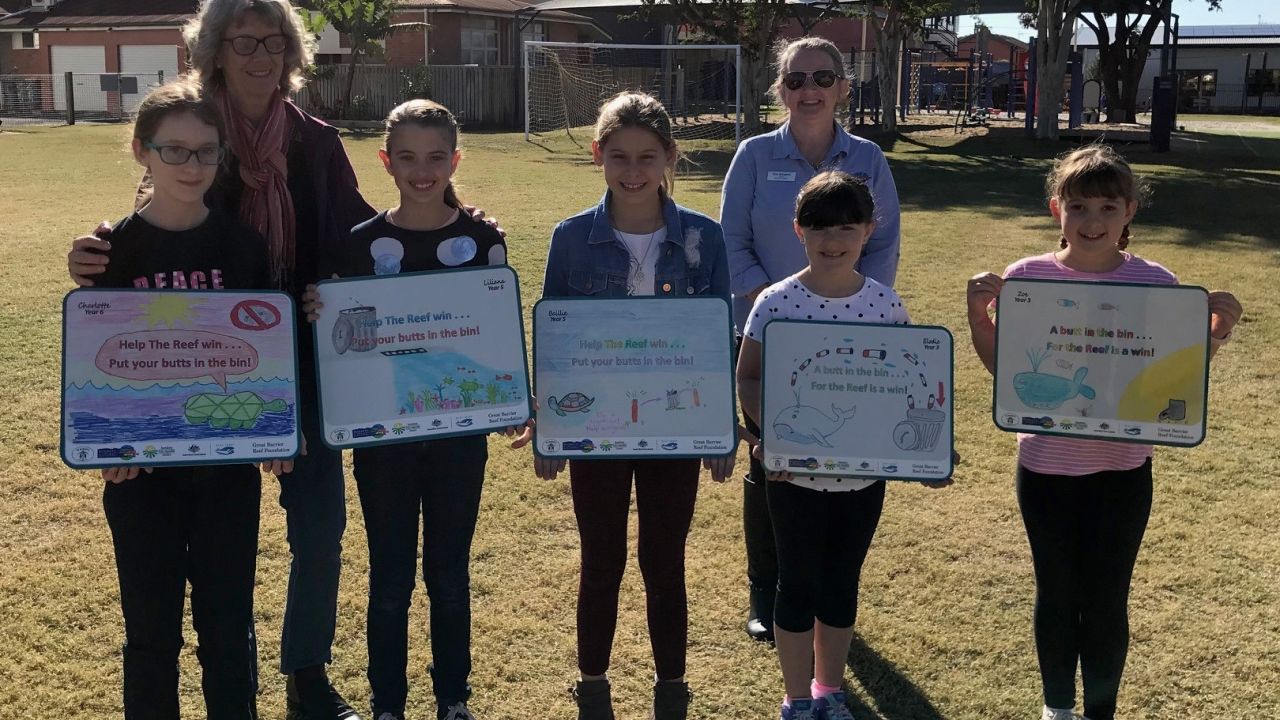 Teacher Patricia Garrad knows how important the environment is to her students at St Joseph's Catholic Primary School.
Last year, students on a walk around Bundaberg were quick to notice cigarette butts discarded on the ground. The finding prompted a discussion about stormwater and where the butts ultimately end up – the Burnett River and into the sea.
Mrs Garrad decided to approach the Burnett Local Marine Advisory Committee (LMAC) to see what the students could do to reduce the problem.
"It was perfect timing for us," said Sue Sargent, Burnett LMAC's Chair.
"We were planning a project called Less Is More for the Great Barrier Reef, aimed at reducing single-use plastics and marine debris ending up in the marine environment."
Fixing a complex issue like discarded cigarette butts is not simple – as the students and project team discovered.
The students first worked on a design for a butt bin, learning that their designs needed to be both weatherproof and vandal-proof.
Gary Payne, an Industrial Technology and Design teacher from Kepnock State High School, offered to come in and work with the students to refine their ideas.
"Gary's input was fantastic, he helped the students to think through the problem, which resulted in a combined design," said Mrs Garrad.
The next step of the project was to identify cigarette butt "hot spots" which must be monitored before a trial deployment with Bundaberg Regional Council.
"Deploying butt bins isn't as simple as we first thought. The bins need to be in a legal position. There are lots of places that people can't smoke now - such as within 5 metres of a school, hospital, picnic table or shelter and public transport waiting points like bus stops and taxi ranks."
"Butt bins need to be located away from these places – even if they are hot spots. Then you have to find someone willing to empty and maintain the bins," added Ms Sargent.
The students meanwhile have designed some signs to increase awareness of the issue and encourage smokers to think about where they discard their next cigarette butt. After all, every butt in the bin for the Reef is a win!
Hosted by Bundaberg Fruit and Vegetable Growers, the Burnett LMAC's #LessIsMore project is funded by the partnership between the Australian Government's Reef Trust and the Great Barrier Reef Foundation.