Project News ·
Unlocking sustainable tourism
A challenge for our times.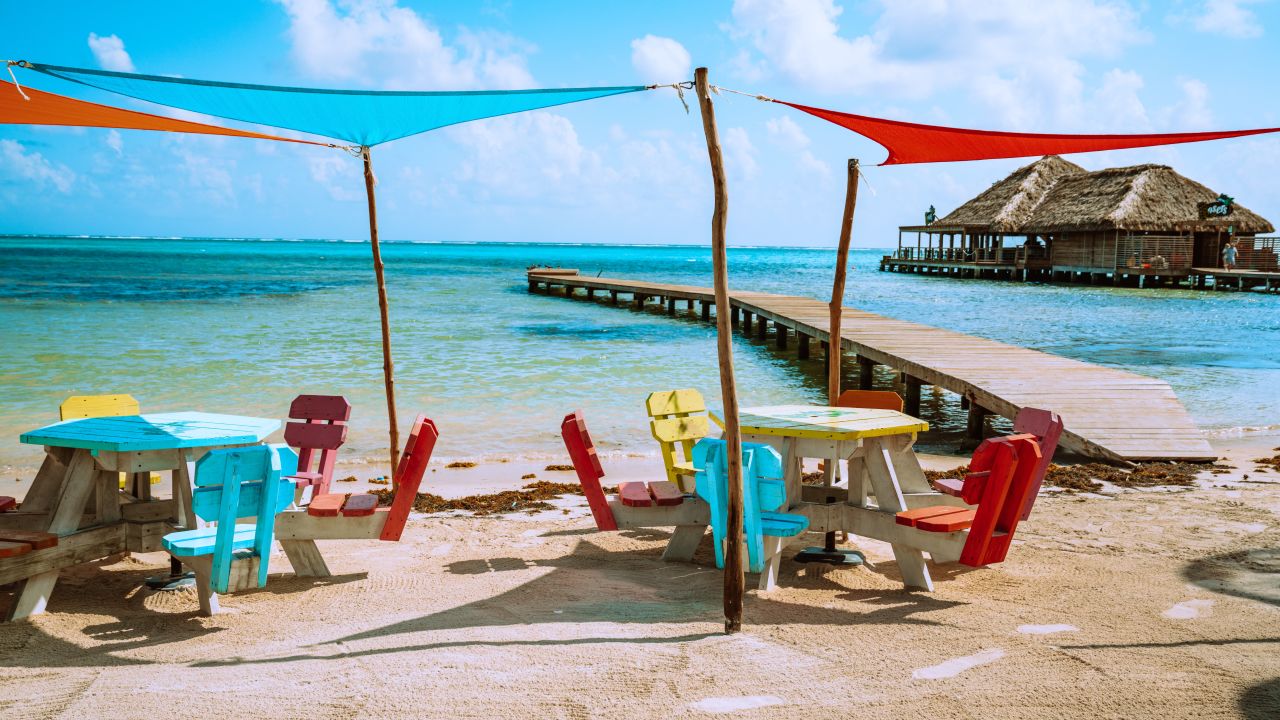 The past couple of years have delivered a blow to the global travel and tourism industries unlike any in recent memory, impacting communities and livelihoods around the world. As some of our key coral reef sites experience a dramatic decline in visitor numbers, both challenges and opportunities are emerging.
In November 2021, the Great Barrier Reef Foundation brought together our partners, leading experts and our teams from the Resilient Reefs pilot sites (Palau, New Caledonia, Belize and Ningaloo) to hold a Solution Exchange on Sustainable Tourism. Together, the participants explored how World Heritage Marine sites can make their local tourism industry more sustainable for both people and the environment and build resilience to events such as the COVID-19 pandemic and reduce pressure on natural resources in the face of climate change.
In COVID-free times, the travel and tourism sectors usually contribute around 10.4% to the global economy each year. Global coral reef tourism (pre-COVID) is a heavy hitting contributor to this, with an annual worth of $36 million. The industry can bring great economic benefits to the people who call World Heritage Marines sites home, but it can also prove unsustainable and put significant stress on local communities and the environment.
The scale of the global coral reef tourism industry itself also presents challenges for the coral reef ecosystems and people that depend on them, with some communities being ill-equipped to cope with tourist volumes. The extent of the impact this has on local communities and the environment is influenced by factors such as the infrastructure and processes in place to support tourist numbers, the behaviour of the tourists themselves and the governance communities have in place to manage all of this.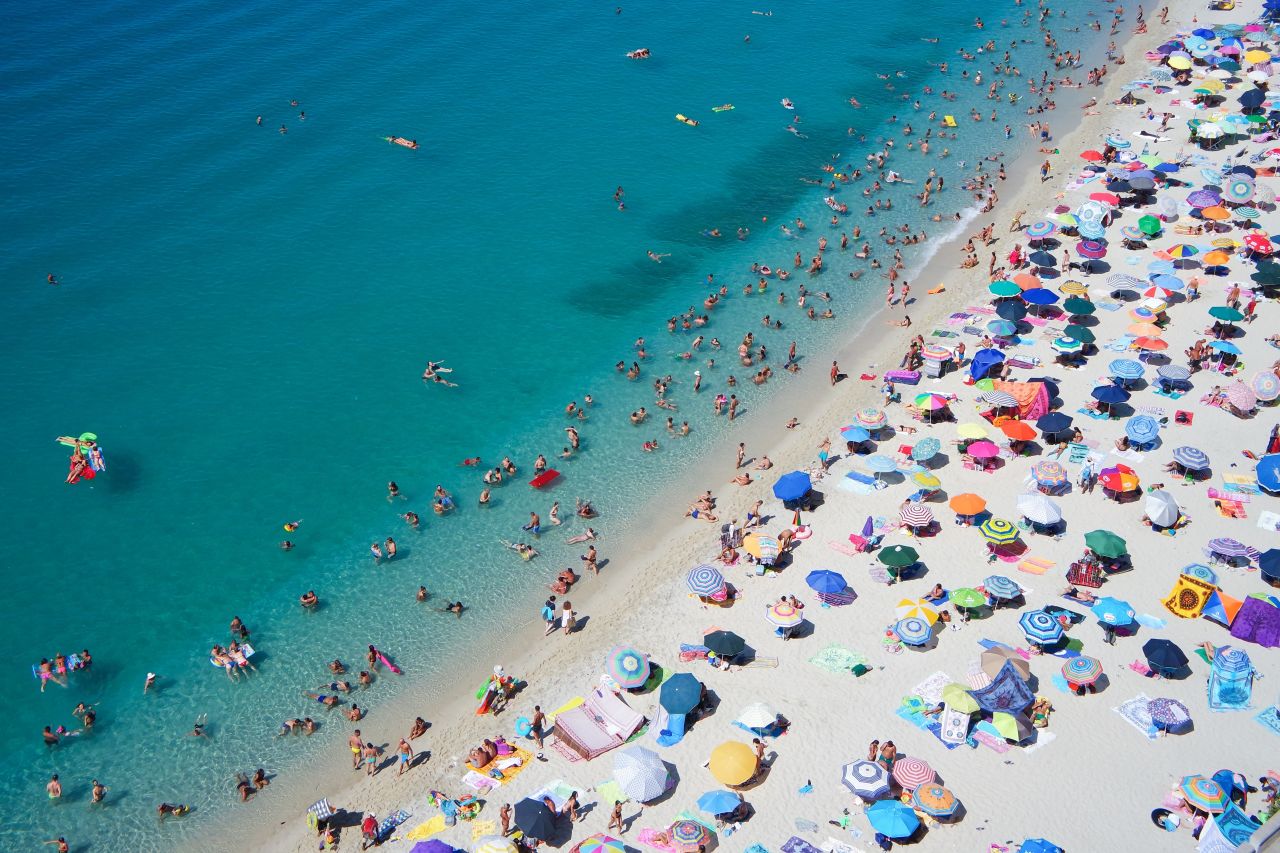 Tourists flock to coastal communities in COVID-free times. Credit: Michaela Hampi.
(Top) Belize's tourism industry has suffered a downturn during COVID-19. Credit: Meritt Thomas
The current tourism hiatus provides us with an opportunity to look at ways to create more sustainable tourism practices to support the ongoing health and longevity of our reefs and the communities that depend on them.

So how do we support local coral reef communities to survive and thrive when many of their livelihoods have been decimated? And how do we foster alternative income streams while also ensuring their resilience in the face of unknown future challenges?
To begin to understand the path to sustainable tourism, the Solution Exchange focused on exploring tourism carrying capacity at sites, how to shift tourist behaviour to support local resilience goals and opportunities to diversity local livelihoods.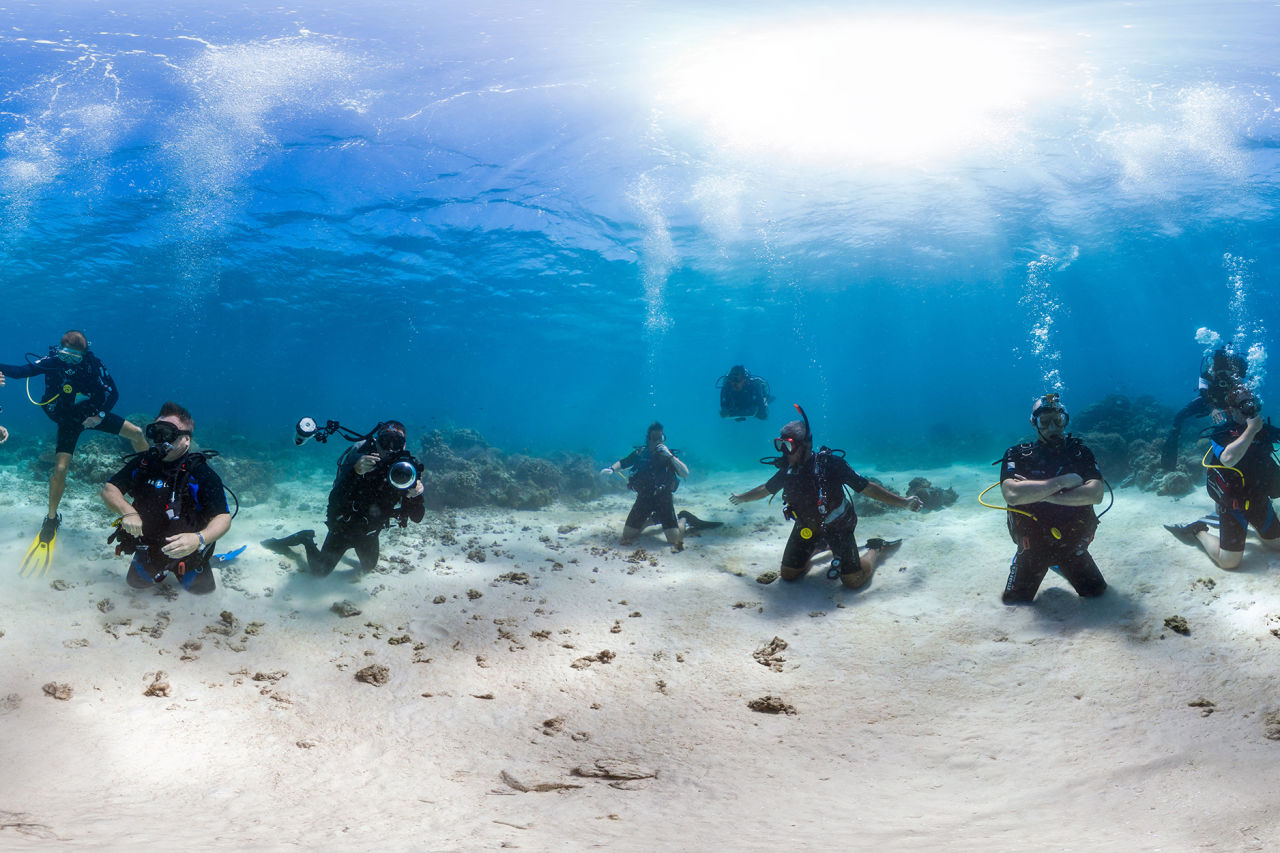 Tourists take part in scuba training in the Turks and Caicos Islands. Credit: The Ocean Agency, XL Catlin Seaview Survey
We need to better identify and manage tourism carrying capacity at sites
One way we can aid sustainable tourism is to understand and monitor the carrying capacity of tourist destinations; the maximum number of tourists that can visit a location at the same time without destroying the ecological, social and economic environment.
Impacts caused by exceeding carrying capacities at tourist destinations include:
Ecological - damage to corals, coastal vegetation and dune systems by tourists; disturbance of wildlife

Social - reduced amenity and perceptions of overcrowding for locals or visitors; potential loss of core community values; loss of cultural values

Economic - impacts (over the long term) on economic activity and tourism revenue from environmental degradation or overcrowding; over-utilisation of critical infrastructure and utilities
What we learned in the Solution Exchange, is that "carrying capacities" are rarely defined and managed by local partners – they often come as an informal response to hotel or transport capacities being stretched to the limit. Coming together with key partners to identify carrying capacity proactively instead of reactively, seeking alignment on key values and gaining shared understanding of risks, are all essential steps to support sustainable tourism at coral reef sites.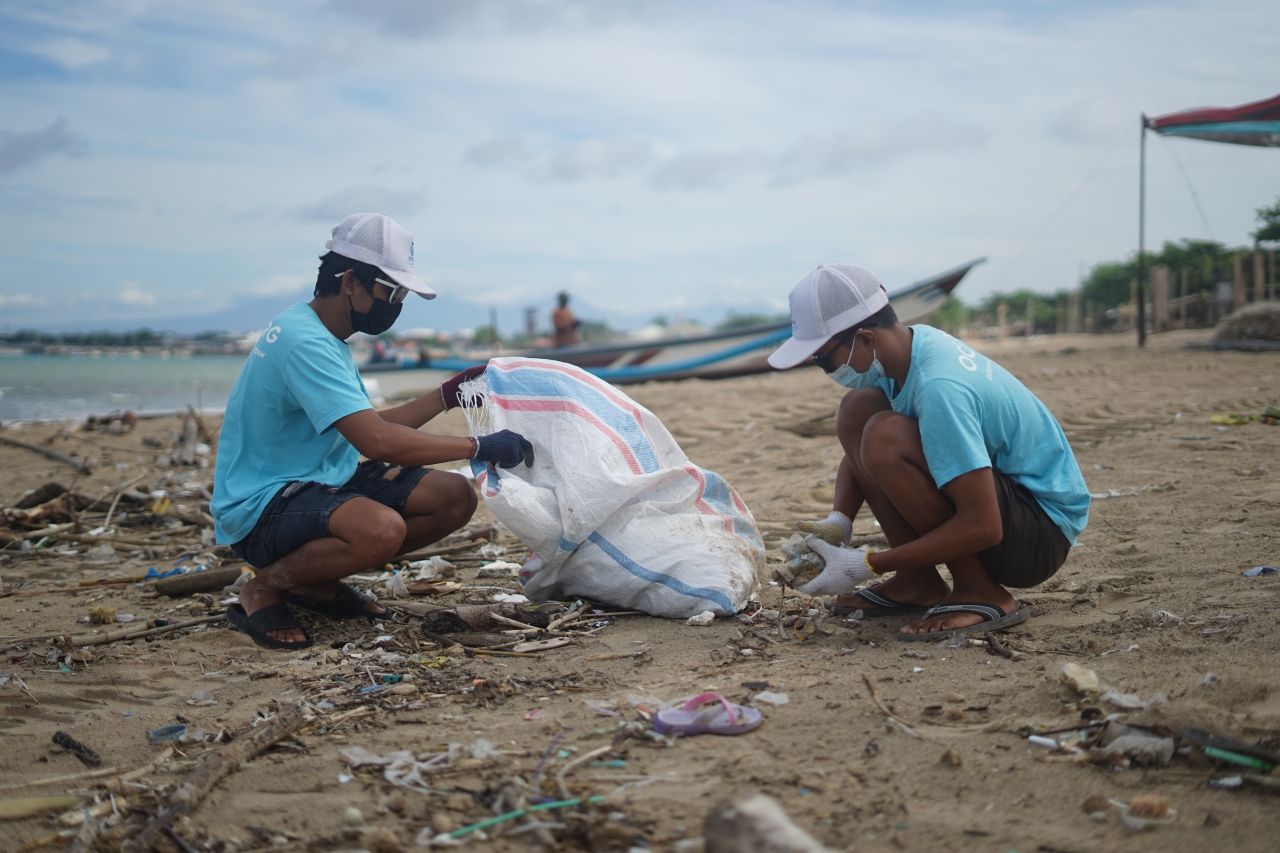 Two volunteers clean the beach in Indonesia. Credit: Ocean Cleanup Group
We need to shift tourist behaviour to better meet local resilience goals
The behaviour of tourists can have a negative impact on both coral reefs and communities. Impacts include physical damage to reefs and coral from boats, trampling and snorkelling, pollution from rubbish and human waste, wildlife disturbance where tourists aren't maintaining a respectful distance and increased pressure from recreational fishing.
During the Solution Exchange, we explored ways to persuade, motivate or enable tourists to change their behaviour and minimise negative impacts on reefs and local communities. Key approaches to changing behaviour include:
Developing simple messaging that focuses on outcomes instead of complex science, such as Hawaii's "Take what you need, not what you can" campaign

Using local champions to get communities on board, such as a well-known person from the country or a local church leader

Using pledges to make the message mainstream, gain broad support and inspire action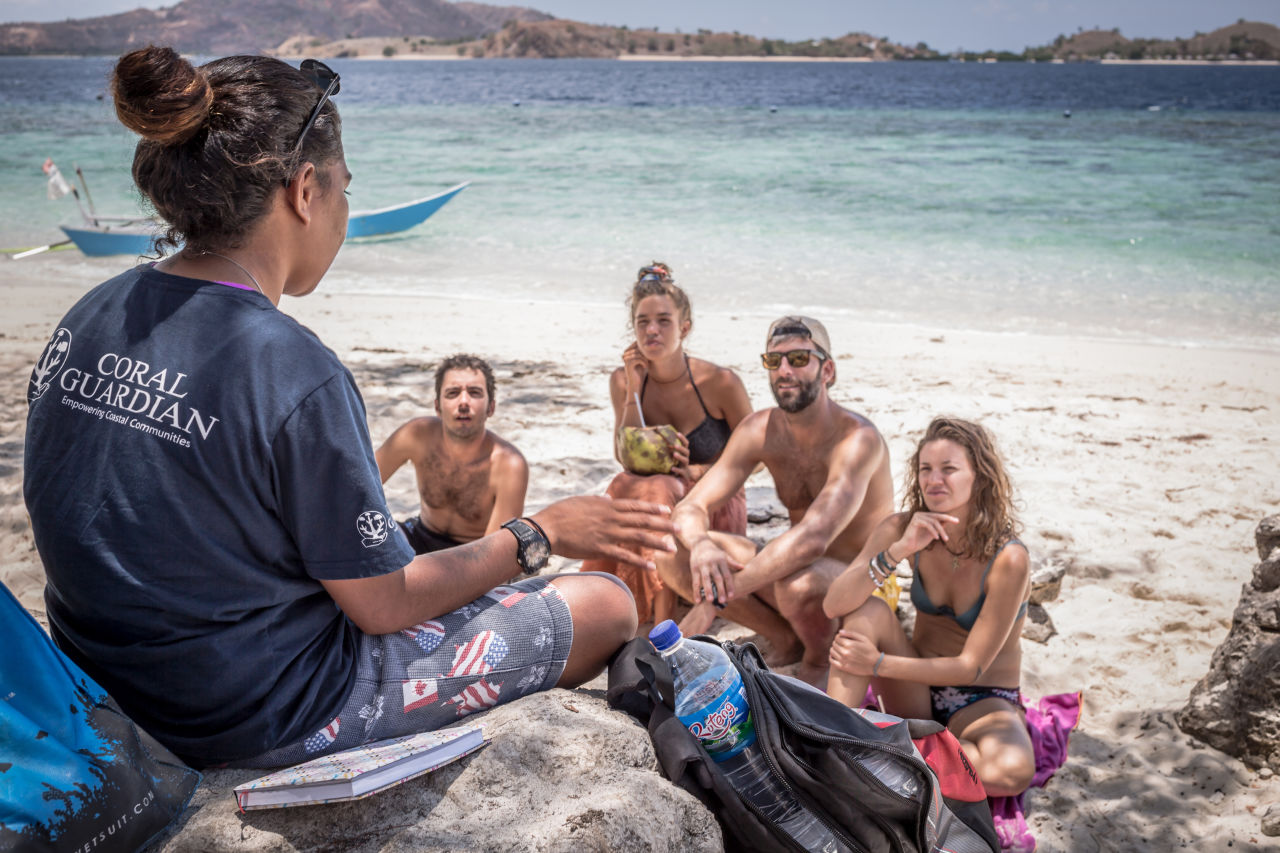 Eco-volunteers in Komodo National Park, Indonesia. Credit: Martin Colognoli, Ocean Image Bank.
We need to support opportunities for diversifying local livelihoods
The Solution Exchange explored ways to both improve access to tourism jobs for First Nations Peoples and communities, as well as opportunities to diversify local livelihoods so they are not solely reliant on reef assets.
Key to diversifying livelihoods is creating opportunities that remove pressure on natural resources and instead develop new, sustainable income streams independent from reef ecosystems. An unexpected, positive outcome of COVID-19 for some tourist destinations was how it ignited local entrepreneurship. Although COVID-19 had a devastating impact on the tourism industry in Belize, the pause in tourism created a surge in local entrepreneurship, especially among local women who are now making Belize-based products and selling them online.
While it is not always possible to completely move away from reef-based livelihoods, there are still opportunities to reduce pressure on reefs by developing low-impact, high-value tourist activities. Tourists could pay to take part in cultural experiences such as joining local community members for a home-cooked meal, for example.
At the core of the Resilient Reefs Initiative is a drive to design innovative responses to common resilience challenges and to share and scale what works with reef managers globally. Our Solution Exchanges are intended to do just that: help catalyse action on the ground across our network and facilitate knowledge exchange well beyond.
This Solution Exchange raised the need to provide assistance to World Heritage Marine sites to develop integrated carrying capacity studies, as well as the potential to create sustainable tourism frameworks for reef sites – something that does not currently exist. Ningaloo has already begun scoping a local carrying capacity study and has connected with a range of global experts.
The Exchange once again highlighted how common the challenges were across the sites and the opportunity we have for collective action, problem solving and messaging. Key findings from the Exchange are available to be shared with reef managers worldwide on the Reef Resilience Network website.