News ·
Maggie Mangroovers: The volunteers capturing vital clues about a key Reef habitat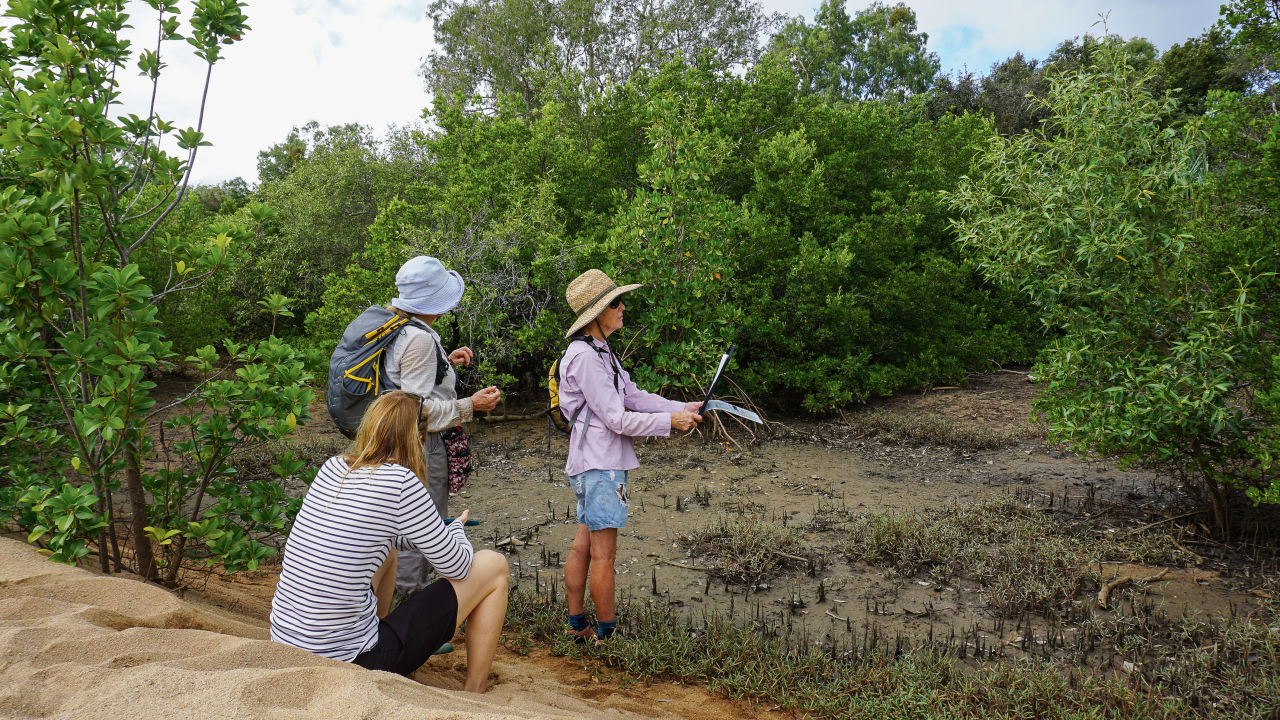 Lush mangrove forests fringe the coastline of Yunbenun-Magnetic Island off Townsville in North Queensland. Mangrove habitats are vital for the stability of coastlines, helping reduce erosion from storm surges. They also are powerful blue carbon storage systems, working as highly effective carbon sinks to help mitigate climate change. Their intricate roots provide safe harbours for invertebrates and young fish to shelter from predators.
Yet, despite their ecological importance, no baseline data existed to document the cover and health of Magnetic Island's mangroves. This gap was identified in the Yunbenun-Magnetic Island Reef Community Action Plan – a collaborative plan designed to empower local groups and individuals to nurture, restore and protect the island.
In response to this gap a new community project was launched, supporting a group of dedicated volunteers known as the Maggie Mangroovers, who meet monthly to help monitor Magnetic Island's mangroves.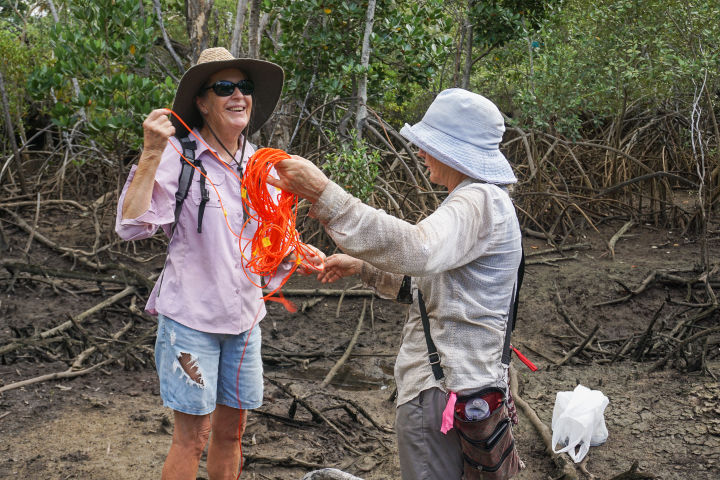 Unravelling the rope to mark the transect line.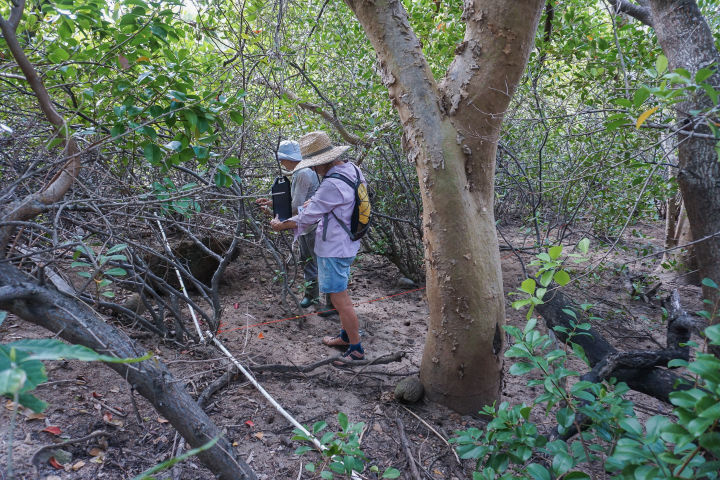 Measuring trees 2m from the transect line.
The volunteers head out, come rain or shine, often battling the heat, humidity, insects and boggy soil. During their field trips, the group carries out a series of transects – lines that cut through the landscape to allow standardised observation and measurement – across the island's mangrove areas. These are laid out with a measuring tape across the mangrove forest. Each tree within a 2-metre radius of the tape is carefully recorded, noting the species, height, health and canopy cover, among other metrics.
The data is then fed back to the team at MangroveWatch for assessment and back to the wider community. Through these monitoring activities, partners hope to gauge the health and regeneration of the local mangroves over time and better understand how much carbon they store and the potential impacts of rising sea levels.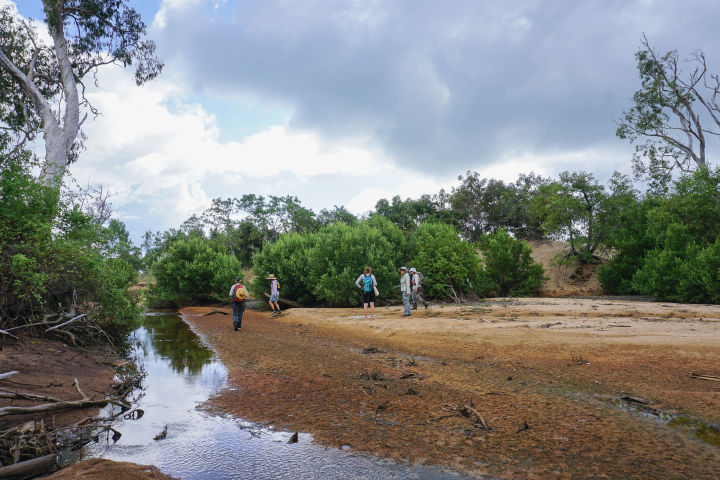 Scoping out a spot to lay transect lines.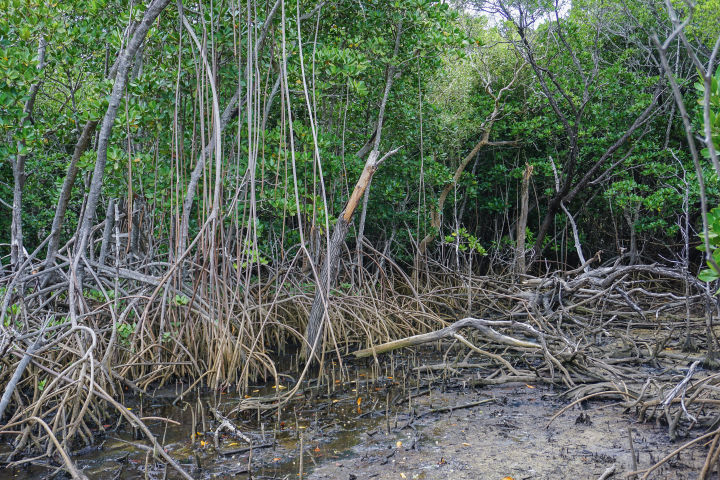 Tangled roots make mangroves a challenge.
The Maggie Mangroovers go beyond helping to collect valuable citizen science data. Their team fosters community and companionship for those who take part, allowing them to spend time outdoors learning more about their local environment, hone their plant species identification skills, all while socialising and having fun.
"It's community and companionship with likeminded people. It's feeling that I'm making a difference and having a positive impact even if it's very small, because it can be very overwhelming when you're worrying about the environment. It's no problem at all for us to be outdoors in the mangroves, and we're laughing while we're doing it," says Mangroover Cherie.
"I like being out here in the environment. It's a great crew of women. I'm an amateur as far as natives [plant species], so it's good to get to know them better. The organisers have done a great job as far as their contributions and getting this together," says another member Cate.
"It's been great to see how the Community Action Plan has united so many different groups and individuals on the island to take action to care for the Reef. Monitoring and protecting mangroves and saltmarshes is so important for protecting coastal wetlands that provide shoreline protection, nurseries and mitigate the impacts of climate change," says Laura Dunstan, Senior Program Manager for Community Partnerships at the Foundation.
To learn more about the Community Action Plan Program, visit Community Action Plans - Great Barrier Reef Foundation
To learn more about the Yunbenun-Magnetic Island Community Action Plan, see our case study here.
The Yunbenun-Magnetic Island Community Action Plan is funded by the partnership between the Australian Government's Reef Trust and the Great Barrier Reef Foundation, and support from the Magnetic Island Community Development Association and MangroveWatch.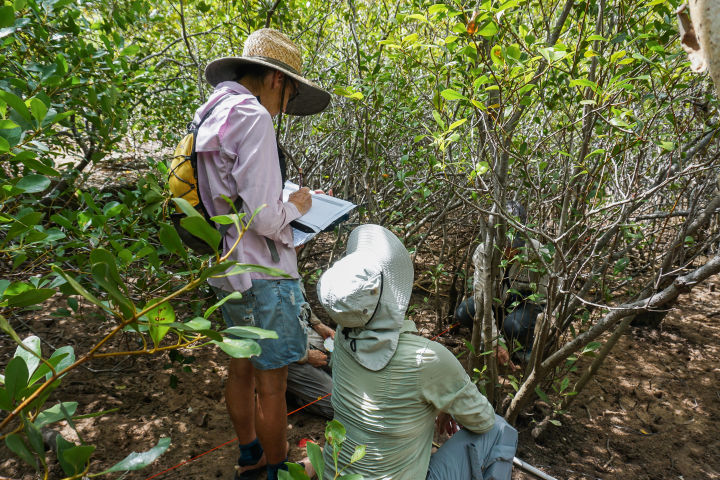 Volunteers measure and note each number.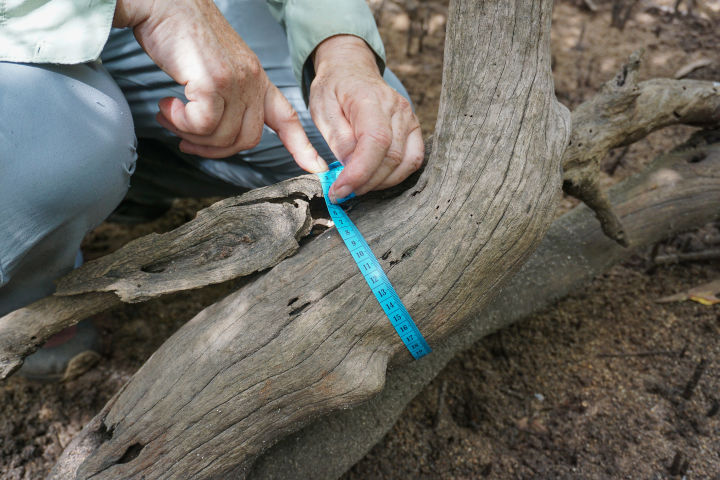 Tapes measure the diameter of tree trunks.
Google Maps helps with the transect direction.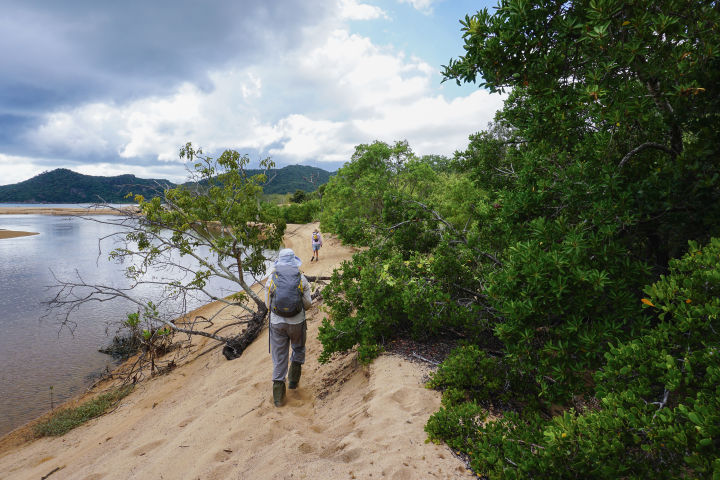 Walking the sandbanks of Endeavour creek.