Project News ·
Aerial drone reduces fertiliser losses from farm
North Queensland cane farmers are embracing cutting-edge agricultural technologies to increase fertiliser application efficiency and reduce losses entering local waterways.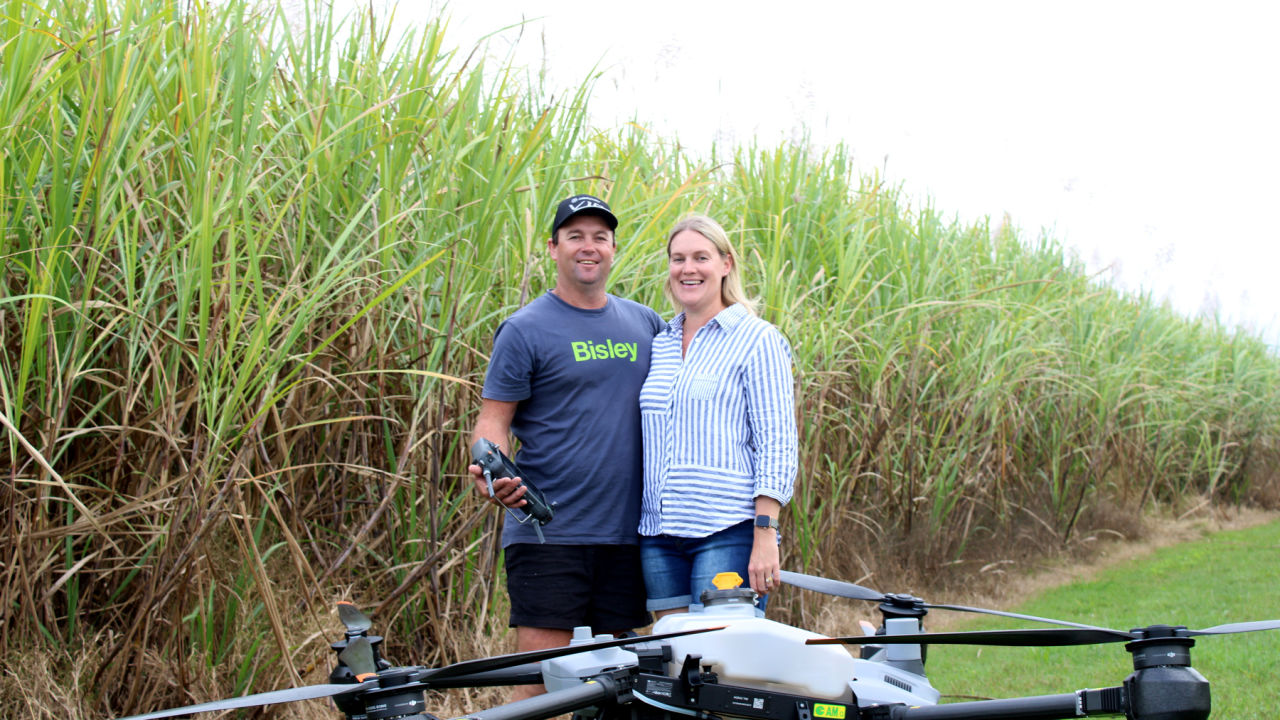 Over half of the land in Australia is used for agricultural production and substantiable management is required for long-term viability and to reduce the negative environmental impacts which can damage natural assets like the Great Barrier Reef.
Australia remains a world leader in environmentally sustainable food production and its use of pesticides and fertilisers is among the lowest in the world. In Reef catchments, sugarcane farmers are embracing precision management of their farming systems for efficient use of fertilisers, targeted management of nitrogen and maintenance of soil fertility.
Funding through the partnership between the Australian Government's Reef Trust and the Great Barrier Reef Foundation is providing incentives for management practice changes that better match nutrient application to crop requirements and reduce losses through runoff entering the Great Barrier Reef Lagoon.
Major Grants projects in the Lower Burdekin, Lower Herbert, and Mackay-Whitsunday regions are supporting farmers to implement agricultural technologies for sustainable farm management. Cutting-edge cane farmers are using drones as their newest, most efficient tool in agriculture. Drone-connected software can prevent or identify pest problems, reduce spray losses, and provide spatial data for farm block layer and crop polygons for precision application of nutrients.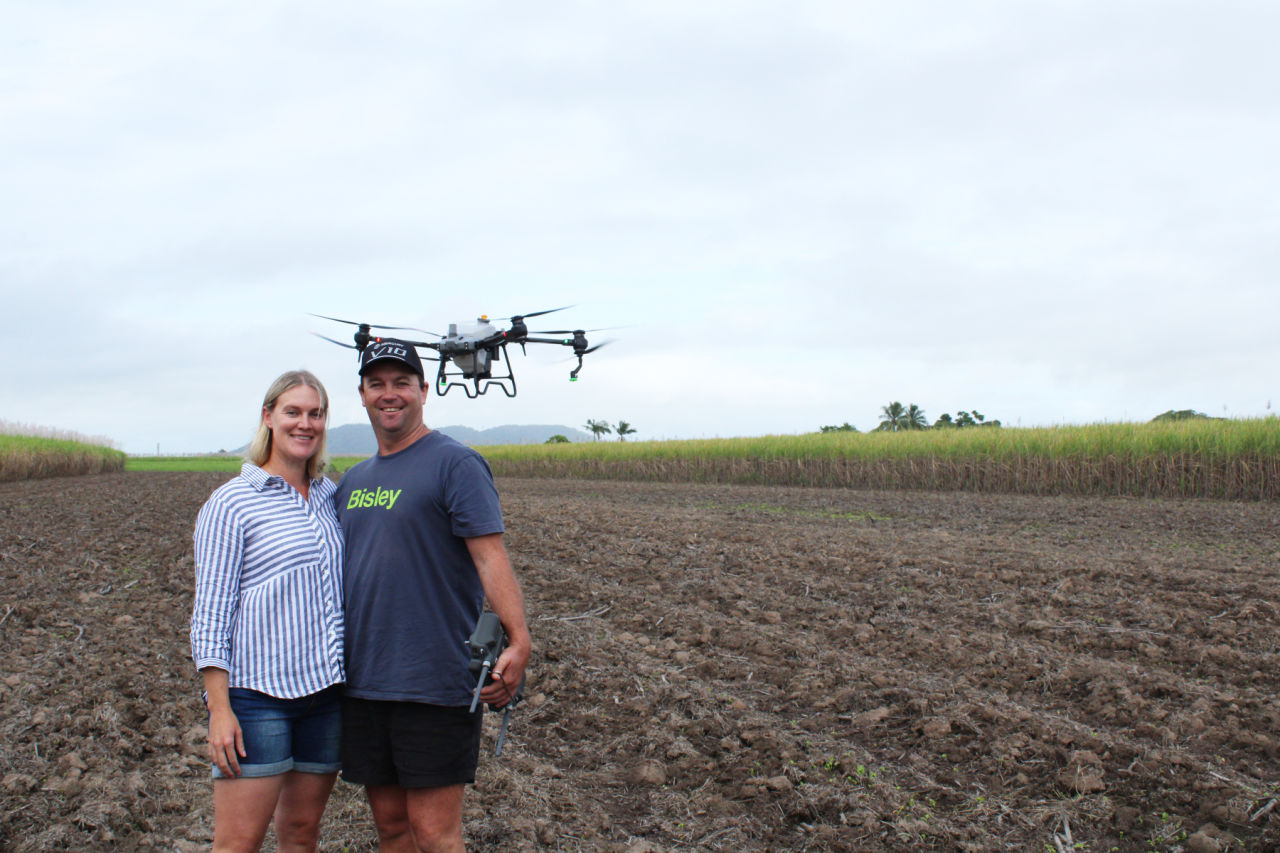 Kate and Clint Lyon use a drone for precision application of nutrients. Credit: CANEGROWERS Herbert River
Kate and Clint Lyon came from cattle and sheep country in Nowendoc in the Northern Tablelands of New South Wales. They recently purchased a 44-hectare sugarcane farm in the Lower Herbert River district. The farm soil ranges from clay loam to sandy loam and is seasonally wet.
Clint said the plan is to plant legumes as a cover crop in all sugarcane fallow land. "I understand the benefits of a good biomass which relates to improvement in soil health and the added benefits of nitrogen, reducing the need for inorganic nitrogen application."
"Maximising the benefits of a good biomass and minimising the loss of nitrogen requires timely and precise spraying. In my previous farming experiences, I have used drone spraying and have seen the benefits."
As a grazier, Clint used a drone to check livestock, especially lambing ewes. "Drone spraying and multi spectrum technology was just developing as we were deciding to sell and move to North Queensland," he said.
Drones are an enabling technology for advanced agricultural practices. The distribution of fertiliser and pesticides over crops is being tailored through relatively low-cost 3D mapping and aerial imagery to ensure each area of the farm receives the optimal application rate.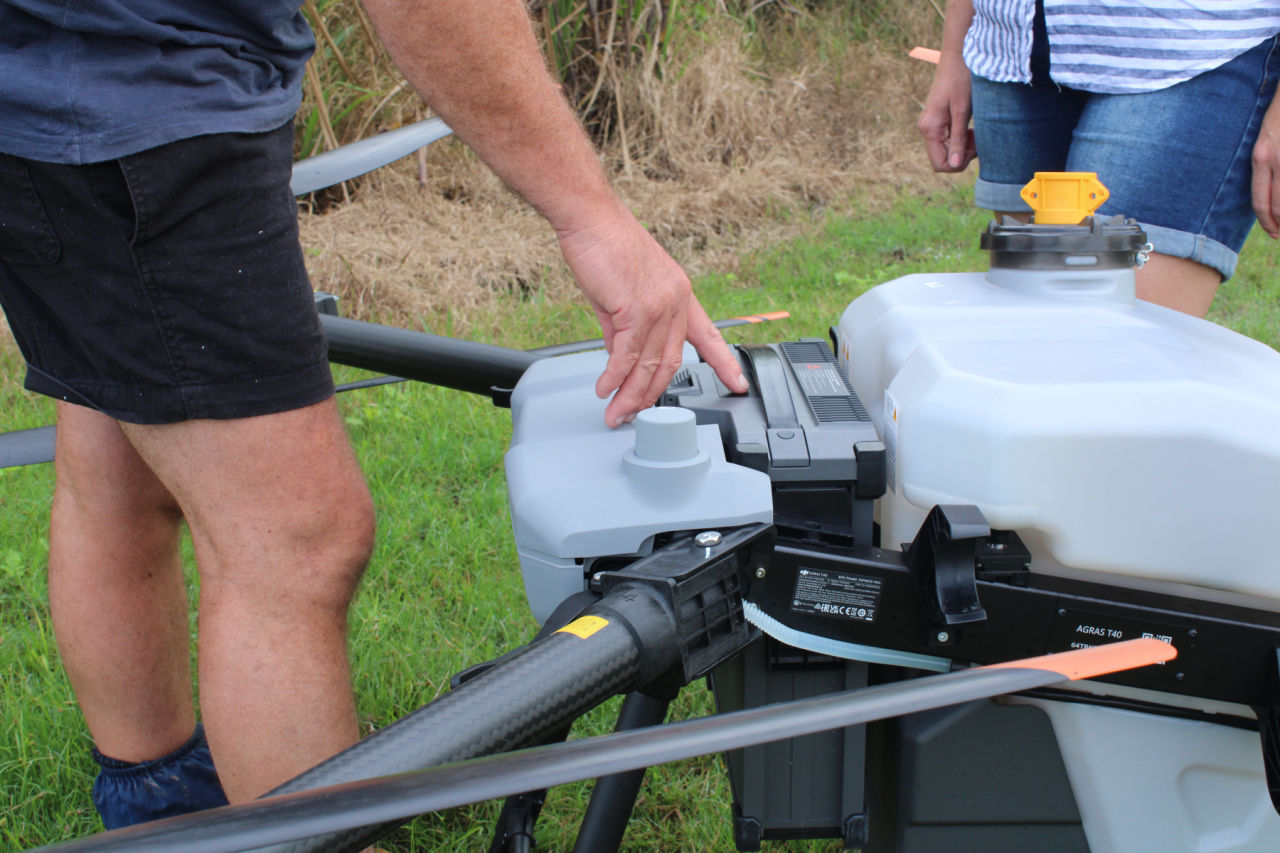 Equipped with a 40-liter tank, the drones scan the ground and spray the correct amount of liquid on only the necessary crops. Credit: CANEGROWERS Herbert River
The Lyon's farm is in a low-lying area which makes it difficult to access blocks using a conventional spray unit at the optimal time for fertiliser application when the ground is wet. To address this problem, Kate and Clint accessed a grant through the Canegrowers Herbert River Major Grants Project which covered 50% of the cost of the drone and they funded the rest.
Clint said the DJI Agras T40 model drone is an impressive 2.8 x 3 meters and can carry 40 litres of spray liquid. "The purpose of the drone applicator is to spray our legume crops at the right time and in the specific targeted area. Spraying legumes at the correct time maximises the benefits of a good biomass and minimises the loss of nitrogen, therefore needing to apply less inorganic nitrogen on our sugarcane crop."
Clint has completed training through AviAssist and obtained his CASA (Civil Aviation Safety Authority) Remote Pilot License Multirotor and the required Air Operator's Certificate (Aerial Application Operations) through CASA.
New to the sugar industry, Kate and Clint are taking every opportunity to gain knowledge and have attended workshops and shed meetings in the district. Supported by Canegrowers Herbert River, they are also in the process of becoming Smartcane BMP accredited.
Kate has completed the Sugar Research Australia's Online Sugarcane Nutrient Management training program and is now qualified to develop and verify nitrogen and phosphorus budgets for the farm without outside agronomic assistance.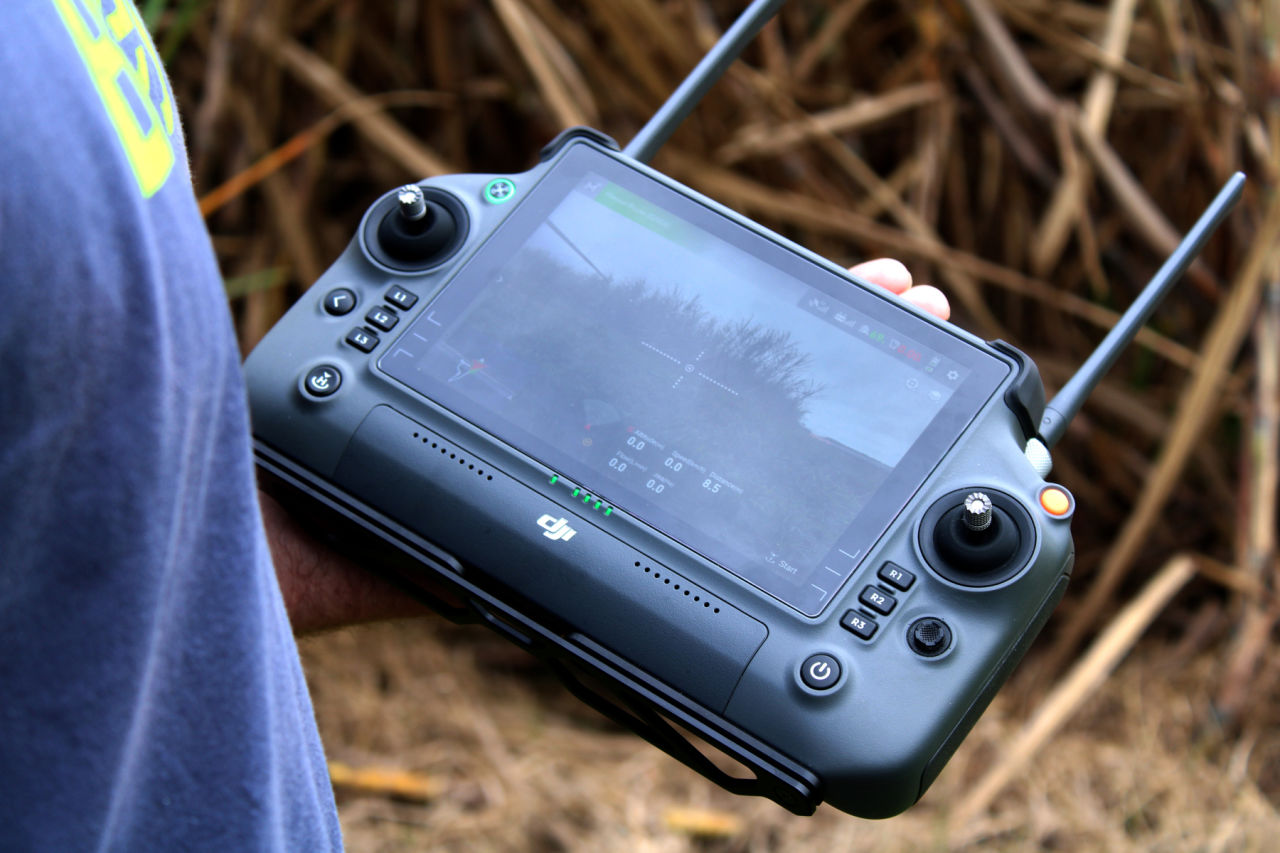 Prescription maps inform variable rate fertiliser application for maximum efficiency. Credit: CANEGROWERS Herbert River
Drone technology can help cane farmers to identify problems in the crop before they arise. This will improve crop health awareness and production outcomes. The leaves of crops can be analysed using a drone equipped with cameras and sensors to detect symptoms related to nitrogen deficiency. By locating deficiencies in a single plant, they can apply fertiliser at an optimal time and rate, reducing the potential for overspray making its way into groundwater.
Going forward, Kate and Clint plan to invest in an additional drone with multi-spectrum camera technology "so we can monitor all our crops and apply fertiliser and chemical selectively as needed to minimse over usage for an environmental and economic advantage," said Clint.
Kate and Clint are confident that their project will improve fertiliser application across their farm and provide significant nitrogen savings with both economic and improved water quality benefits.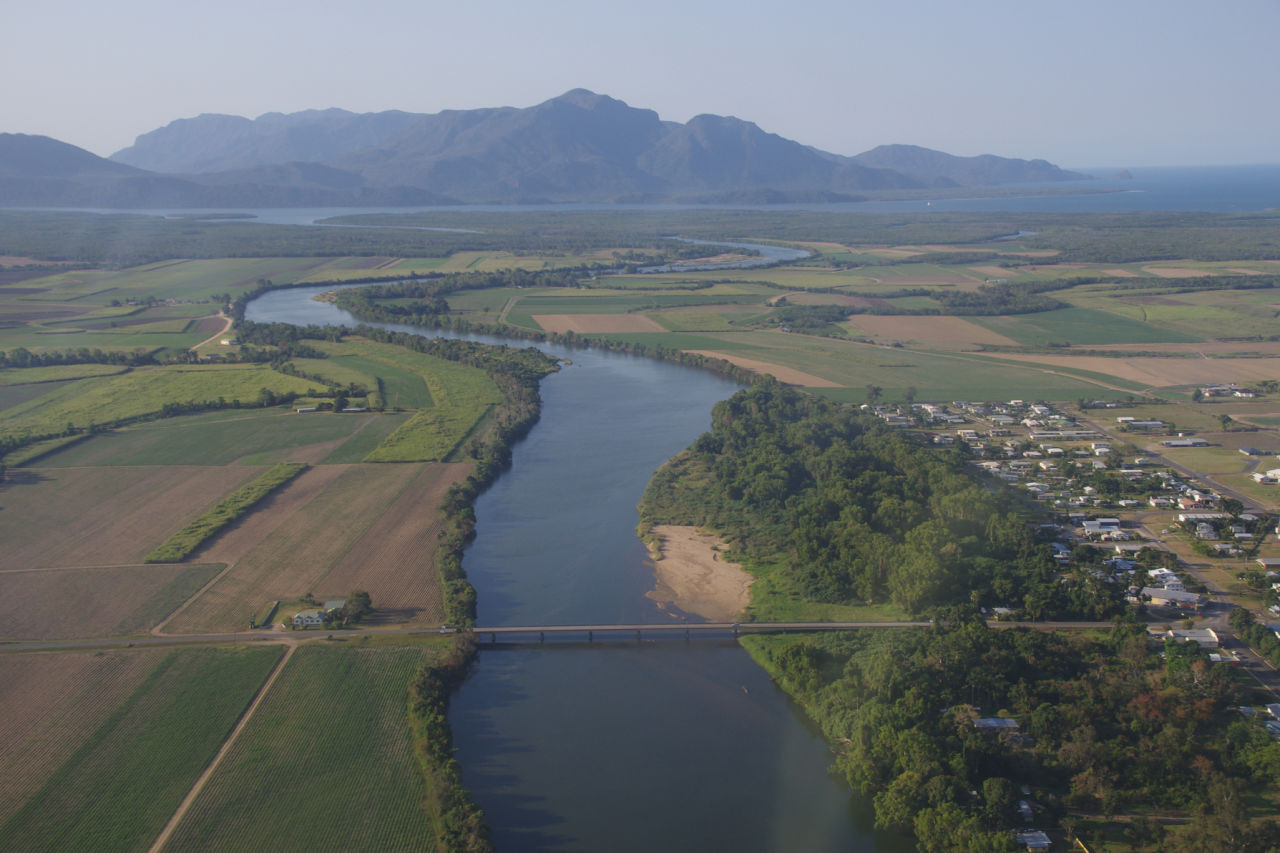 The Herbert River is bordered by cane fields. Credit: HCPSL