Project News ·
Citizen Science project wrap:  Stories of impact
Protecting Wetlands for the Future
Impact summary (Project funded mid-2019 and wrapped early 2022)

The Protecting Wetlands for the Future project enabled Queensland students and teachers to inform Great Barrier Reef (GBR) tidal wetland protection through citizen science. As a result of the project, student-collected data has informed national climate change policy, GBR tidal wetland management and overall scientific understanding of tidal wetlands. The project also provided students with the opportunity to develop essential conservation leadership skills.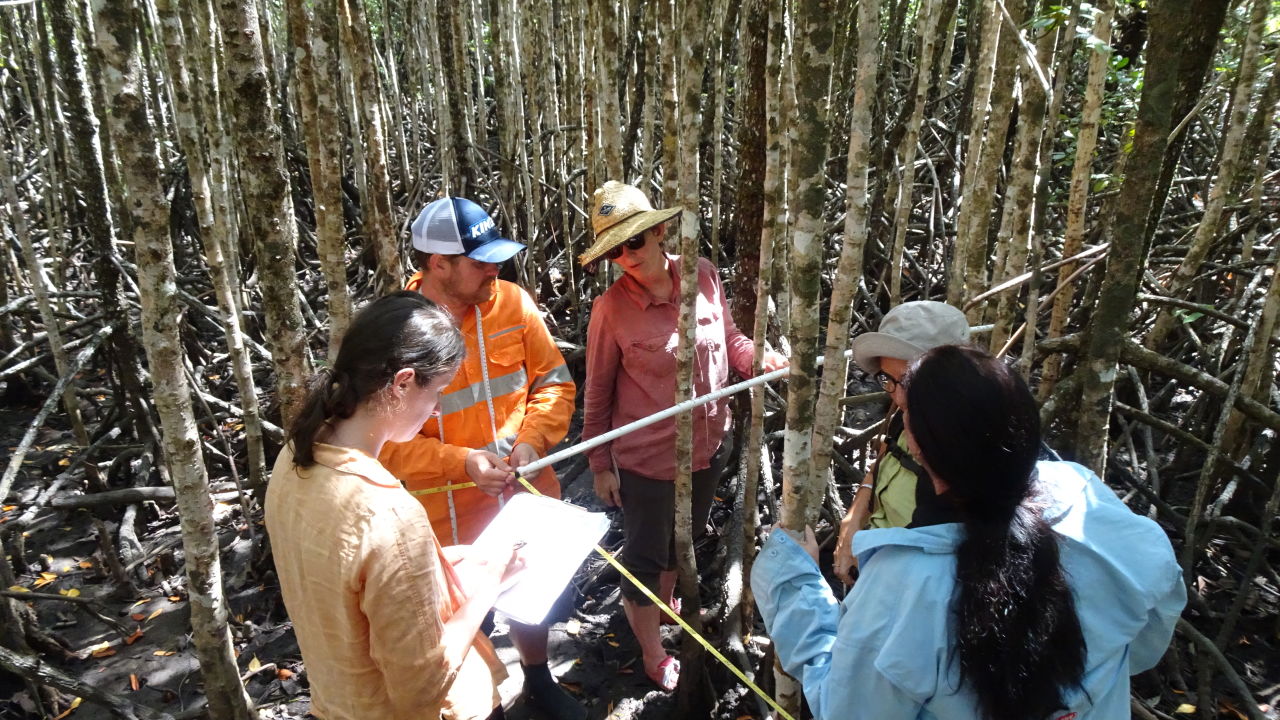 Mangroves and tidal wetlands are integral to the Great Barrier Reef World Heritage Area, helping to protect the coastline, maintain water quality and provide fish habitat, as well as offering significant carbon storage capacity. These important coastal habitats and the value they provide are under threat from climate change, land clearing and other human impacts.
Understanding condition of these unique habitats and the local pressures they face can help with identifying the best solutions to protect them. While many schools learn about mangroves for hands-on educational purposes, previously there was no standardised program that ensured mangrove monitoring by student groups had outcomes beyond educational purposes.
To address this gap, Earthwatch Australia and MangroveWatch tailored existing MangroveWatch methods, empowering students to collect meaningful scientific data. Collaboration with local education centres, local government agencies and Indigenous Rangers in Cairns, Mackay, North Keppel Island and Gladstone was part of the formula for success.
"The program's methodology engages students in a hands-on experience allowing students to examine and use 'real' scientific methodology to truly understand the importance and fragility of this ecosystem. Because Mangrove Watch supports the curriculum, a lot more school groups are now choosing to come to our centre to study mangroves."

Terri Mulqueen, Holloways Beach Environmental Education Centre
As a result of this program, 35 GBR teachers were trained in MangroveWatch methodologies and programs were implemented through four environmental education centres across Queensland. This training has resulted in 712 high-school students from 17 schools engaged in citizen science data collection in GBR tidal wetland habitats with real-world data applications.
Student-collected data generated from this project was submitted to the Australian Government Department of Industry, Science, Energy and Resources to inform mangrove blue carbon modelling, supporting the development of a new Blue Carbon Emissions Reduction Fund method. This new method will drive investment in mangrove habitat restoration and conservation and reduce carbon emissions.
This means that high-school students have influenced national climate change policy and carbon reduction.
"This recognition of the value of the data with real-world applications is important. You can see students eyes light up when they learn that the information they collect is going to be used to shape climate and conservation policies."

Fiona Sutton-Wilson, Earthwatch CEO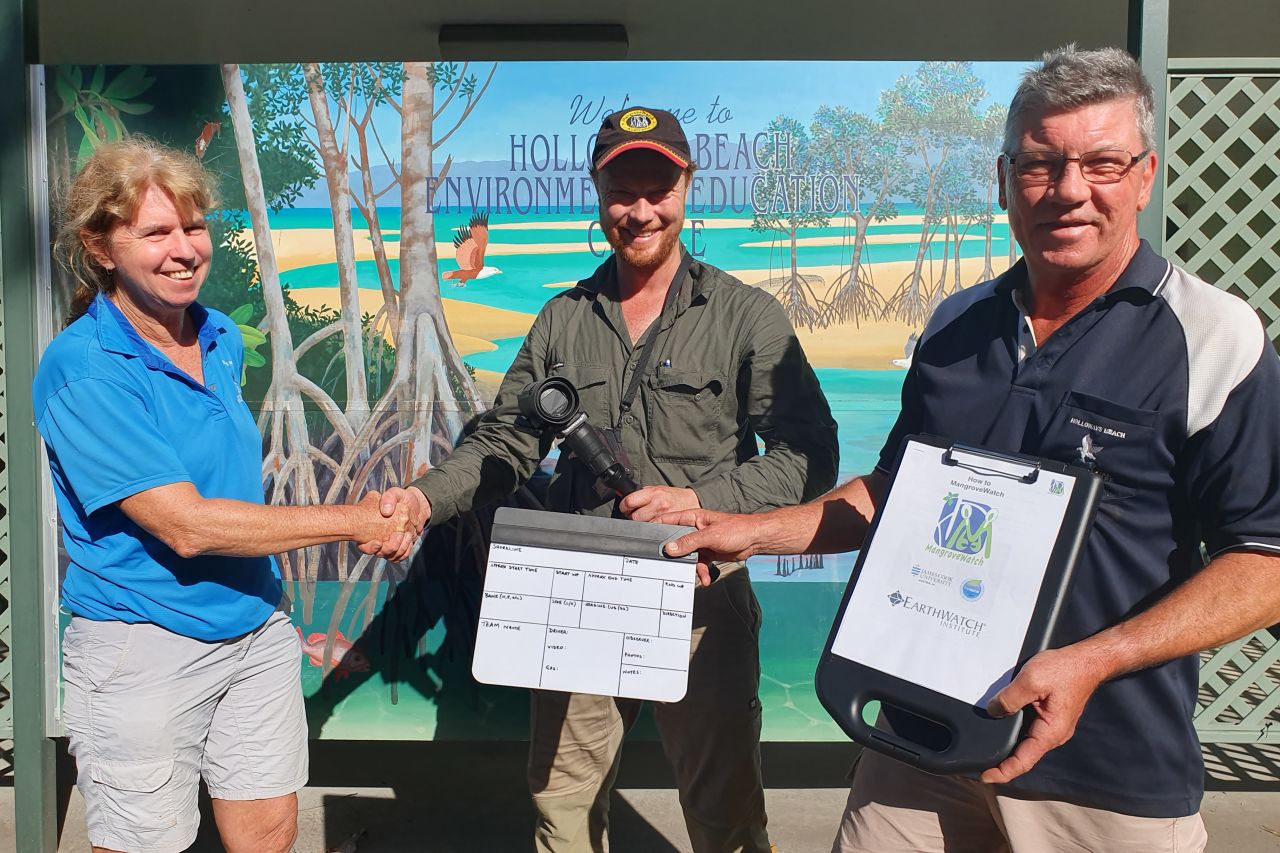 Teachers at Holloways Beach Environment Education Centre. Credit: Earthwatch
The benefits of this project also extend beyond policy and management outcomes. As a result of the success of this program, more teachers have been encouraged to engage students in tidal wetland citizen science, providing valuable hands-on experiences.
This engagement will serve to increase community awareness of the value and vulnerability of GBR tidal wetland habitats and equip the future stakeholders of the GBR to be better informed environmental stewards
"Students develop an appreciation of often under-valued mangroves, and who knows where that leads. It's why I'm here in this role. These experiences can change a young person's future and inspire them to be an environmental leader – that's the longer-term impact."

Jock Mackenzie, Mangrove Watch
MangroveWatch citizen science lesson plans are available free to download on the Cool Australia webpage. Based on Cool Australia research, these lesson plans have reached 39,444 students across Queensland by September 2021.
More details can be found in a project case study.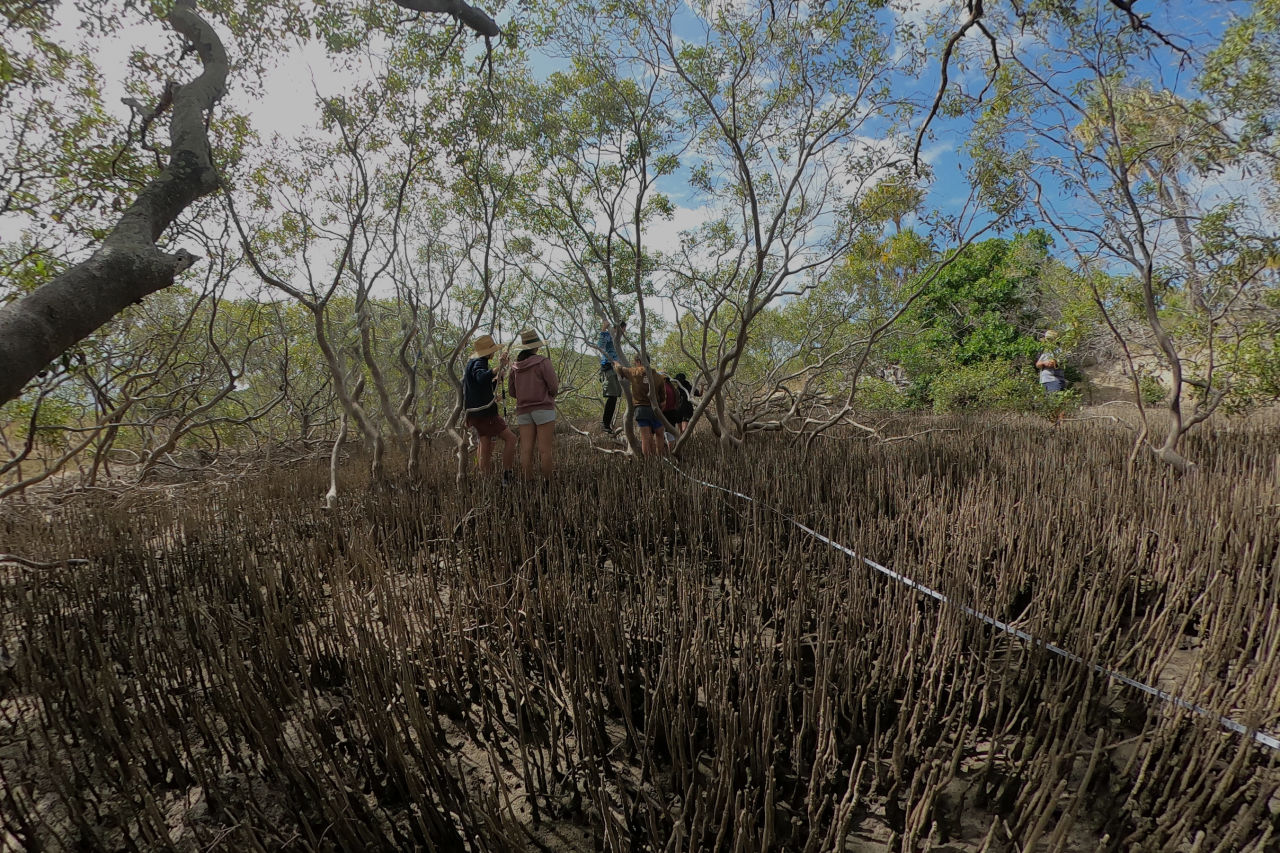 Students measure mangrove forest biomass using the Rapid Long Plot method on North Keppel Island with North Keppel Island Environment Education Centre. Photo credit: Eric Cech, NKIEEC
This Earthwatch Australia project was funded by the partnership between the Australian Government's Reef Trust and the Great Barrier Reef Foundation (2019-2021) in partnership with MangroveWatch with four regional educational institution delivery partners: Holloways Beach Environmental Education Centre, Mackay Christian College, North Keppel Island, Environmental Education Centre and Boyne Island Environmental Education Centre and local schools.
Earthwatch Australia respectfully acknowledges Aboriginal people as Australia's First Peoples and the local Traditional Owners as the original custodians of the land and water on which we rely and operate, and we pay our respects to Elders past and present. Earthwatch Australia acknowledges the continued cultural, social and spiritual connections that Aboriginal and Torres Strait Islander people have with the land and waters and recognise and value that Traditional Custodians have cared for and protected these lands and waters for thousands of generations. We recognise and value the essential and continuing contribution of Aboriginal and Torres Strait Islander people to the region.