Project News ·
Citizen Science project wrap: Stories of impact
Educating communities to help ACT and PROTECT our GBR
Impact Summary (Project funded mid-2019 and wrapped mid-2021)

CoralWatch partnered with Environmental Education Centres to develop reef citizen science materials tailored to the coastal areas of Palm Island, North Keppel Island, Gladstone and Bundaberg. This included curriculum-linked lesson plans, coral identification sheets, virtual reef posters and display materials. A series of community and teacher training workshops were held in each location and participants indicated that the training increased their knowledge about CoralWatch monitoring, coral biology and sustainability. This work was empowered through a team of locally-based Ambassador outreach volunteers, building community leadership, program data collection and an enduring local program legacy in each location.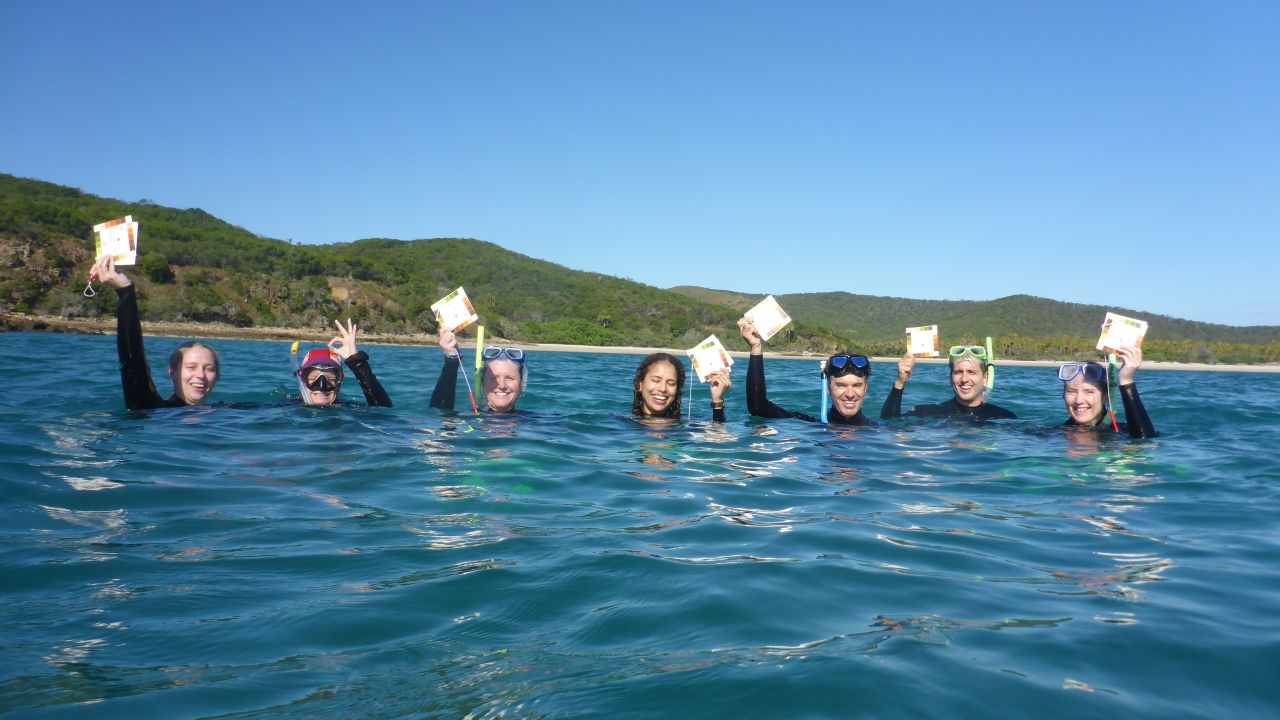 Climate change is the greatest threat facing the reef. Corals bleaching in response to temperature stress result in them expelling their symbiotic algae, changing the coral colour to white and reducing their food source, health and resilience. Already marine heatwaves have triggered three mass coral bleaching events on the Great Barrier Reef in just five years, reducing shallow water coral reefs by as much as 50%. Coral reefs can recover from bleaching over time, but only if temperatures drop and conditions return to normal.
CoralWatch citizen science materials are designed to engage a wide range of audiences in collecting information about coral colour to help provide insights about coral bleaching and reef health and build their own knowledge about the issues and solutions.
The team identified that one way to further boost community engagement would be educational resources specifically focused on highly accessible coastal areas of along the Great Barrier Reef.
"These are places that people can visit more easily and already have connections with, so having locally-specific materials offers great opportunity for people to learn more about their local corals and how they can do look after them."

Diana Kleine, Project Manager for CoralWatch
This project developed and launched community training and educational packs tailored to reefs around Bundaberg, Palm Island, North Keppel Island and Gladstone. The activities aimed to grow partnerships with targeted education providers to amplify science-community two-way engagement.
Workshops were held for teachers and community members in each of these regions, connecting more than 500 people through outreach activities. The locally-tailored materials included curriculum linked lesson plans, coral identification sheets, virtual reef posters and display material for education centres.
Links to Corals at Your Doorstep can be found online for the Capricornia Coast and the Coral Coast.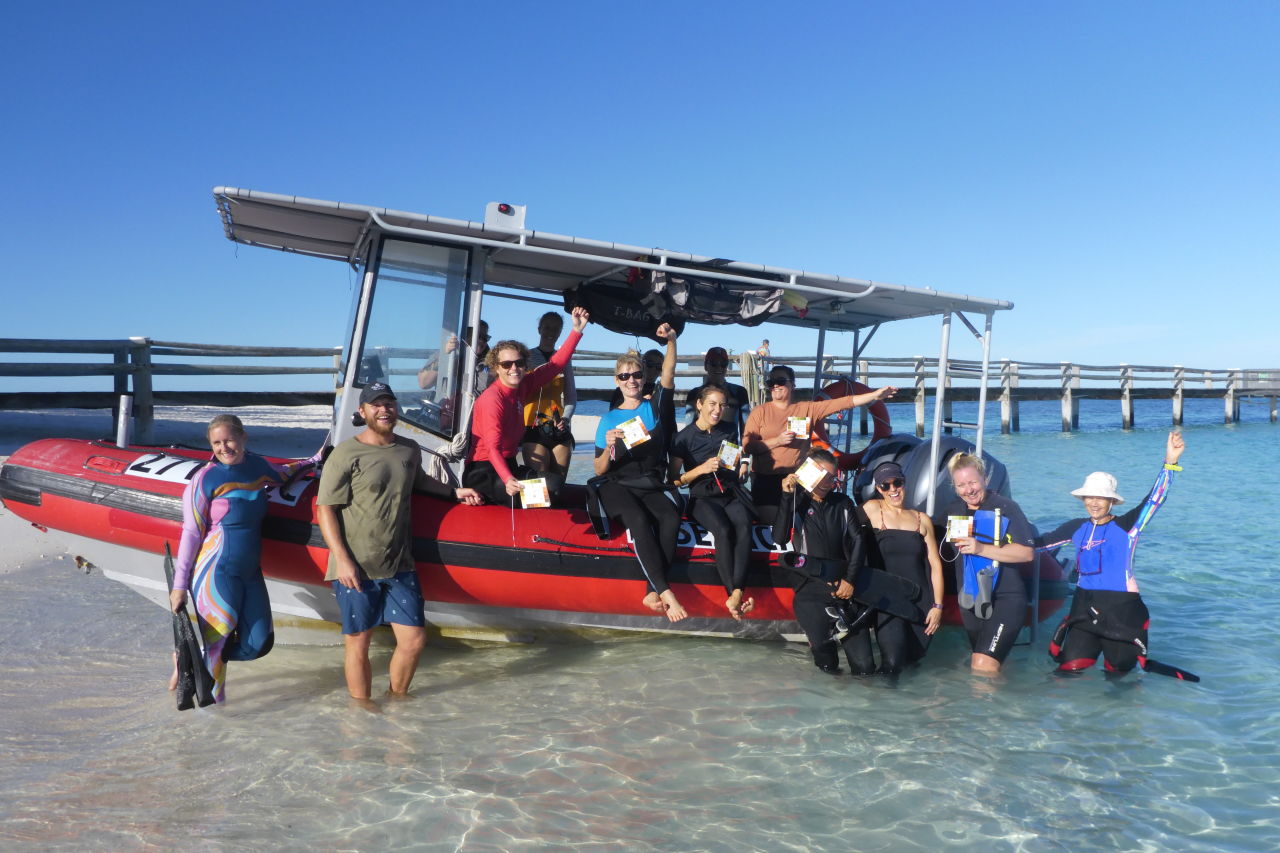 Workshop on Heron Island heading out to undertake field training. Credit: CoralWatch.
'The aim is to go beyond data collection to also motivating climate change action by helping people understand the impacts on places they care about and providing specific actions people can undertake to reduce their carbon footprints through personal behaviour and activities," shares Diana.

Workshop participants indicated that not only did training boost their knowledge about CoralWatch monitoring (42% increase), and coral biology (29% increase), but it also enhanced their sustainability (16% increase). This reflects the intentional sharpened focus on sustainability calls to action through the roll-out of this project.
"It inspired me to continue with the efforts that we have already made and to persevere in teaching others of the benefits and ease of making valuable changes in their lives, via education. It also reinforced the value of encouraging young people to step up and step out to experience and value the natural environment. I believe that opening them to these experiences provides a lifelong commitment to positive behaviours."

Workshop participant
A new cohort of CoralWatch Ambassadors was trained early in the project and helped power much of this locally-focused action. Ambassadors are passionate community leaders who volunteer to lead community outreach, education and data collection activities in their communities.
One ingredient in project success is driven by ambassadors who are supported and empowered in local leadership roles. They bring their unique local networks, knowledge and passion and it takes projects to a new level.
"Working with CoralWatch has been an experience like no other. It has made me realise the extent of my passion for the reef and has made me want to further my knowledge and spread the message about how anyone can help protect The Great Barrier Reef if they are aware.

I feel I've gained and learnt so much more regarding our local reefs and I'm incredibly honoured to be able to help work with them in some way. This furthers my need and want in knowing that I need to be involved anyway possible in creating community awareness and spreading the message about what's on our beautiful shorelines and about the Great Barrier Reef in general."

Jess Poland, CoralWatch Ambassador in the Bundaberg region who helped develop the Coral Coast materials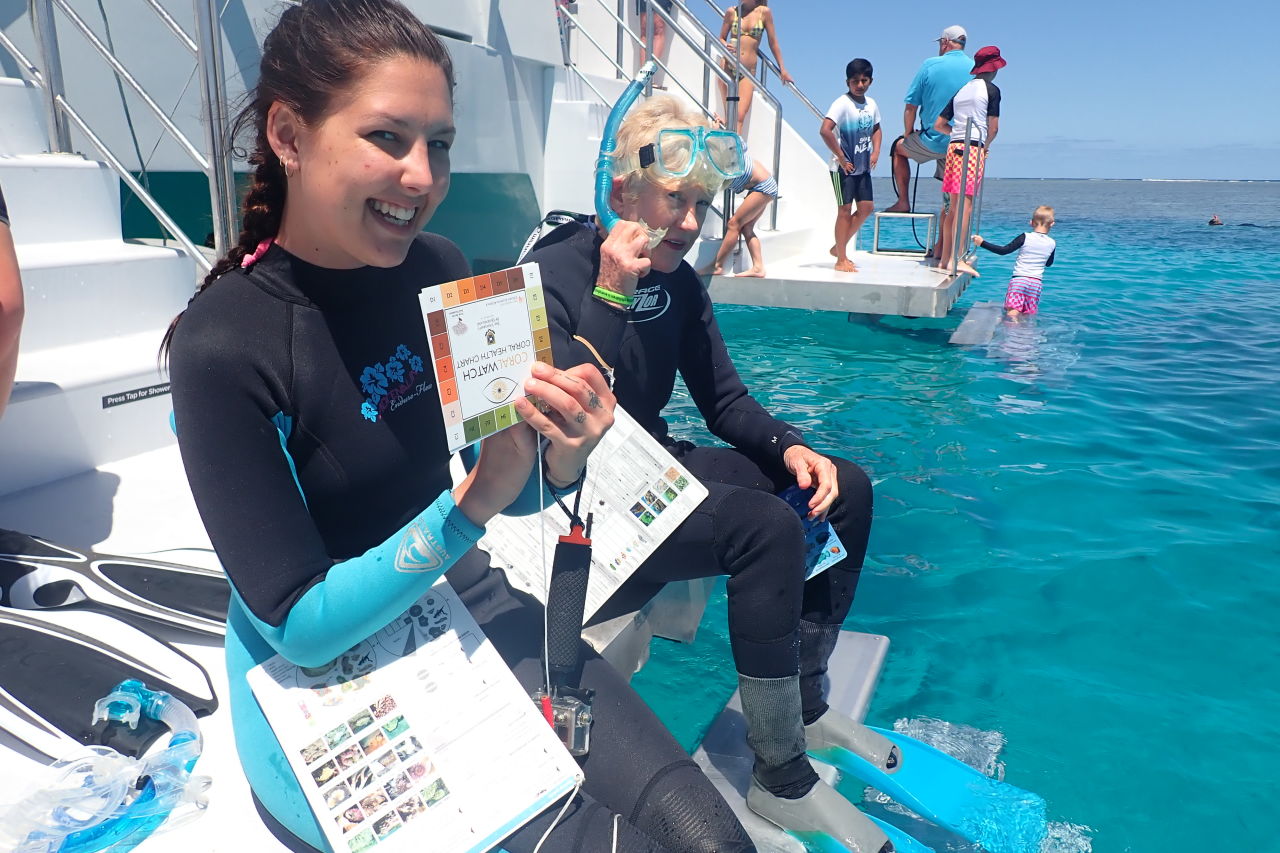 CoralWatch Ambassador Jess Poland at Lady Musgrave. Credit: CoralWatch.
Through the project, the CoralWatch data was also transitioned to the Atlas of Living Australia, strengthening accessibility, access and integration potential for this citizen science dataset.
University of Queensland CoralWatch's Educating communities to help ACT and PROTECT our GBR project (2019-2021) was funded by the partnership between the Australian Government's Reef Trust and the Great Barrier Reef Foundation and supported by The University of Queensland and Atlas of Living Australia, CSIRO.