Project News ·
Citizen Science project wrap:  Stories of impact
Extending the success of Redmap Australia to Queensland
Impact Summary (Project funded mid-2019 and wrapped mid-2021)

The Redmap (Range Extension Database and Mapping project) project kick-started this successful national citizen science initiative in Queensland. Redmap uses data shared from fishers, divers and boaters about unusual or uncommon marine species in order to map marine species that may be shifting southwards due to ocean warming. This project built a network of Ambassadors in key regions across the state and delivered community outreach and engagement activities to establish the project and highlight the species for citizen scientists to keep a look out for on the Great Barrier Reef to build understanding about the impacts of climate change on marine systems.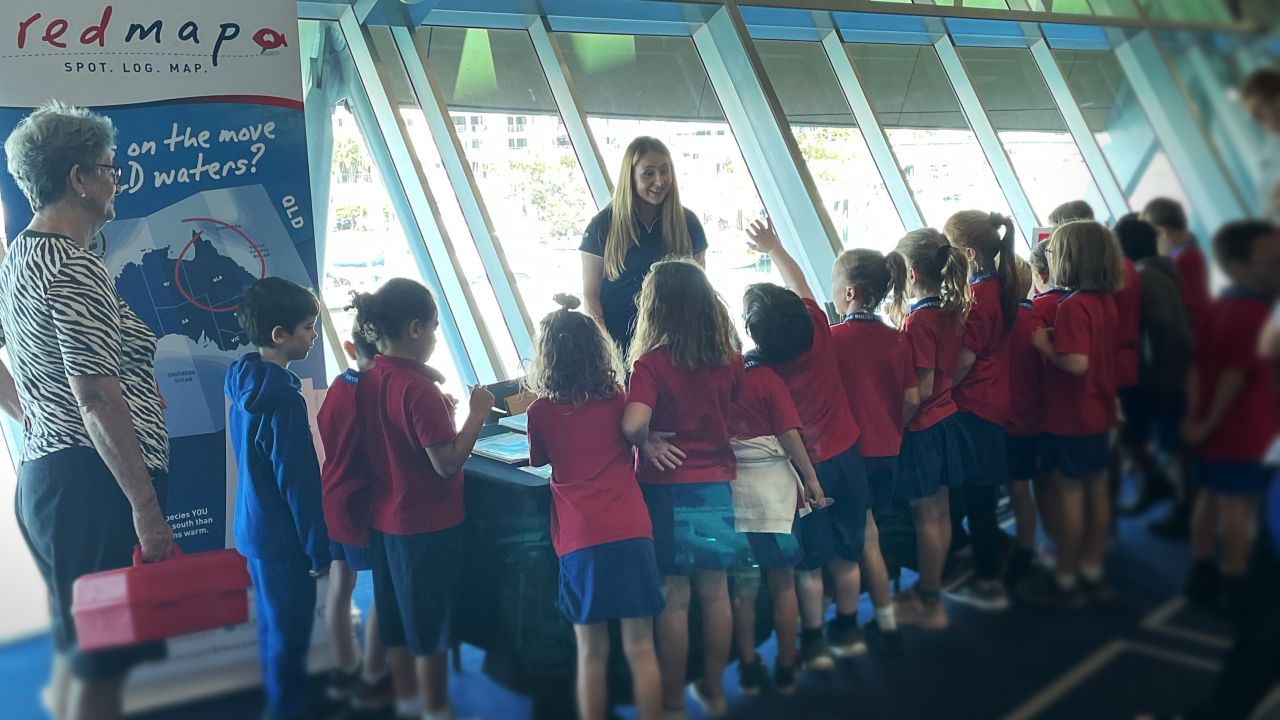 Climate change is resulting in fast changes in marine species distribution in Australia's rapidly warming waters. There are over 200 species showing documented range shifts and expert marine biologists had identified 20 species with potentially shifting distribution in Queensland waters. Yet, there was an identified gap in data for the state to understand trends.
This project catalysed the successful national program in Queensland by training 32 Redmap Program Ambassador volunteers in Cairns, Townsville, Rockhampton, and Bundaberg who engaged with thousands of local community members through their outreach initiatives.
Locally based Ambassadors were key to enabling community engagement in each region, with volunteers leading a range of community outreach initiatives about how people can get involved in collecting information to help better understand climate impacts.
"We really see it as a two-way conversation between Australian marine scientists and the fishing and diving public. We're trying to learn from the public about how the marine life they see regularly might be changing distribution. From evaluations of the project, we've found that people who participate in Redmap develop a stronger understanding of the implications of climate change on species and ecosystems. Our ongoing partnerships not only educate local communities about issues related to the Great Barrier Reef, but also actively encourages them to make the most of the amazing environment right on our doorstep.''

Dr. Gretta Pecl, Redmap founder
The project engaged with 164 local businesses including tourism operators to support and promote the Redmap Program.
"Our skippers are always happy to brag about weird fish species that they've spotted on their trips! They love to talk to their [customers] about things they can look out for in the water. And it opens up an opportunity to discuss why some of these animals are moving around –and what might be causing [these shifts]."

Keppel Bay Ferry Terminal staff member
The project engaged over 2,000 individuals, business owners, scientists and schools through participation in various events, such as the Ocean Film Festival, Hinchinbrook Shire Council's NRM forum, Student Days at James Cook University, the World Science Festival Townsville and the Partner Up QLD networking event.
Twenty interpretive signs were also developed and installed along the QLD coast including at boat ramps and islands as calls to action before people head out on the water.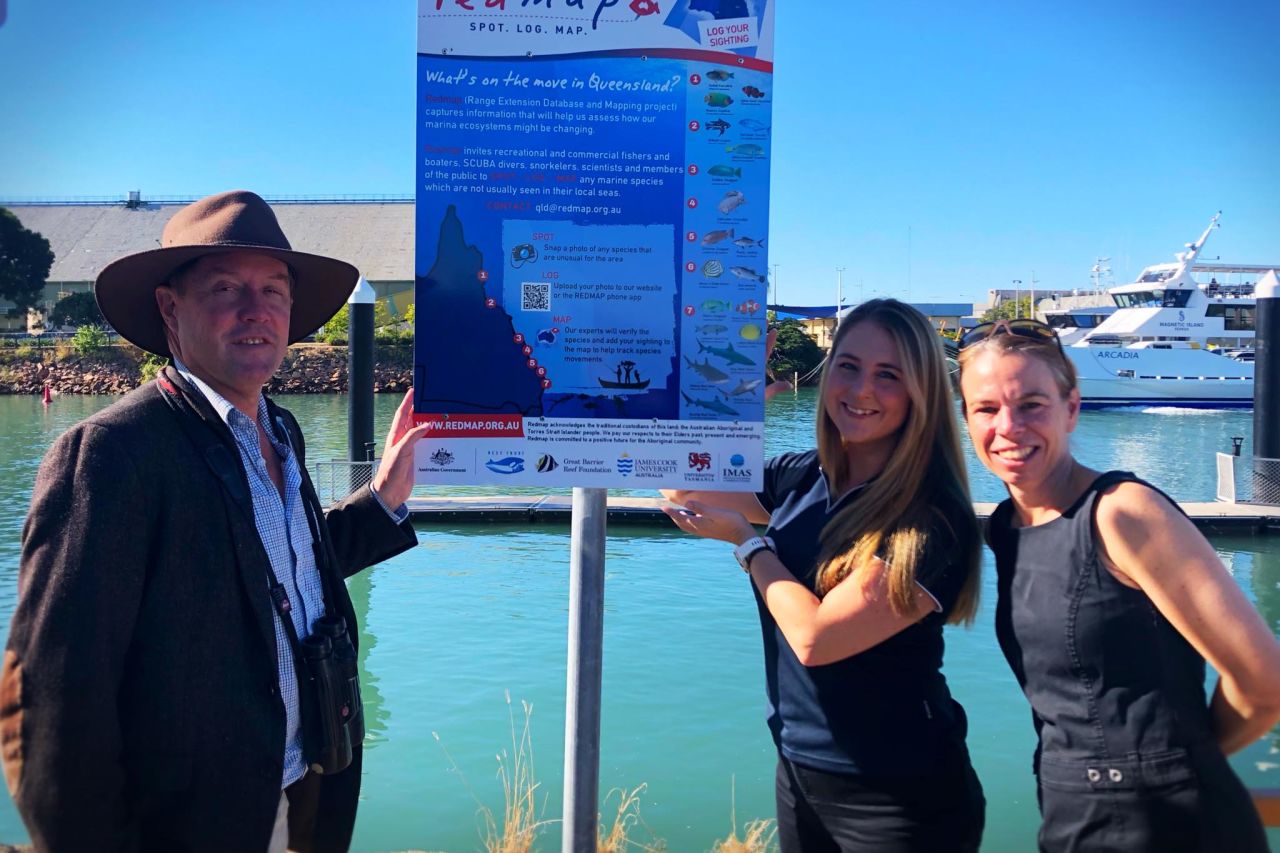 Redmap Team with Queensland Chief Scientists, Professor Hugh Possingham sharing the boat ramp signage. Credit: Redmap
"Redmap is a way to have everyday citizens collaborate with trained scientists in order to help us monitor changes to our marine environments. The program has encouraged people to participate in helping to gather crucial data on the rapid changes that our oceans are experiencing. Emerging from restrictions made necessary by the global pandemic, Redmap Queensland has hit the ground running to remind local communities to Log –Spot –Map any unusual marine species that they see."

Shannon Kjeldsen, QLD Redmap Coordinator
A survey of over 300 members of the public and volunteers showed there was a significant increase in respondents who are now aware of Redmap (48% increase from 2019 – 2021). 83% trusted Redmap as a source of information, and 78% of respondents considered Redmap's goals to be important to them.
An interactive display at the Museum of Tropical QLD was also installed to support interactive "treasure hunts" for the QLD target species.
"Our interactive museum display at the Museum of Tropical Queensland has provided an educational experience for citizens and tourists from across the state, country and globe. We feel this has helped to provide a positive message about the importance of marine ecosystems, the effects of climate change, and the power of everyday citizens in helping to monitor these changes to Queensland's marine environments."

Dr. Jan Strugnell. Redmap Queensland coordinator at James Cook University
The project has established a strong presence in QLD and inspiring thousands of community members, including children, to deepen their knowledge of marine species, climate change impact and participate in citizen.
This Redmap project was funded by the partnership between the Australian Government's Reef Trust and the Great Barrier Reef Foundation (2019-2021) with project partners the Museum of Tropical Queensland.