Project News ·
Citizen Science project wrap:  Stories of impact
Whitsunday Reef monitoring for long-term health
Impact Summary (Project funded mid-2019 and wrapped mid-2021)

Reef Check Australia continued collecting reef health data on long-term sites in the Whitsundays region, as well as working with project partners to expand the data collection for other programs. The project also trained the first cohort of Reef Ambassadors as enthusiastic community leaders to promote information about the condition of our coral reefs and what communities can do to help.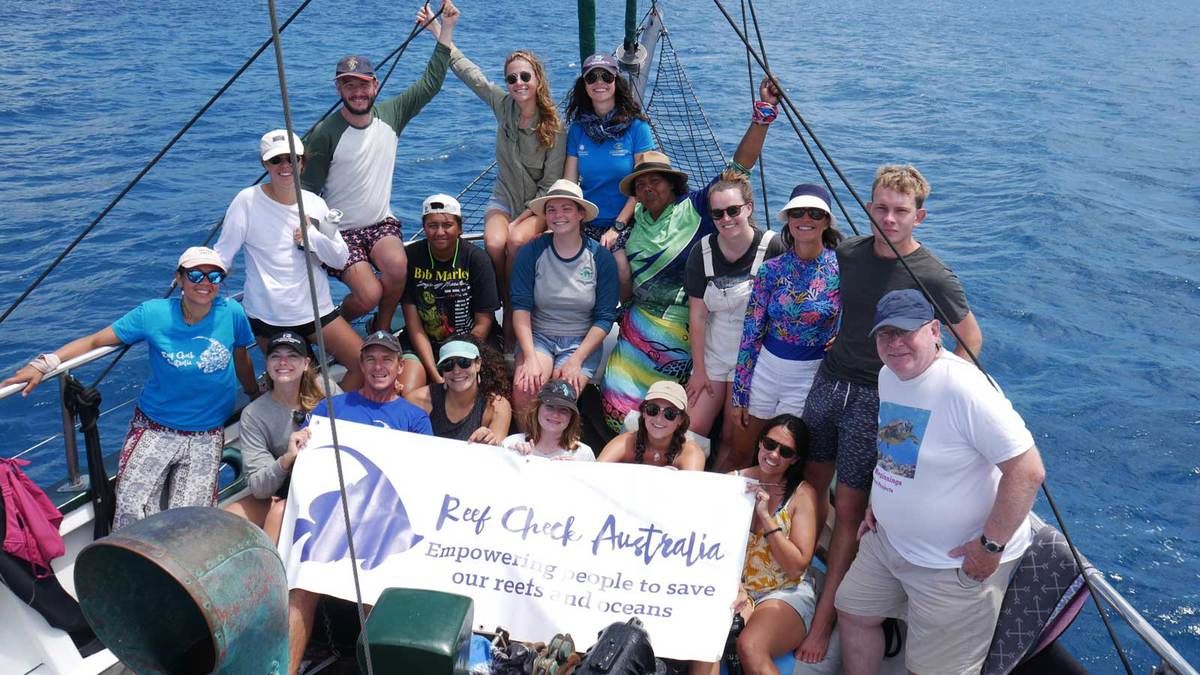 Reef Check Australia has worked in the Whitsundays region since 2001, establishing Blue Pearl Bay as one of the first official long-term monitoring sites for the global program in Queensland.
Maintaining this dataset at nine key locations following cyclone and bleaching events over the past several years was important, but beyond that, the organisation was looking to build greater program sustainability and locally-based capacity through this initiative.
Key to this effort was launching the Reef Ambassador program, training twenty community members to support community outreach and environmental initiatives in the area.
"We now have local Ambassadors based in the region – we're building a network of local champions and they can lead the charge."

Jodi Salmond, General Manager Reef Check Australia
Two Ngaro Traditional Owners from Bowen, Lynndel and Milda Oui graduated as part of the Reef Check Australia Ambassador program.
As part of the training Lynndel and Milda joined RCA on a 3-day trip in the Whitsunday Islands learning a range of citizen science activities.
"The first time we travelled out 'on-country', I did get emotional. It was a special feeling for me. Being in the water, just to look at the reef, the damage that has been done and to see new life that is settling there. That was really exciting. I am walking away knowing a lot more about [the reef]. I definitely want to come back."

Lynndel Oui, Ngaro Traditional Owner from Bowen
The project also saw Reef Check's citizen science coral cover data integrated into use for the 2020 Healthy Rivers to Reef Report Card. Project leads shared how this relationship was developed through the project,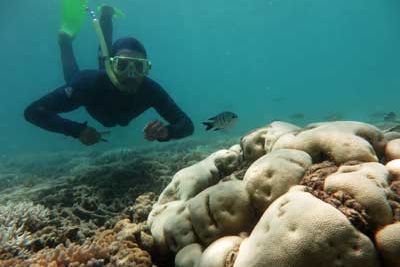 Snorkel surveyor in the Whitsundays. Credit: Reef Check Australia
"We have worked with the Partnership closely over the project. One key to building the partner relationship was having their Project Officer participate in RCA surveyor training. Having [end data users] engage in the course to understand the extent and robustness of training, and joining in on survey expeditions really built trust in the data. It breaks down a barrier and we're looking forward to building on our collaboration to expand from coral data to fish data in the future."

Nathan Cook, GBR Project Coordinator Reef Check Australia
A big focus of the project expanded beyond this critical partnership to working with partners to collaborate better. For example, different citizen science methods and techniques were incorporated into training and survey activities, including Eye on the Reef Rapid monitoring survey methods, CoralWatch Coral Health surveys and the Citizens of the Great Barrier Reef's Great Reef Census – helping to maximise citizen science data outcomes.
Throughout the project, 91 surveys were conducted during 13 field days which collected over 5000 points of data.
The project also sought to re-establish and develop new strong partnerships with tourism – looking to build greater local ownership through training more surveyors and team leaders, and striving to really understand how we could collaborate more.
Read more about the data generated in the Reef Check Australia Whitsundays Citizen Science Project Interim Report (2020).
Beyond engaging divers and snorkellers, the project activities sought to build new entry points for others to get involved.

"We changed direction to focus more on people who are keen and want to make a difference - it opens up the pool of local champions and will help us grow the capacity to keep supporting the program into the future."
This Reef Check Australia project was funded by the partnership between the Australian Government's Reef Trust and the Great Barrier Reef Foundation (2019-2021).