Project News ·
Citizen Science project wrap:  Stories of impact
Whitsunday Water Quality Monitoring Blueprint for Tourism Operators
Impact Summary (Project funded mid-2019 and wrapped mid-2021)

This collaborative project empowered tourism operators to work with managers, industry and scientists to fill an identified data gap in water quality data in the Whitsundays. Tourism partners collect water quality data at two key reef locations, helping better understand and target solutions to protect regional waterways and reefs. While it is early days for the trend-based montiroing program, the collaborative approach has built strong foundations and partnerships for an ongoing program and has already documented water quality changes from specific events, shared learnings with Reef visitors, and demonstrated the strong ownership of tourism operators in their role in driving Reef stewardship. The community data is designed to contribute to the regional healthy waterways report card in the future.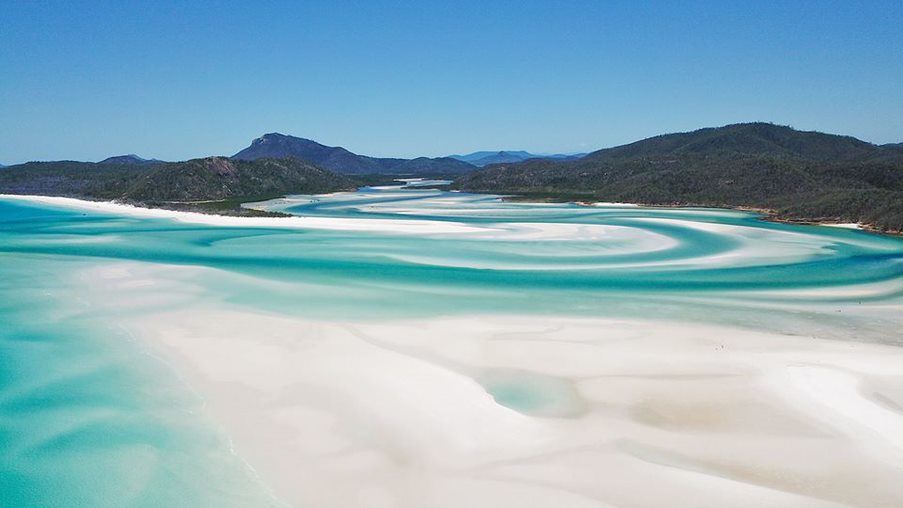 Tourism operators in the Whitsundays region had been calling for greater understanding around water quality and visibility for years in an effort to better understand and care for key tourism locations. In 2019, it was identified that water quality around the islands in the Whitsundays is influenced by two key rivers, with the outer islands influenced by the Fitzroy River and the inner islands influenced by the Pioneer and O'Connell rivers.
Through this project, four tourism operators - Ocean Rafting, Red Cat Adventures, True Blue Sailing Adventures and Southern Cross Sailing Adventures - have been trained in systematic water quality monitoring methods and have implemented monitoring at two new monitoring sites at Tongue Bay and Cairn Beach.
The initiative used citizen science to expand on the water quality monitoring undertaken by James Cook University, North Queensland Bulk Ports and the Australian Institute of Marine Science. Tourism operators manage maintenance of water quality loggers and collect regular water quality samples at the sites. The data is analysed by research partners at JCU and reported on quarterly, allowing operators to watch the trends at each site and also share their learnings with reef visitors. To date, the project has captured valuable data about response to two offshore tropical cyclones, one heat wave and documented elevated nitrogen concentrations.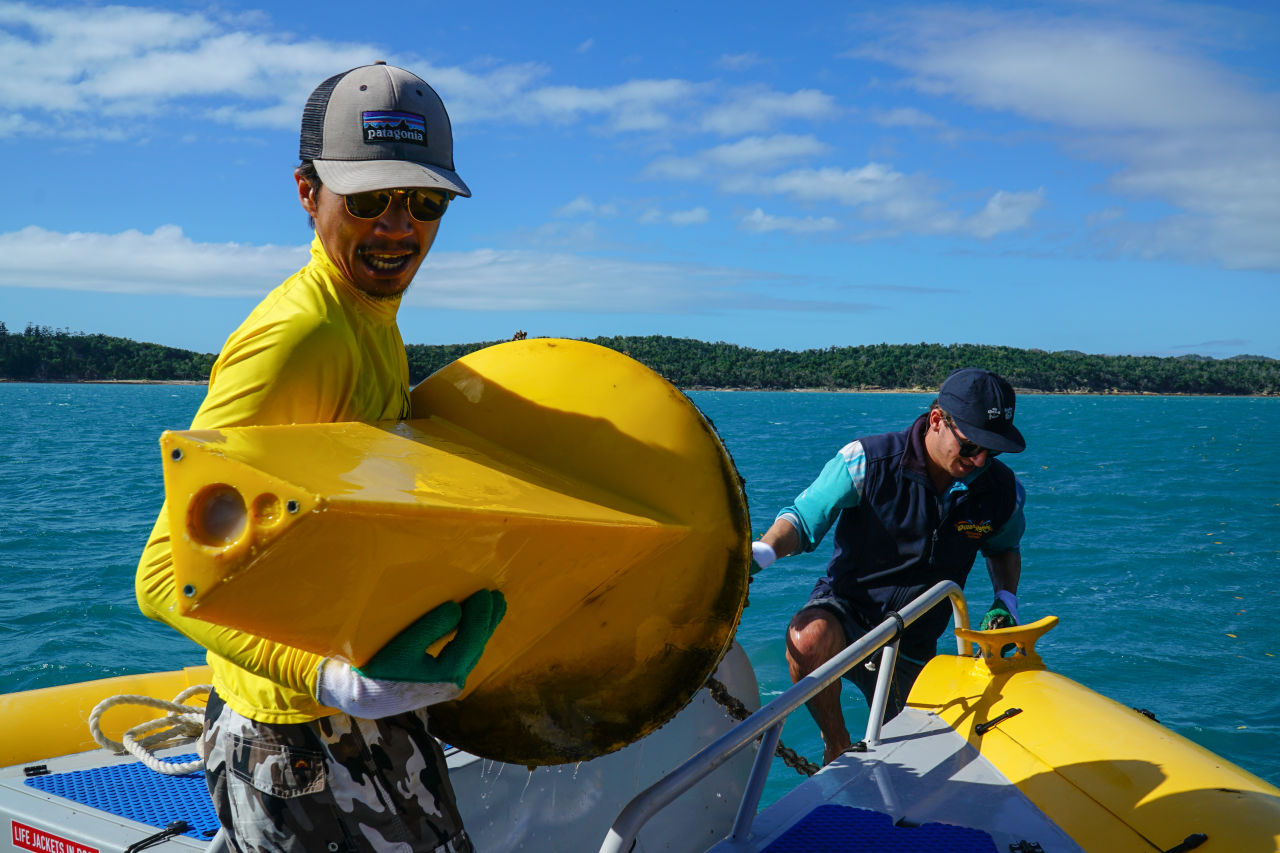 Tourism operators in the field collecting data from the water quality logger. Credit: Reef Catchments.
"Water quality is one of the Whitsunday tourism industry's ongoing challenges. Establishing baseline data through this water quality monitoring project will empower us to make the best possible management decisions for the benefit of the environment, a sustainable tourism industry, and the one million visitors a year we typically welcome to our section of the Great Barrier Reef. This co-designed Blueprint program is about giving us valuable knowledge to inform management decisions, which we hope will help our industry recover control of its destiny and that of the reef."

Adrian Bram, executive secretary of the Whitsunday Charter Boat Industry Association (WCBIA)
Learn more in the project video and one of the data summaries.
Tourism crew members are proud of the work they do to enable monitoring at sites they visit regularly and passionately care about protecting. They talk to tourists about it during their tours. A conservative estimate of 1600 tourists have been engaged in this manner.
"These uncertain times are filled with challenges for tourism and it has been such a positive for our passionate team to get involved in this project which is so important for understanding our environment and the places we visit daily around the Whitsunday Islands."

Jan Claxton, Principal at Ocean Rafting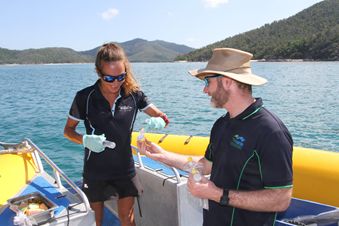 Tourism operators and scientists collecting water quality samples. Credit: Reef Catchments
The commitment of the industry to this program was evidenced by the continued support and adaptations to continue undertaking sampling during reduced visitor capacity through travel impacts of Covid 19, finding ways to rotate and continue supporting data collection even when visitor numbers were low.
In addition to sharing findings with reef visitors, the project connects community-based science with decision making platforms, building a strong foundation for future monitoring and data use. Monitoring programs like this collect baseline conditions that allow monitoring for change over time, meaning that continuing the program is important to data being utilised to drive reporting and identify conservation solutions.
"Through this project we have learned alongside partners. It's clear how valuable it is to design the approach in partnership. Through training, tourism operators had the chance to understand the science and the process and that has changed their confidence in being able to address challenge points. The tourism crew strengthened the project by giving feedback and practical ways to do things and took strong ownership of the data collection activities and the data that's generated. By building it together, we learned about the real logistical challenges of ensuring a sustainable program model that sets us up for building a long-term data set that can help inform management and make change."

Emma Maxwell, Project Coordinator at Reef Catchments
One mechanism for this proposed data use is in future Mackay-Whitsunday-Isaac Healthy Rivers to Reef Partnership report cards. The report card brings together 30 organisations committed to understanding and improving the health of Mackay-Whitsunday-Isaac waterways and marine environments to deliver annual reports on waterway and marine health. The project has been highlighted in the 2019 and 2020 report cards as well as the 2019-2020 stewardship report.
With funding secured until January 2022, and all partners committed to continuing to source ongoing funding, the numbers of tourists learning about the importance of water quality and monitoring in the region will continue to increase. Ultimately, for the data to be used for the report cards and inform management actions, it needs to be an ongoing monitoring program to provide consistent trend data.
This Reef Catchments project was funded by the partnership between the Australian Government's Reef Trust and the Great Barrier Reef Foundation (2019-2021) with support from North Queensland Bulk Ports and support from Whitsunday Charter Boat Industry Association, Mackay-Whitsunday-Isaac Healthy Rivers to Reef Partnership, TropWATER (James Cook University), Whitsunday Bareboat Operators and participating operators: Ocean Rafting, Red Cat Adventures, Southern Cross Sailing Adventures, True Blue Sailing Adventures.