Project News ·
Farmer escapes serious flood damage thanks to Mary River Recovery Project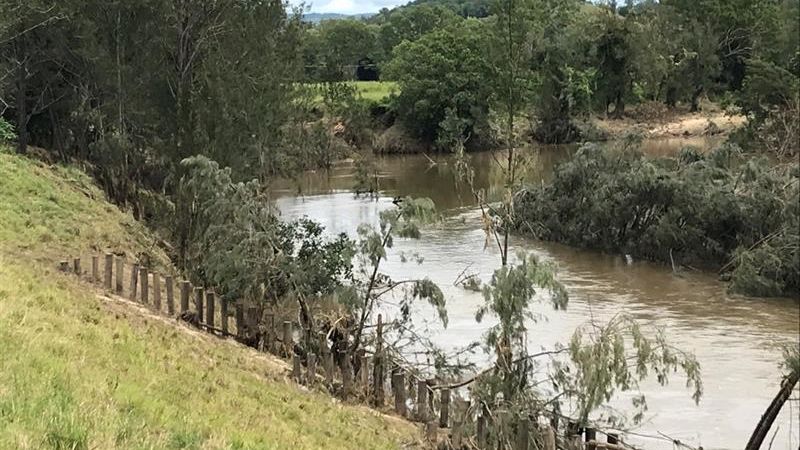 More than twenty years of living and working in Singapore did little to diminish Ian Mackie's desire to capture the Australian dream of owning a property. When plotting out what an ideal retirement with his wife and family looked like, Mackie ruminated on bygone years riding his motorcycle through the Noosa hinterland.
"Owning a small farm and having some cattle had been a very long-term, back-of-mind idea," said Mackie. "When we returned to Australia, we started looking in northern New South Wales where my wife was more keen. Eventually I talked her into looking around the Noosa hinterland where over many years I'd been riding motorcycles. We never expected to get something with river frontage. We have no regrets whatsoever."
With an old Queensland cottage, fifty LowLine angus cattle and a few massive trees older than the country of Australia itself, Mackie's fifty-acre riverfront property is the idyllic rural sanctuary.
"I could tell immediately that the land was incredibly fertile," said Mackie. "We have an average of 30 feet of topsoil across the entire property. This is as good as it gets."

Despite the prime condition of the land the Mackie family purchased more than four years ago, the property had tall cliffs up to 3 metres high that had been carved out of the land by previous floods.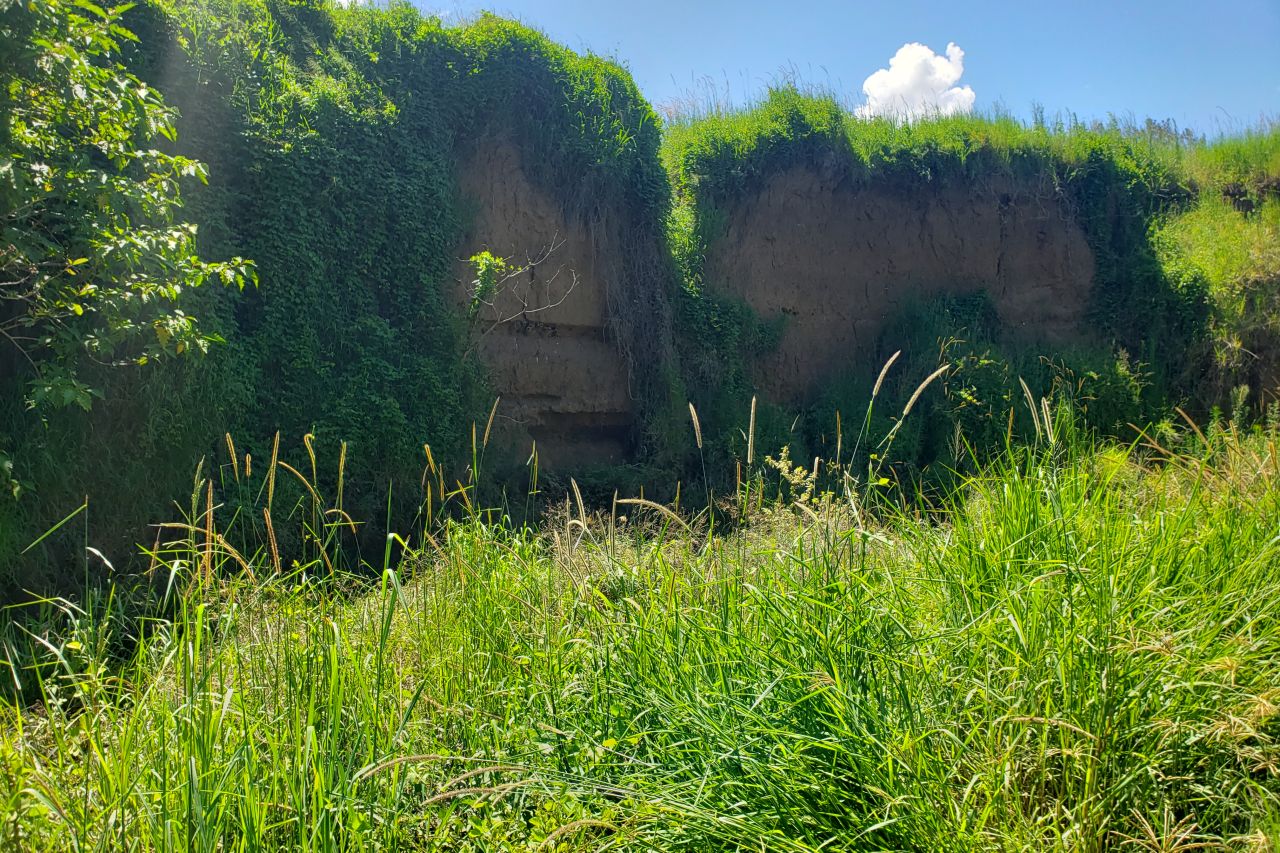 Floods washed away hundreds of tonnes of sediment, carving cliffs up to 3m high on Ian's property.
An old airstrip was collapsing into the river. The scars of previous torrents of flood waters that washed tonnes of sediment downstream were evident, dangerous and likely to get worse with each flooding.
"After the first flood caused significant erosion, we were worried the cliffs might collapse more, so our grandkids can't play there anymore," said Mackie. "One day we arrived at the farm and this cow was standing at the edge of the cliff that cuts in the airstrip bellowing and bellowing. There was this tiny calf half-way down, stuck in a bush. When I tried to move her around, she kicked the daylights out of me. I was never going to be able to carry her up, so I rolled her carefully all the way to the bottom and we walked out from there."
One of the Great Barrier Reef Foundation's local partners, the Mary River Catchment Coordinating Committee (MRCCC), reached out to the Mackie family and connected them to resources that would save their land from erosion.
The MRCCC is a member of the Mary River Recovery Consortium which is led by the Burnett Mary Regional group and includes Alluvium Consulting. The focus of the consortium is to manage and deliver the Mary River Recovery Project.
"Not all that long after we bought our land, I was contacted by Eva Ford from the MRCCC," said Mackie. "She asked if she could come and look through our land as part of a weed control project. When she saw the piece of the creek with damage and the river frontage cliff, she asked if I was aware of the bank stabilisation program. It was clear I was going to lose a couple acres of land from battering it back, which took the gloss off the whole thing."
Through continued conversations with MRCCC, Mackie gained a better understanding and appreciation for how vital it is not just to prevent erosion on his property, but to do his part to stem the flow of sediment onto the Great Barrier Reef.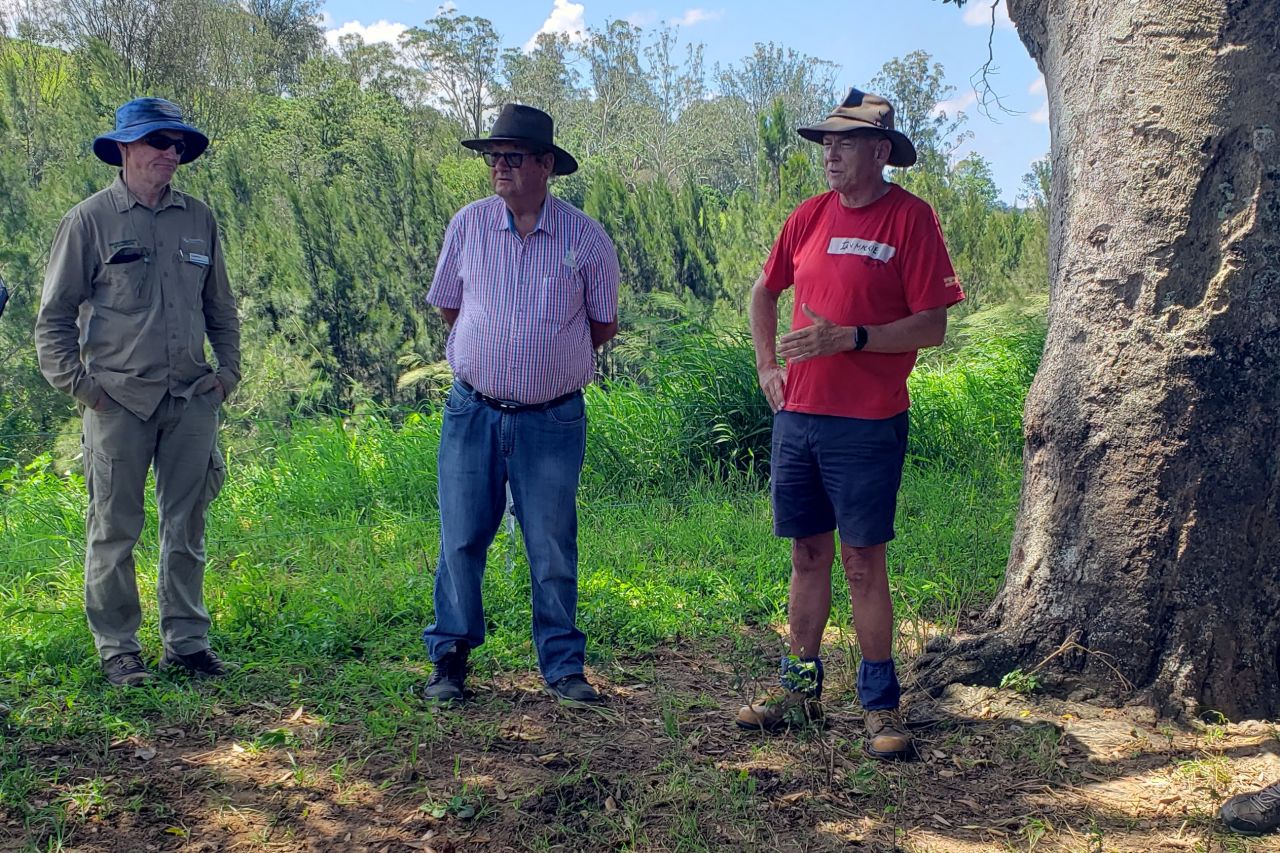 Ian Mackie (right) says bank stabilisation work has been a huge success on his property in the Noosa hinterlands, saving his land and preventing sediment from washing onto the Reef.
"It was well into a series of conversations that she mentioned that the real purpose of this is because of the damage to the Great Barrier Reef," said Mackie. "That was a complete shocker."
"We're miles from the Great Barrier Reef" Mackie said. "To think there is potential for our land and our neighbour's land to end up polluting the Great Barrier Reef was horrendous. It was a lot easier to get my head around sacrificing a couple of acres, which would go one day anyways depending on when the next 100-year flood occurred."
The bank stabilisation works have been completed and endured the recent floods that inundated the property. Areas that had been stabilised lost significantly less sediment in the floods than those that haven't.
"I don't imagine there are many of these programs where it's been tested so soon afterwards," said Mackie. "I think everybody would be onboard for this. If you look at the satellite imagery from 60-odd years, it's quite stunning how the river has changed almost exclusively to the detriment of landowners with river front properties."
Despite some damage to his fencing, a missing water pump and all the water for his cattle draining from its tank, Mackie remains in high spirits after the recent flood.
"It's a very awesome display of mother nature at work," said Mackie. "There is a fair bit of work we need to do to clean up, but no one got hurt, no cattle got lost. We're very lucky."
In addition to saving his land from severe erosion, Mackie's choice to participate in the Mary River Recovery Project has contributed to preserving the Great Barrier Reef.
"I feel like we've assisted in making a contribution to the protection of the Great Barrier Reef, and stabilisation of the whole Mary River system," said Mackie. "That's a feel-good thing. We've met some wonderful neighbours up and downstream that are having the work done and those that are considering it. The community engagement has been very good."
"I feel like we've assisted in making a contribution to the protection of the Great Barrier Reef, and stabilisation of the whole Mary River system," said Mackie. "That's a feel-good thing. We've met some wonderful neighbours up and downstream that are having the work done and those that are considering it. The community engagement has been very good."