Project News ·
Magnetic Island Reef champions welcome Queensland Chief Scientist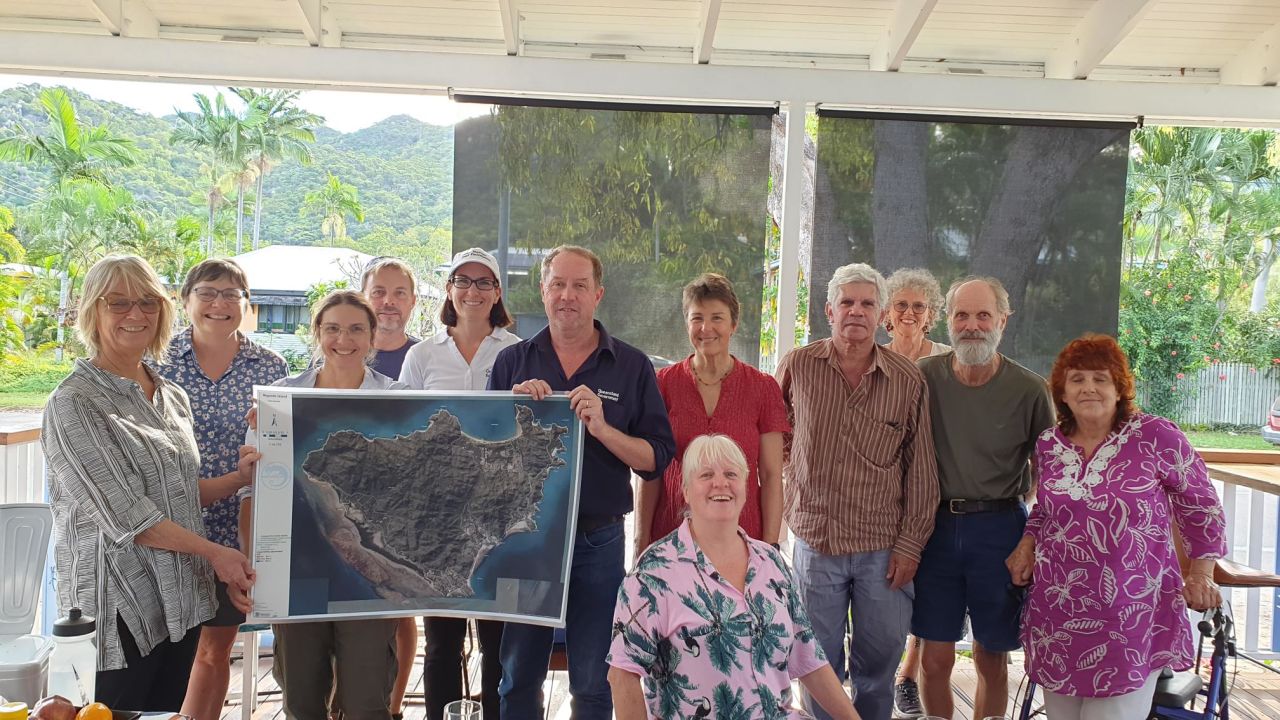 Image from left to right: Margaret Gooch, Magnetic Island Community Development Association; Libby Evans-Illidge, Community member / Australian Institute of Marine Science; Daniela Ceccarelli, Community member / Australian Institute of Marine Science; Paul Groves, Magnetic Island Network for Turtles; Laura Dunstan, Great Barrier Reef Foundation Community Partnerships team; Professor Hugh Possingham, Queensland Chief Scientist; (Bottom) Chris Sampson, Magnetic Island Community Development Association; (Top) Katharina Fabricius, Community member / Australian Institute of Marine Science; Lyle Johnson, Wulgurukaba Traditional Owner; Sue Swaddling, Arcadia Coastcare; Gethin Morgan, Magnetic Island Nature Care Association; Vandhana, Arcadia Coastcare.
Just a short ferry ride from Townsville in North Queensland you'll find Magnetic Island – known to the Traditional Owners (Wulgurukaba) as Yunbenun – a peaceful wildlife haven of predominantly national park and outstanding World Heritage values.
For decades, community groups like the Magnetic Island Nature Care Association (MINCA) and Magnetic Island Community Development Association (MICDA) have worked alongside Traditional Owners to deliver volunteer conservation work that protects and restores the environmental and cultural values of the island.
Over recent months, members of Magnetic Island's close-knit community of around 2,000 residents have been working collaboratively with their Community Action Plan Leader – MICDA – to develop the Magnetic Island (Yunbenun) Community Action Plan.
This month, Queensland Chief Scientist Hugh Possingham was welcomed on Country to find out more.

Professor Possingham said he was delighted to be on the island to hear directly from the community about how their groups operate, the recently released plan, and the different science challenges they face.
"Community action and citizen science play a crucial role in our understanding and protection of the Reef.
"I was thoroughly impressed by the extensive knowledge and passion these community members displayed in the preservation of Magnetic Island.
"The rigour around the Community Action Plan is admirable and I wish everyone involved every success in now delivering on the plan," he said.
Wulgurukaba Traditional Owners Lyle and Brian Johnson welcomed Professor Possingham to Country and reflected on the Community Action Plan process to date.
"We appreciated the opportunity to be involved in the planning, not only to progress Wulgurukaba aspirations for looking after Country but also to be involved in the wider community engagement and networking," they said.
"We look forward to being involved in the delivery of outcomes identified through the process."
Professor Possingham was briefed on how students, residents, Traditional Owners and Reef management all came together to develop five 'roadmaps' for action and an investment prospectus of high priority projects ready for investment.
The Magnetic Island (Yunbenun) Community Action Plan, and five other regional plans being developed along the length of the Reef as part of the Community Reef Protection component, will feed into Reef monitoring, management planning and reporting to best harness the efforts of the hundreds of community champions who take action every day to save the Reef.
Margaret Gooch from MICDA said: "I'm so thrilled that the Chief Scientist and his team made time to meet with us, and that so many community members were able to come along, including Brian and Lyle, two Wulgurukaba men, who welcomed them to Yunbenun.
"We loved showing them some of the key conservation locations of the island and were only sorry that we couldn't show them all the places where community groups are working towards conservation goals.
"We were impressed with the way our major issues and challenges were carefully considered, and that support and help was readily offered," she said.