Project News ·
Pesticide planning improves crop performance and water quality
Farmers are tailoring pesticide management plans, upgrading and calibrating equipment for precision application, and completing water sampling to reduce pesticides running off the farm.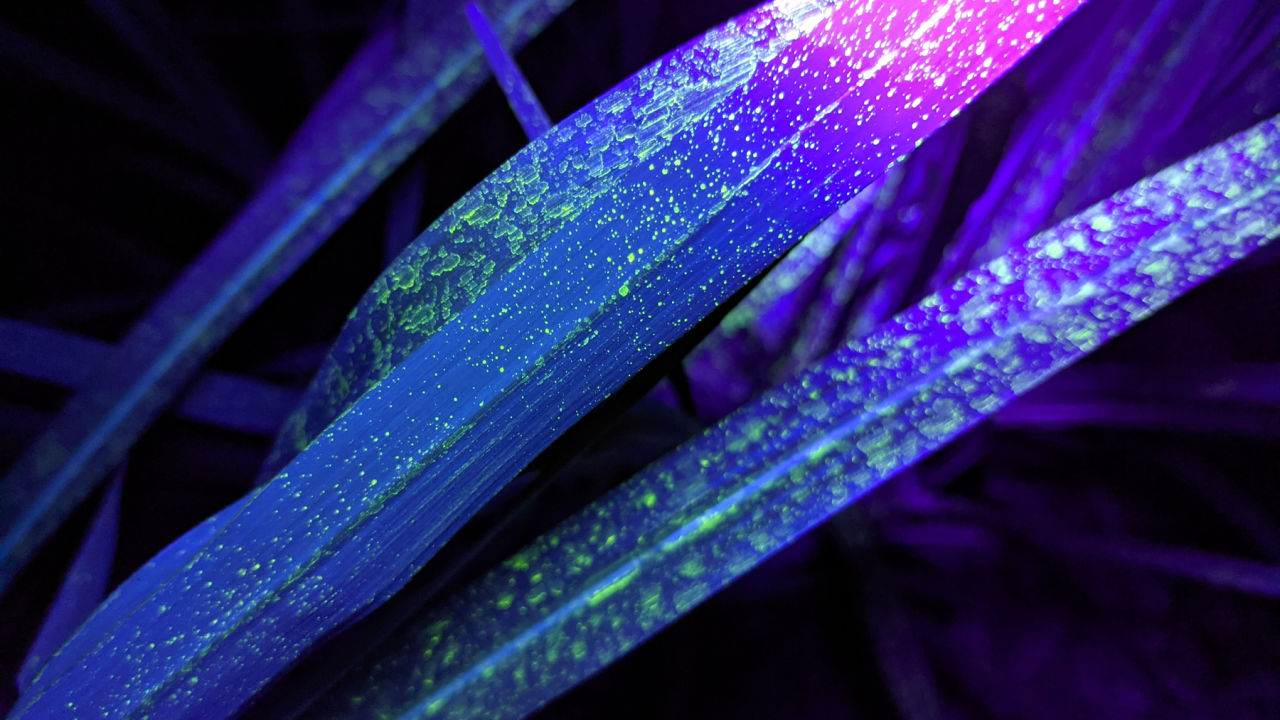 Sugarcane farming in the Mackay Whitsunday region has a long, rich history that is central to the identity and prosperity of the local community. The first sugar mill was established in 1888 and farmers in the region now grow a third of Queensland's sugar and a quarter of all sugar produced in Australia.
Pesticides help sugarcane farmers to produce safe, high-quality crops. While crops are growing, farmers use pesticides to protect them from weeds, fungal diseases and some insects. Pesticides are also used to stop fungi contamination that can affect human health. Public health diseases spread by mosquitos such as zika and dengue fever are also controlled by pesticides.
Excess pesticides that are carried in river runoff have been detected in Great Barrier Reef ecosystems at concentrations high enough to affect organisms. The potential build-up of pesticides, including herbicides, insecticides and fungicides can weaken the health and resilience of corals and other marine organisms, making them more susceptible to disease outbreaks or climate impacts.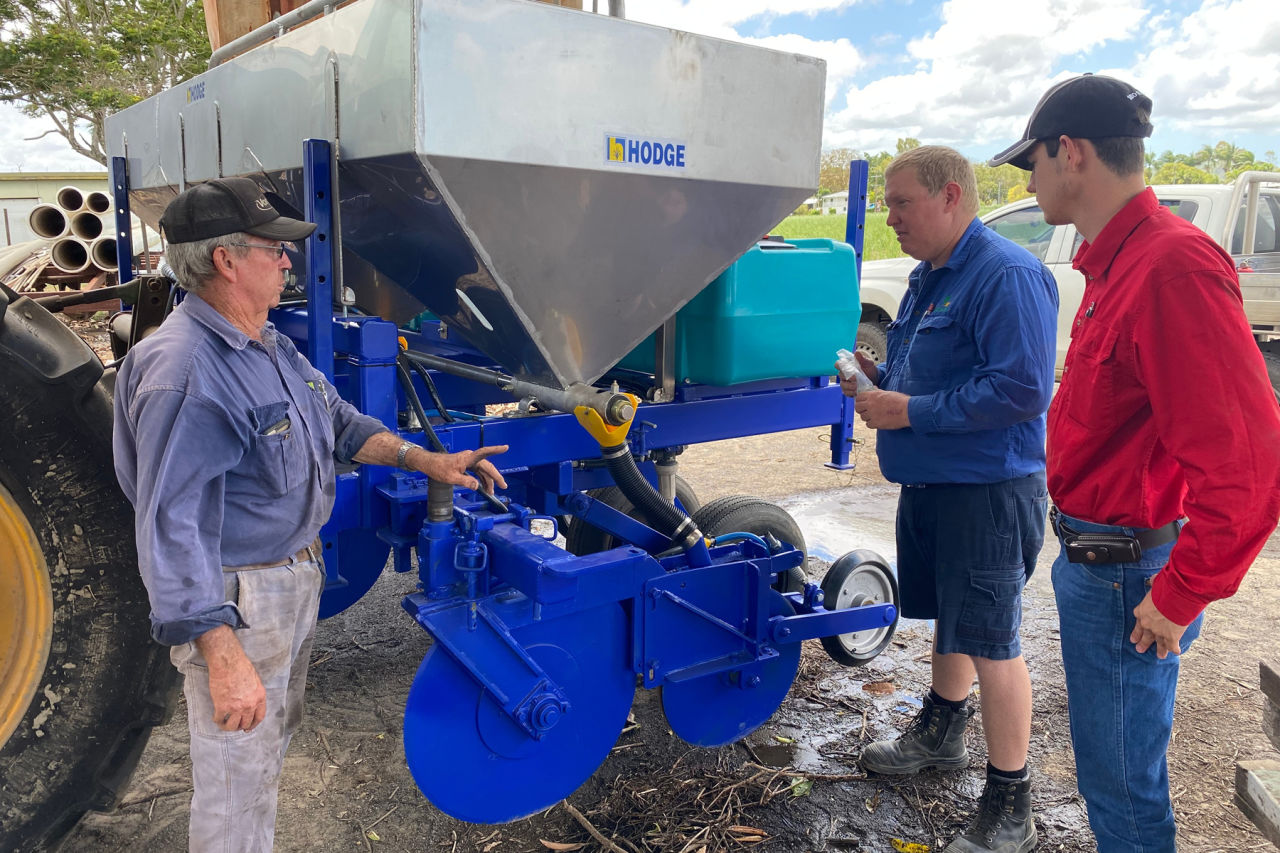 Pat Young (L) discusses modifications to his insecticide applicator with Project Bluewater support staff, Adam Keilbach (C) and Daniel New (R). Credit: Farmacist.
Funded through the partnership between the Australian Government's Reef Trust and the Great Barrier Reef Foundation, Farmacist's Project Bluewater is using agronomic expertise and technology to foster reduced pesticide use and the selection of lower risk pesticides to significantly minimise the impacts on the Great Barrier Reef.
In the Mackay Whitsunday region, Project Bluewater is working with over 160 farmers to reduce pesticide loads on 21,450 hectares of cane land in the Plane Creek and Pioneer River catchments. Farmers are provided with agronomic support to develop tailored pesticide management plans, and with small grants to upgrade and calibrate pesticide applicators, as well as complete end-of-field water sampling of blocks to measure the impacts of these changes.
Pesticide chemistry is complex and Farmacist delivers demonstrations, workshops, and support tools to better equip farmers to make decisions. Agronomist and local cane farmer Adam Keilbach works closely with farmers undertaking boom spray assessments, developing improved herbicide use plans and setting up and conducting on-farm demonstrations.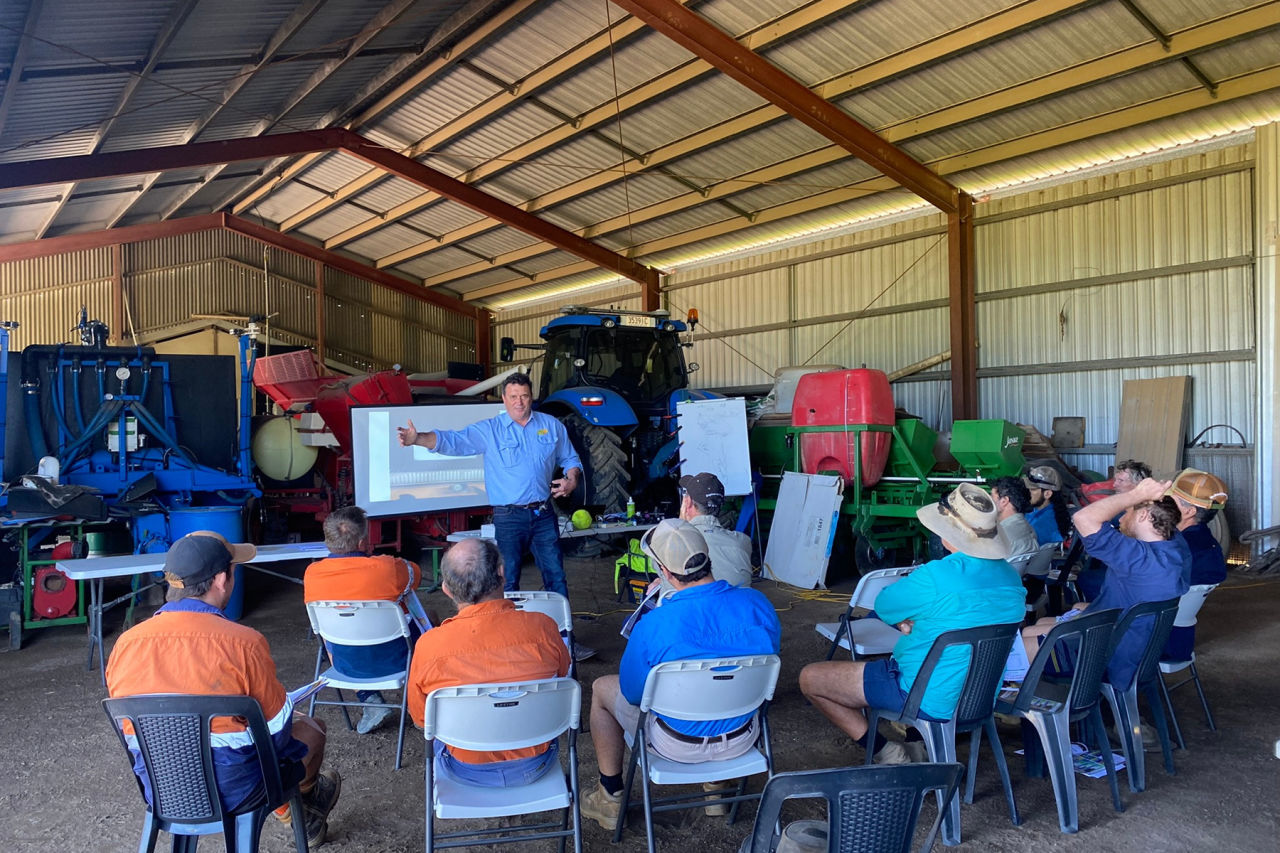 Pesticide management workshop at Finch Hatton. Credit: Farmacist.
"The really satisfying part of this role is how we are able to work with farmers to develop improved equipment and practices that benefit them and their farming business while at the same time, it leads to improved water quality outcomes," said Adam.
Pat Young and his family operate a 100-hectare sugar cane farm at Walkerston, near Mackay. The farm is located beside Bakers Creek, which is part of the broader Plane Creek catchment.
Pat was an earthmoving contractor prior to becoming a cane farmer and said he knew how to grow an average crop of cane. Since working with agronomists "I have seen major improvements in farm performance. The support I've received from the Farmacist team has been second to none," he said.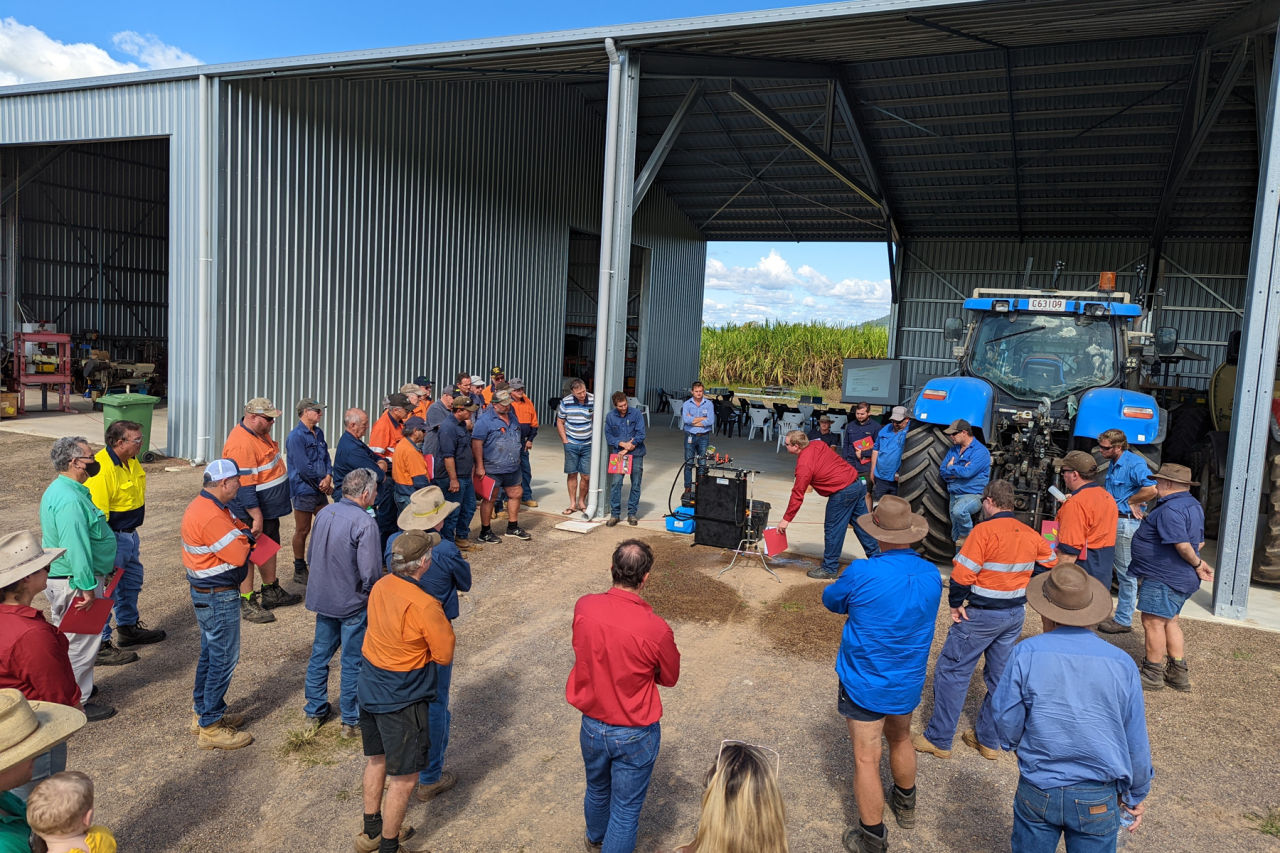 Plane Creek Productivity Services Ltd practical product demonstration. Credit: Farmacist.
Adam worked with Pat to develop a pesticide management plan for his farm. This plan aims to optimise the application efficiency of chemicals on-farm through the assessment and calibration of spray rig and nozzles to achieve the optimal placement of chemicals at the correct depth and soil coverage and to minimise on-farm application to required areas.
As a result, Pat has changed the types of products he uses and the way he applies herbicides. This has given him confidence that he is in control of his weed management and is also contributing toward improved water quality in the local streams.
With a small grant and design support from Adam, Pat upgraded his spray rig with a new spray boom and the latest technology in low drift nozzles. Adam's experience from working on the family cane farm for over 20 years has been invaluable in supporting local farmers in the project. "You can't beat the experience offered by Farmacist," Pat said.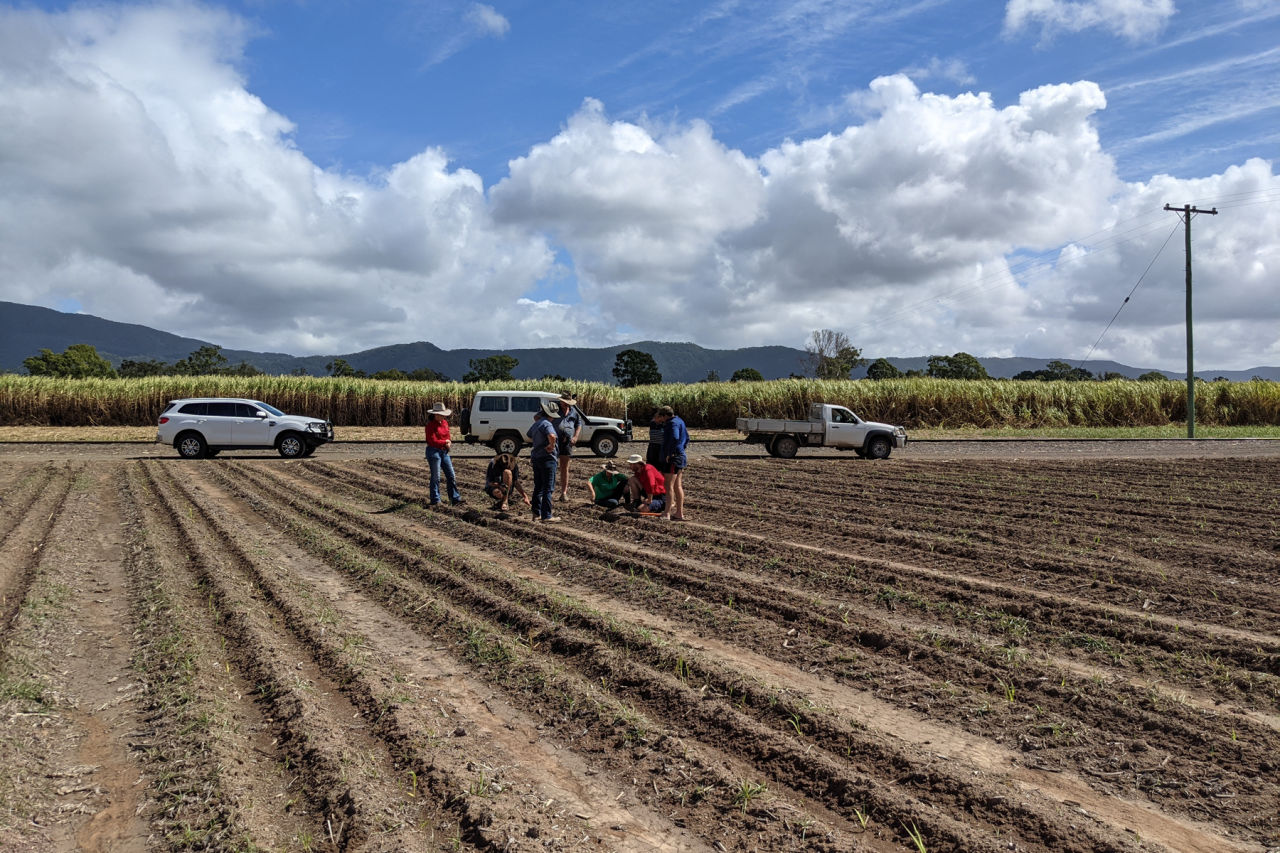 Hands-on product placement assessment. Credit: Farmacist.
A neighbouring farmer attended a recent project Pesticide Management Workshop at Finch Hatton. "He was so impressed with the activities and learning at the workshop, he went home at lunch time and brought his spray rig back to the workshop to be assessed and used as a demonstration for the other farmers," said Adam.
The farmer said that it was the single most valuable workshop he had attended in all 30 years of his farming life. "Farmers really respond to the practical stuff we do in the field – the practical demonstrations of spraying equipment, digging up billets to examine SuSCon (a long-term canegrub control with sustained control release technology) placement or walking through a herbicide comparison trial," said Adam.
Through personalised on-farm support from pesticide application specialists, the negative impacts of pesticides on the environment are being reduced. Extension activities have resulted in reduced high-risk and overall pesticide use and less pollutants flowing to the Great Barrier Reef.